Wandering wolf hybrid, that had residents on edge, captured in the North Bay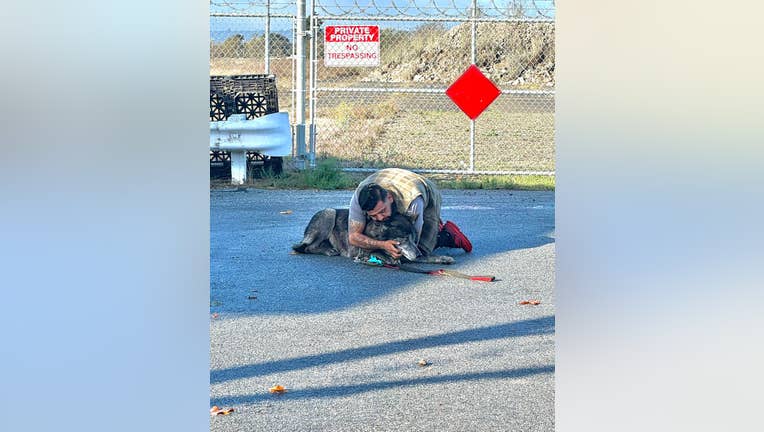 article
SANTA ROSA, Calif. - Animal control officers were reporting a happy ending for a wayward, wandering wolf hybrid that had residents in Sonoma County on edge over the weekend.
The animal, named Shadow, was back home, reunited with its owner on Monday morning, after multiple attempts to capture him.
Sightings of the animal prompted a warning from Sebastopol police over the weekend, as they urged residents not to approach the large, yellowed-eyed animal and to call law enforcement immediately if spotted.
North Bay Animal Services Executive Director Mark Scott told KTVU that initially authorities did not know what type of threat the wolf hybrid posed and didn't know it belonged to an owner, as no one reported the animal missing. 
SEE ALSO: Coyote caught napping on porch at San Francisco home
"The unknowns are the worst," Scott explained, adding that many were "shaken up" and concerned not knowing the animal's history and whether it was seeking prey.  
He said there were 30 to 40 reported sightings of the wolf hybrid over the last few days, including in the Santa Rosa neighborhood of Rickenbacker, where people were often out walking their dogs. 
On Sunday morning, authorities received a report from the California Department of Fish and Wildlife that the hybrid was seen heading south of the Highway 12 bridge on the eastern edge of Sebastopol.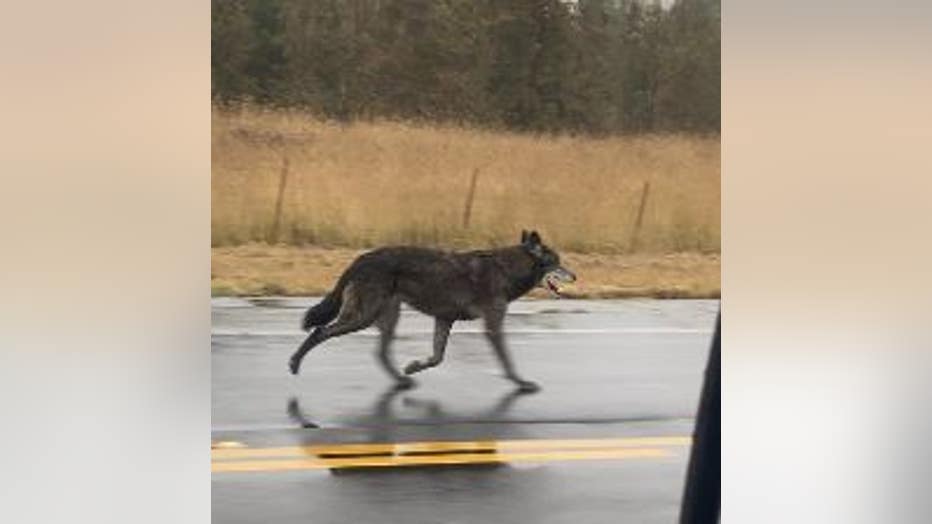 California Department of Fish and Wildlife said a wolf hybrid was spotted on the outskirts of Sebastopol on November 5, 2023.
Police and wildlife authorities shared a photo of the animal running down a rural road but could not capture it.
He was then spotted again on Sunday night, running along Highway 12, coming from Sebastopol to Santa Rosa.
"We had to close down the highway to get off the main highway," Scott explained, for fear the animal would get struck. 
He said authorities did manage to use social media and other resources to determine that the wolf hybrid was not a stray and that he belonged to a Santa Rosa resident, so they called the owner who brought along his two Huskies to the site, and tried to corner the escaped animal.
But Shadow was clearly spooked and in "flight mode," according to Scott, so the wolf dog took off again.
Because of the wet weather and the fact that the hybrid had made its way into open space, animal control officials decided the safest action was to abandon the effort for the time being. 
But on Monday morning, there was another sighting, not far from the animal's home in the Santa Rosa area of South Wright Road and Miles Avenue. And this time, efforts to contain the animal were successful.
"It was much more quiet and calm," Scott said, adding the capture was accomplished with the help of another animal care officer, a good Samaritan, Shadow's owner and the owner's other two dogs. "It wasn't easy to put a leash on him, so we had to get him into a corner to help him calm down," the animal control expert explained.
Scott managed to capture the emotional reunion in a photo, as the owner was clearly relieved to have his wolf hybrid back in his possession. The owner was seen down on the ground and embracing Shadow.
SEE ALSO: Infamous Santa Cruz 'Otter 841' gives birth to cute pup
On social media, North Bay Animal Services shared images from the capture and said, "This beautiful reunion shows the incredible impact we can achieve when we all work together for the well-being of our four-legged friends."
Scott said it was unusual for residents to have wolf hybrids as pets. 
"There are only a few in Sonoma County. They're very large dogs. Think of a Husky, and a Husky's pretty big, but much larger than a Husky," the animal care expert explained, adding, "Most people can't handle them, and they need a lot of attention, and they're very smart." 
The 2-year-old wolf hybrid proved its intelligence as it apparently took advantage of an improperly latched gate to make his escape, according to Scott, who said he didn't know what type of mix Shadow was, but that often these hybrids were bred with Huskies.  
Because Shadow ended up being an owned animal, he may have not posed as great of a danger to the public as first believed, but the expert said, "He is a wolf hybrid, and he's very much more wolf than hybrid," noting the animal's yellow eyes. 
"These dogs won't take long to do whatever needs possible to survive," Scott said, adding that this was the first case his agency has had dealing with a wayward wolf hybrid.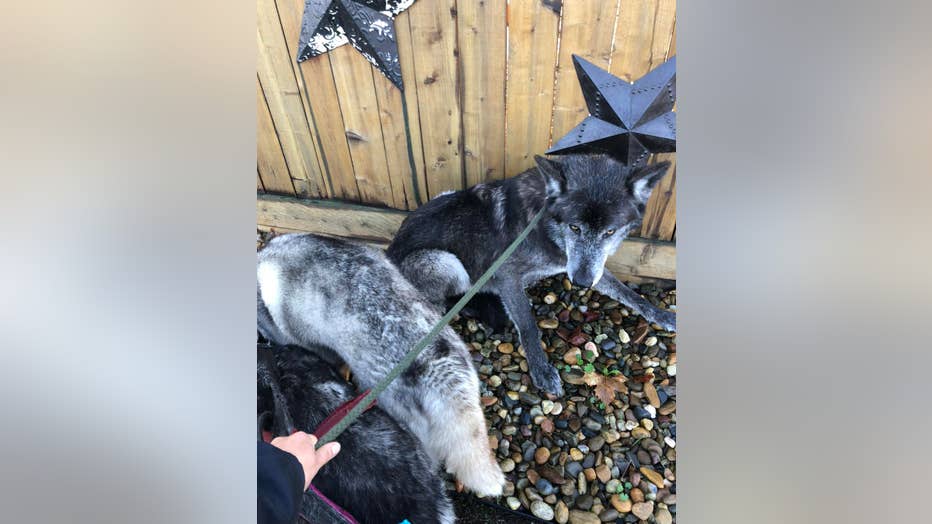 North Bay Animal Services captured a wandering wolf hybrid (right) named Shadow on Monday, Nov. 6, 2023. (North Bay Animal Services)
He commended residents in the area and the multi-agency collaboration to bring the wolf dog home safely. 
"A big shoutout and THANK YOU to the vigilant community members who reported sightings of Shadow," the animal services agency said. "Your alertness and cooperation made all the difference in bringing Shadow back to where he belongs."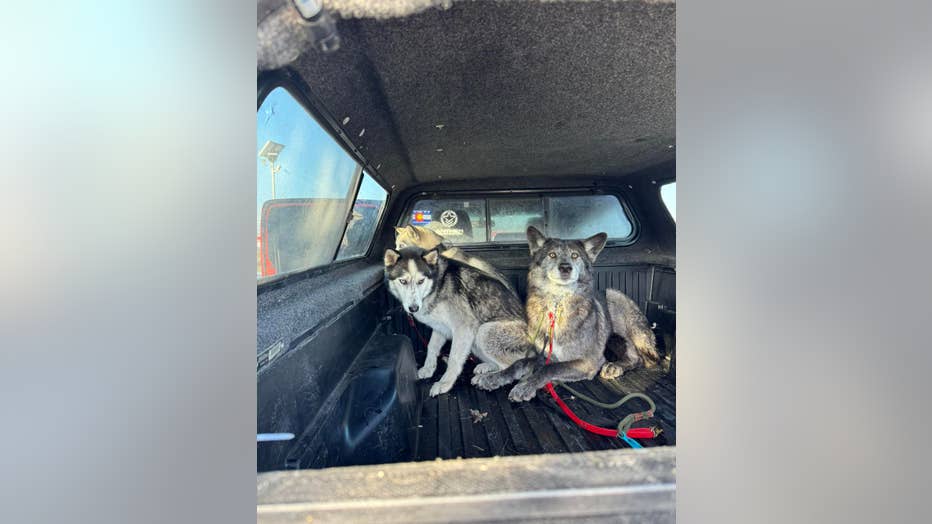 Wolf hybrid named Shadow reunited with its pack members, two Huskies named Max and Sky on Monday, Nov. 6, 2023. (North Bay Animal Services)