Warriors announce 2-year lease extension at Oracle Arena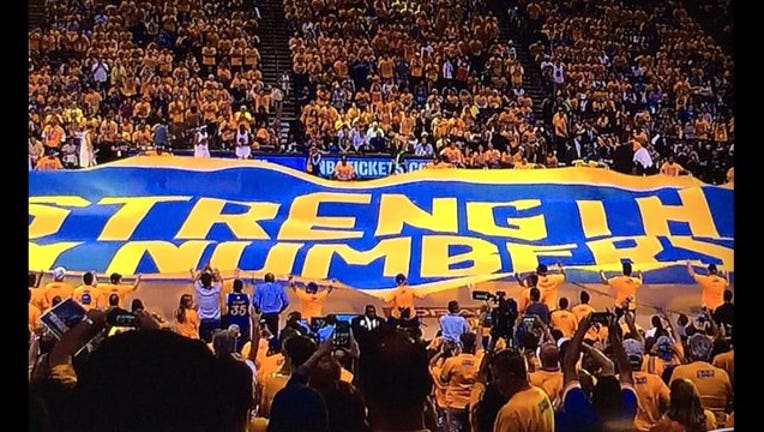 article
The Golden State Warriors and the board that runs the Oakland Coliseum complex announced today that they have reached an agreement on a lease extension that calls for the Warriors to play at least two more seasons at Oracle Arena in Oakland.
The agreement with the Joint Powers Authority also includes options that the Warriors can exercise to play up to an additional three seasons in Oakland if they need more time there before moving to San Francisco and the Chase Center, which is now under construction.
The Warriors, who advanced to the Western Conference Finals earlier this week and are seeking their second NBA title in three years, have said they plan to begin playing in San Francisco at the start of the 2019-20 season.
The Joint Powers Authority said the Warriors will once again pay a fee for use of the arena that's consistent with prior renewals and the renewal features a rent increase that will be paid to the JPA.
The agreement has obtained the necessary approvals of the Oakland City Council and the Alameda County Board of Supervisors, who each have two representatives on the JPA's board.
Oakland City Councilman and JPA chair Larry Reid said in a statement, "We are pleased to reach this agreement. The Golden State Warriors are an important part of our local sports economy and the DNA of the city."
"We recognize that the team may be moving, however we hope to maximize their time in Oakland to the benefit of the people of Oakland," Reid said.
Warriors president and chief operating officer Rick Welts said, "We are pleased to have reached an agreement on an extension and are excited to play in Oracle Arena for the next two seasons."
"This is an exhilarating time in the history of our franchise and we have an incredible opportunity to create more lasting memories with our passionate fans prior to the opening of Chase Center. We look forward to the journey and the excitement that lies ahead," Welts said.
JPA executive director Scott McKibben said, "We thank our partners at the Warriors for reaching an agreement that will work for all parties. We look forward to more winning seasons at the Oracle in front of the best fans in the country."