Warriors believe depth, sacrifice keys to their success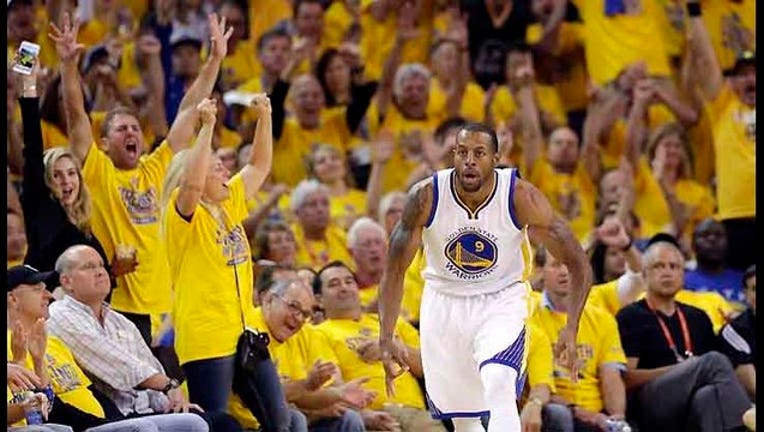 article
OAKLAND, Calif. (AP) — Those golden yellow shirts the Golden State Warriors give to fans at every home playoff game are printed with a slogan that reads: "STRENGTH IN NUMBERS."
The wording is more than just a catchphrase for fans — it's practically a team motto.
The Warriors wore down opponents all season with their depth, spelling stars Stephen Curry and Klay Thompson with a rotation that can go at least 10 deep. Now they head into the Western Conference semifinals against the Memphis Grizzlies with a healthier roster and a more dangerous and decorated second unit.
"It's going to be huge. I think our depth's been a key to our success all year," Warriors center Andrew Bogut said. "There've been games where our bench has single-handily won us games or kept us in games, and I think that will continue. Even if it's just two games in a series, that's huge."
Depth seems especially important because of who Memphis might be missing when the series tips off Sunday at raucous Oracle Arena in Oakland.
Point guard Mike Conley sat out the final two games of the Grizzlies' first-round win over Portland after having surgery to repair broken bones in his face. It's unclear when, or if, he'll be available.
The Grizzlies supplanted Conley by starting Nick Calathes and bringing Beno Udrih off the bench. But they couldn't replace Conley's scoring and defensive skills, which could prove problematic against a Warriors team led by Curry — the MVP favorite — and a second unit featuring former All-Stars and savvy veterans starving for playing time.
"We've got a thirsty bench," reserve Andre Iguodala said. "Really thirsty. I don't know if there's enough water."
The genesis of Golden State's depth came during the preseason when coach Steve Kerr approached Iguodala to discuss a somewhat radical idea.
Kerr asked Iguodala, an All-Star and Olympic gold medalist in 2012, how he felt about being the team's top reserve and Harrison Barnes starting ahead of him at small forward. Iguodala, who had started all 806 games he played in his first 10 seasons in the NBA, wasn't thrilled but agreed to go along with the experiment.
The move turned out to be one of the best decisions the first-year coach has made.
Barnes has been more comfortable playing off the starters instead of being asked to carry the reserves. Iguodala balanced the lineup and bridged the gap to the starters. And, perhaps most importantly, Iguodala's acceptance fueled the team-first mentality Kerr wanted to instill in the locker room and on the court.
"One of the most gratifying parts of the season is the unselfishness our team has shown," Kerr said.
Iguodala still plays heavy minutes and usually finishes games with the starters. Power forward David Lee, though, has had his role reduced more than anybody.
Lee, a two-time All-Star, sat out early in the season with a strained left hamstring and lost his starting spot to Draymond Green. He never complained as the Warriors rolled toward a franchise-record 67 wins, and he's not complaining now as he returns from a sore back that sidelined him in the first round.
"After a guy like Andre's done the exact same thing this year, it'd be very difficult for me to step in and do anything different," Lee said.
The Warriors also signed Shaun Livingston and Leandro Barbosa in the offseason to shore up the backup ball-handling duties. Big man Marreese Speights made major strides, center Festus Ezeli stayed healthy and guard Justin Holiday turned into a surprising find out of the NBA Development League.
But as well as they played in the regular season, the bench had its share of struggles in the first round and Kerr had to play his starters heavier minutes. The reserves still came up with some big plays in the series, notably Speights' offensive rebound and toss to Curry for a dramatic 3-pointer that saved Game 3.
The Warriors know they'll need more out of their bench against the playoff-tested Grizzlies than they got against New Orleans, and they're eager to show just how deep they can go.
"In the playoffs, everybody has to be up for that task of taking advantage of their minutes on the floor because you don't know how each game's going to go and where your points are going to come from and things like that," Curry said. "That's why we're so good, I think, because it's such a well-balanced effort night in and night out."