Warriors clinch division with 122-108 victory over Blazers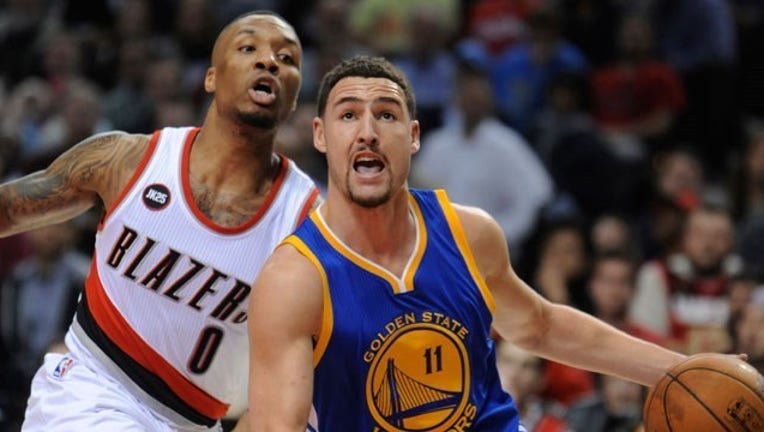 article
PORTLAND, Ore. (AP) — Stephen Curry had 33 points and 10 assists and the Golden State Warriors pulled away from the shorthanded Trail Blazers in the second half for a 122-108 victory on Tuesday night, clinching the team's first division title in 39 years.
Andre Iguodala came off the bench to score 21 points for the Warriors, who won their seventh straight to push their record to and NBA-best 58-13.
Golden State hasn't claimed the Pacific Division crown since the 1975-76 season, the year after the team won the NBA championship.
With a comfortable lead on second-place Memphis in the Western Conference, Golden State has dropped just one of its last 12 games.
Damian Lillard had 29 points for the Blazers, who have lost five straight following a 1-4 road trip. Despite the slump, Portland has remained atop the Northwest Division, five games in front of Oklahoma City.
The Blazers were without All-Star LaMarcus Aldridge because of a left index finger sprain, as well as fellow starting forward Nicolas Batum, who has lower back pain. Backup center Chris Kaman was out because of a right shoulder strain.
Portland was already missing guard Wesley Matthews, who was lost for the rest of the season after rupturing his Achilles tendon on March 5 against Dallas. The Blazers have gone 3-5 without him.
Because of the absences, Portland started a lineup that included regulars Lillard and Robin Lopez, along with Matthews' replacement Arron Afflalo and reserves Alonzo Gee and Dorell Wright.
Golden State limited guard Klay Thompson to 25 minutes because of a sore ankle that kept him out of three games during the team's homestand. Thompson, who finished with 16 points, returned on Monday night for theWarrior's 107-76 victory over the Washington Wizards.
The Blazers jumped ahead 24-18 early on Lillard's off-balance jumper, and extended the lead to 47-39 on CJ McCollum's 3-pointer.
Lillard's 3 made it 53-41 but Stephen Curry answered with consecutive 3-pointers to keep the Blazers from pulling away. Leandro Barbosa's 3-pointer pulled the Warriors within 66-55, but Portland still held a 62-57 advantage at the half.
The Warriors went on a 10-0 run to pull in front 69-66. Lillard hit a 3 to tie it, but Golden State scored nine straight to go up 80-69.
Golden State pushed the lead to as many 17 points. Allen Crabbe's 3-pointer got the Blazers within 100-91 with 8:02 to go, but Portland couldn't catch up.
TIP-INS
Warriors: Golden State beat the Blazers 95-80 earlier this season at the Moda Center. ... Two of Stephen Curry's eight 40-point games came in Portland.
Trail Blazers: Portland had no turnovers in the first quarter and just two in the first half, but they finished with 10. McCollum finished with a career-high 23 points.
UP NEXT
Warriors visit the Memphis Grizzlies on Friday.
Trail Blazers visit the Utah Jazz on Wednesday.