Warriors defeat Thunder to stay alive in Game 5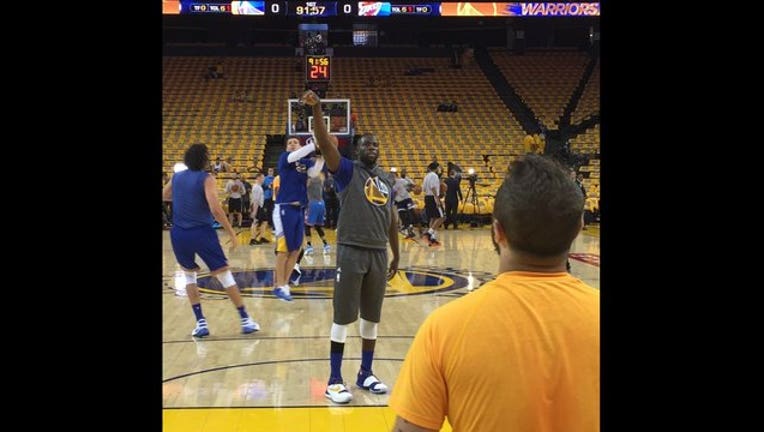 article
OAKLAND, Calif. (AP) — It was a tight Game 5 at Oracle Arena, but the Warriors rallied to stay alive, defeating Oklahoma City Thunder 120-111, forcing a sixth game back in Oklahoma City. 
Stephen Curry scored 31 points, 7 rebounds, 6 assists, and 5 steals for the MVP. Klay Thompson scored 27 points. 
Steve Kerr gave his Golden State players a much-needed mental day off with time to rest their weary bodies, and he got back to work trying to figure out how to save the season against a powerful Thunder team that shows no signs of slowing down.
Back to the basics, back to doing the little things that got the Warriors this far.
After a record 73 wins in the regular season, the Warriors were on the brink heading into Game 5 of the Western Conference finals, trailing the Thunder 3-1 after a second straight lopsided loss in Oklahoma City.
No denying it's a daunting task for the defending champs — especially given that MVP Stephen Curry is a far cry from being completely healthy.
"Well, it's a sense of reality staring us in the face. We're down 3-1," Kerr said Wednesday. "Momentum can shift quickly in the playoffs. We've seen that the last couple years. Let's take care of business at home, get some momentum back and we've got a chance."
All season long, the Warriors have taken the best efforts from every opponent. They just haven't shown the vulnerabilities that appeared the past two games in Oklahoma City, where Golden State lost back-to-back games for the first time during its record-setting season.
The flight home was hardly fun following Tuesday's 118-94 defeat.
"It was not festive. It was quiet," Kerr said.