Warriors' Draymond Green suspended 1 game for stepping on Kings' player's chest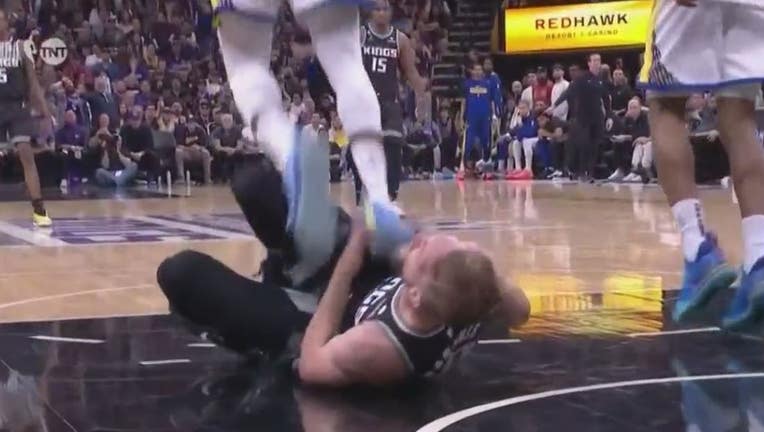 article
SAN FRANCISCO - Golden State Warriors forward Draymond Green was suspended without pay for one game for stepping on a Sacramento Kings player's chest during last night's Game 2 of their first-round playoff series at the Golden 1 Center. 
NBA Communications issued a statement Tuesday on social media that said Green will serve his suspension on April 20 when the Warriors host the Kings for Game 3 at the Chase Center. 
The statement elaborated that Green stepped on Kings' center Domantas Sabonis in response to Sabonis grabbing and holding Green's ankle after falling to the floor. Green was ejected from the game and received a flagrant foul. Sabonis received a technical foul. 
NBA executive Joe Dumars made the suspension announcement. The statement reads that the decision is based in part on Green's "history of unsportsmanlike acts." 
The 33-year-old Green has been called for six flagrant fouls and 27 technical fouls in 147 career playoff games. He was ejected from a playoff game against Memphis last season.
In 2016, Green was suspended for a crucial Game 5 loss to LeBron James and the Cavaliers in the NBA Finals after accumulating too many flagrant fouls in the playoffs that season. 
In November 2018, Green was suspended by the Warriors for conduct detrimental to the team. Green had secured a rebound in an overtime loss to the Clippers and with Kevin Durant calling for the ball Green instead dribbled the length of the court into traffic and lost control as the Warriors failed to get a shot off. Durant was shown on camera visibly upset. The two got into it afterward, according to reporters on the scene.
SEE ALSO: Warriors' Draymond Green ejected after stomping on chest of Sacramento King's Sabonis
"My leg got grabbed," said Green, referring to a play in Game 1 with Malik Monk. "Second time in two nights. Referees just watch it. I have to land my foot somewhere. I'm not the most flexible person, so it's not stretching that far."
Golden State trailed the best-of-seven series 2-0, the first time during the Stephen Curry era the Warriors have been down by two games in their last 28 playoff series.
The Kings issued a statement late Tuesday night that said based on a medical evaluation, Sabonis sustained a sternum contusion and that his condition for Thursday's game against the Warriors is questionable. 
Associated Press contributed to this story.