Warriors winning streak boosting Bay Area businesses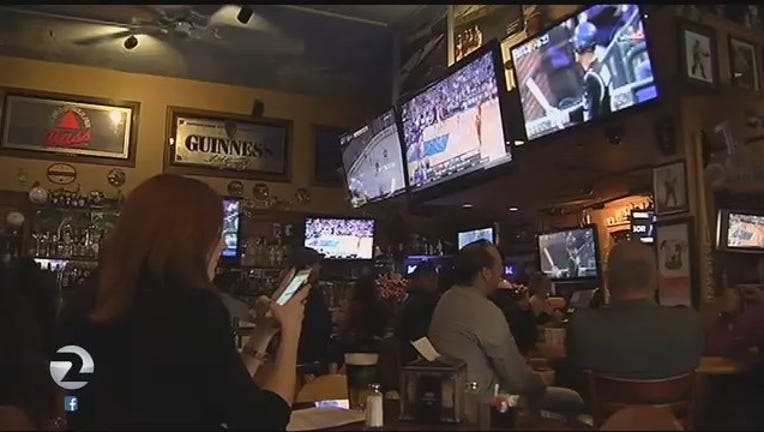 article
WALNUT CREEK, Calif. (KTVU) - It's a golden time for Golden State Warriors fans hoping for a clean sweep as their team goes up against the New Orleans Pelicans in Game 4 on Saturday evening.
For Bay Area restaurants, bars, and sporting goods stores, the Warriors' wins in New Orleans have brought a nice boost to businesses here.
At Stadium Pub in Walnut Creek, workers say fans packed the sports bar and went wild during Game 3 Thursday, after Steph Curry's thrilling three-point basket propelled the team into overtime and a 20-point come-from-behind victory.
"It was the best thing I think I've ever seen. I mean, that was amazing and the energy was amazing," said Christina Ferrara who works at the Stadium Pub.
On Friday evening, workers decorated the sports bar with Warriors signs and brought out large blue and gold Warriors flags.
The Bay Area's only NBA team is a unifying force for the region which often has divided loyalties when it comes to football and baseball.
At Peets Coffee, employees painted "Go Warriors" on the glass counter panels and fans can even get a special coffee blend called "Warriors Grounds" with the team's logo.
Many sporting goods stores told KTVU that Warriors fan gear is in high demand and short supply.
At the Sports Authority in Walnut Creek, the manager Andres Carcamo said calls came in after Thursday's dramatic win.
"We open up at 10 but we had people calling as early as 9 o'clock," Carcamo told KTVU, "They all want the hats, the jerseys, they want the shoes, everything."
One customer, Mike Hurtado of Oakley, says he has been a Warriors fan since he was a boy. Now some 30 years in, he's sharing his team's dream with his own children and feeling some Golden State pride.
"That three in the end was just something magical," Hurtado said, "I travel a lot for work and people from all over the country are just really captivated. They see me in Warriors stuff or some kind of Bay Area logo and they automatically ask me about the Warriors."
"Every game counts, every moment counts and it's just fun to be a part of it." Hurtado said.