Weekend storm sets stage for more destruction as next wet wave hits Wednesday
OAKLAND, Calif. - The Bay Area was walloped by a storm over the weekend that produced mudslides and flooding, setting the stage for even more destruction. The storm approaching Wednesday is big and powerful in its own right. 
The coming storm — an atmospheric river, or if you prefer the non-scientific term, a pineapple express — is forcing many cities and towns to keep watching creeks and keeping storm sewers free of debris to minimize local flooding. In Livermore, Arroyo Valley Creek is flowing fast. A KTVU crew observed a driveway was underwater. 
Here's how, how other experts say they are preparing and that they intend to do.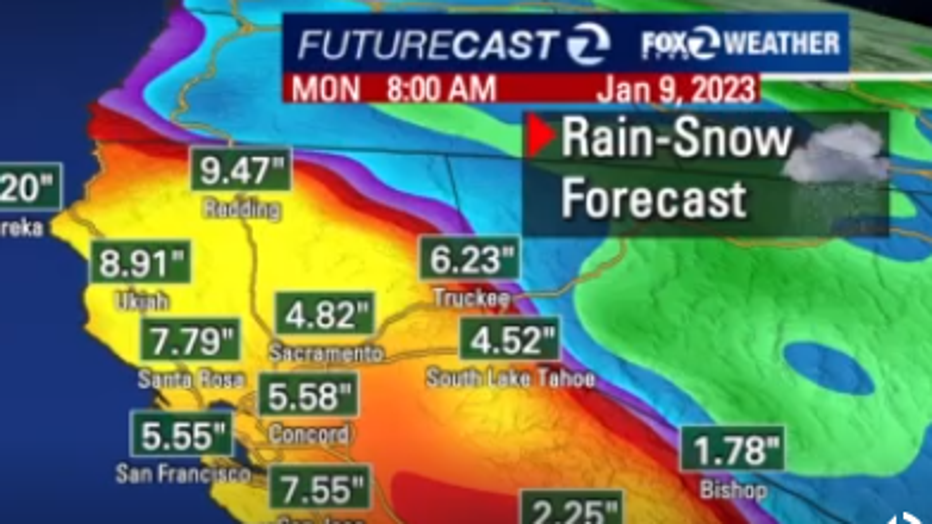 National Weather Service Warning Coordination Meteorologist Brian Garcia said last Saturday's storm will only make Wednesday's worse. "This last system, completely saturated the soils and started seeing mudslides and landslides," said Garcia.
Early Wednesday morning, the coming storm will hit the North Bay and last there for longest time. But that's just the leading edge of a really big system. "It's gonna sweep across the entire Bay Area. So, no place will be immune. You will see rain and wind across your area and you will see some areas that repeat flooding and a few areas that will be worse flooding," said Garcia.
Trees, weakened from years of drought are now sitting in gooey soils. That raises worries about many more falling trees. "Now, we have saturated soil, and it's almost like they're sitting in porridge to some degree. So, now, when we put wind on it, we can more easily take three down, knock branches off," said the meteorologist. That means more power outages and danger to people, structures and roads below them. This also means more and worse water because of saturation.
From its emergency command center, Pacific Gas and Electric directing crews are doing restorations from the weekend storm, but is also out looking at vegetation near power lines to minimize branches touching or falling onto power lines. "In advance of a storm like this in a lot of areas, we do some extra tree trimming to be prepared for these high winds, wet weather," said PG&E spokesperson Megan McFarland.
PG&E is also ramping up its own crews and getting mutual aid given the coming storm's potential consequences. "Right now we have about 1,300 employees who are supporting the storm, and we're also bringing in crews from Southern California Edison and they're arriving today and they're gonna help with our restoration efforts," said McFarland
If you think you can benefit from sandbags go make them now. That's because State Farm Insurance warns, if you don't have National Flood Insurance, your homeowner's insurance is likely not going to cover flooding. Landslides are rarely, if ever, covered.
SEE ALSO: Cleanup continues in Bay Area after epic rain
Meanwhile, cleanup continues from the first round of rain over the weekend. Fern Lodge, a Christian Science nursing facility in Castro Valley, was evacuated Saturday morning after a few inches of water began flooding the hallways and doorways. 18 patients were taken to a Hayward church, where they camped out on their mattresses taken from the senior home, an administrator said. No one was hurt. 
"We called the fire department and said, 'Hey, we gotta get out of here because water was just pouring in,'" nursing home administrator George Strong said. "I've never seen anything like what happened Saturday."
Power was never shutoff at the facility and none of the residents had medical equipment requiring power, unlike the Chronicle reported. 
"Here was something exciting, something new and some of the dear ladies had to be carried out by a fireman, they had big grins on their faces," Strong said.
Down the street, on Madison Avenue, neighbors piled up sand bags to stop the water from getting into homes and garages. The neighboring creek, which overflowed its banks Saturday, was getting cleaned up; brush cleared, trees cut down. Neighbors were flushing gutters and waiting on more sandbags. 
"It's pretty critical getting all these trees out of the way," Beto Perez with Perez Landscaping said. "You never know what's going to happen. You've got to just go day by day, but we're just trying to do the best we can. I don't think it will prevent another flood, but it will help for sure."
"It got worse and worse and worse and then the neighbors started showing up," Castro Valley resident Bob Scott said. "The water was flowing so hard that we had about two foot of sandbags and the water was coming over the top. It was a huge river coming down the road."
San Leandro Canal, along Crosby Street, has walls that have collapsed. One resident's backyard slipped into the canal, which suffered major structural damage. Neighbors say the canal has had a history of problems and is in need of repairs. 
The City of San Leandro assessed the situation and referred it to the Alameda County Flood Control, but nothing can be done now in the short term. 
"People are going to lose their properties all the way down this whole canal right now," one San Leandro resident said. "There's going to be a domino effect from the storm coming in. I think we're in trouble."
"Our backyards are sliding into the canal," San Leandro resident Victor Krevocheza said. "If that water gets into the soil – my fence, my yard, my greenhouse are all going."
Parts of unincorporated Contra Costa County is seeing roadways shutdown due to the rock and mudslides, as well as recent flooding and sinkholes, according to public works officials. 
The latest closure occurred on Highland Road, which is closed between Collier Canyon Road and Camino Tassajara due to rock and mudslides. Only local traffic is allowed through the area as crews work to clear the road.
A sinkhole has closed Deer Valley Road in both directions between Briones Valley and Marsh Creek roads, said Contra Costa County Public Works Department spokesperson Kelly Kalfsbeek.
Marsh Creek Road is also closed, between Deer Valley and Morgan Territory roads, due to ongoing rock and mudslides. 
Motorists should take alternate routes to avoid the closures, and should never try to cross flooded roads-driving, riding or walking, officials said.
Bay City News contributed to this report.