Cleanup continues in Bay Area after epic rain
The Bay Area may have awakened to sunshine on New Year's Day, but it is still experiencing the wrath of the storm.
The deluge brought both rain and problems.
In the Berkeley hills, a fallen tree in the 7700 block of Claremont Avenue was one of many examples of problems Bay Area residents were dealing with Sunday.
The tree brought down power lines leaving neighboring homes in the dark, and forced drivers to navigate a tree tunnel after someone removed the yellow tape to block traffic.
One driver in a tall SUV decided to avoid the risk, but others in lower-profile vehicles didn't see a problem and continued through.
"Yeah, it looks pretty safe," said an unidentified driver.
Residents told KTVU that PG&E said it wouldn't be able to clear the tree and fix the lines until Saturday evening, at the earliest.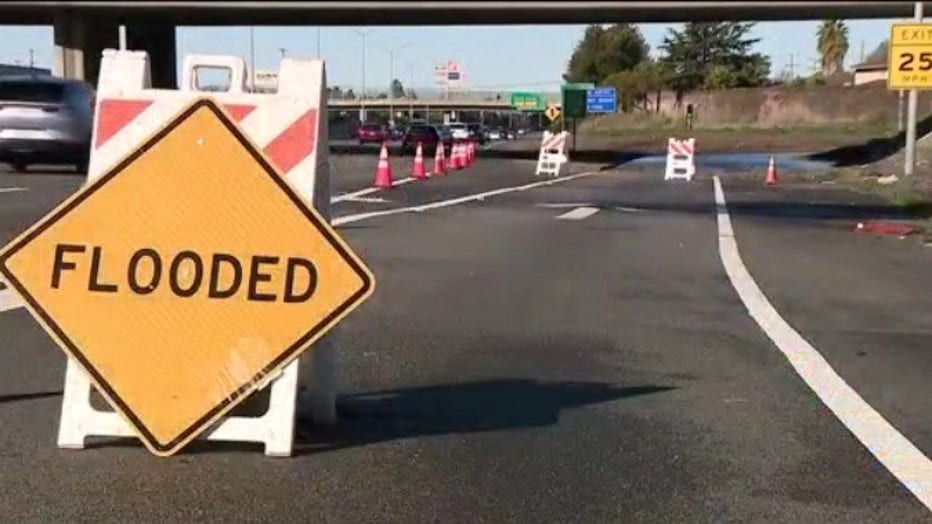 A freeway exit is closed due to flooding on Jan 1, 2023. (KTVU FOX 2)
There were also freeway exits where exiting is temporarily not possible, like the westbound Marina Boulevard off-ramp in San Leandro when headed northbound on 880. 
And then there were spots where the earth fell.
"It's devastating. This is big," said Kausar Wildman, the director of Rocky Mountain Participation Nursery School in San Francisco.
A mudslide happened in the wee hours of Sunday morning, not far from the intersection of Market Street and Castro. The earth came tumbling down right behind the Randall Museum, which is next to Corona Heights Park.
Storm damage forced SF Rec and Parks to temporarily close both.
Onlookers were in awe at the sight.
"It's impressive, very impressive. The size of the boulder is amazing," said Mathieu Etcheparre, who lives nearby.
That boulder stopped just before it made its way into the side of the aptly named Rocky Mountain Participation Nursery school, which has been in existence for more than 50 years.
"So far we know we can use the building and that's what we know so far," said Wildman, the school's director.
The swing set and playground are still intact, but a lot of cleanup remains.
The 20 kids who are educated there won't be able to use the outdoor facilities until it's deemed safe.
With the school tucked below the hillside, the director thought there was always a slim chance that something could happen, but nothing like this.
"Rec and Park was just here the week before break pruning these trees so I think nobody had an idea. But I think no one thought we were going to get almost 5 ½ inches of rain in 24 hours, and then some," said Wildman.