What is King-Lee Day? History of the holiday still celebrated in 2 states
January 17 marks Martin Luther King Jr Day, a day dedicated to the memory of a powerful civil rights leader and changemaker, but for two southern states, Jan. 17 has a double meaning. 
In Alabama and Mississippi, Jan. 17 is a day to remember not only the works of Dr. King but also to remember Robert E. Lee, whose birthday falls on Jan. 19. 
Known as King-Lee Day, the two states acknowledge the impact of one prolific civil rights leader and a famed Civil War general of the Confederacy — quite contrasting public figures but leaders nonetheless.
RELATED: MLK holiday weekend to feature tributes, commitments to race equity
King-Lee Day origins
King-Lee Day was originally celebrated as Robert E. Lee Day in Virginia, the general's home state, beginning in 1889. 
But the commemorative state holiday would change for Virginians in 1904 to Lee-Jackson Day, celebrating both Lee and another Confederate general, Thomas "Stonewall" Jackson, whose birthday falls on Jan. 21, according to WBHM. 
In 1983, President Ronald Reagan declared the third Monday of January as MLK Day, so Virginians began celebrating three people and changed Lee-Jackson Day to Lee-Jackson-King Day. 
Years later in 2000, Virginia's General Assembly decided to split Lee-Jackson Day and MLK Day and allowed the state to recognize Lee-Jackson Day on the second Friday of January, according to WAMU. 
And in 2020, the Virginia House voted to officially remove Lee-Jackson Day altogether as a state holiday and only recognize MLK Day as a federal holiday, with a handful of municipalities that still recognize both, but again, on separate days.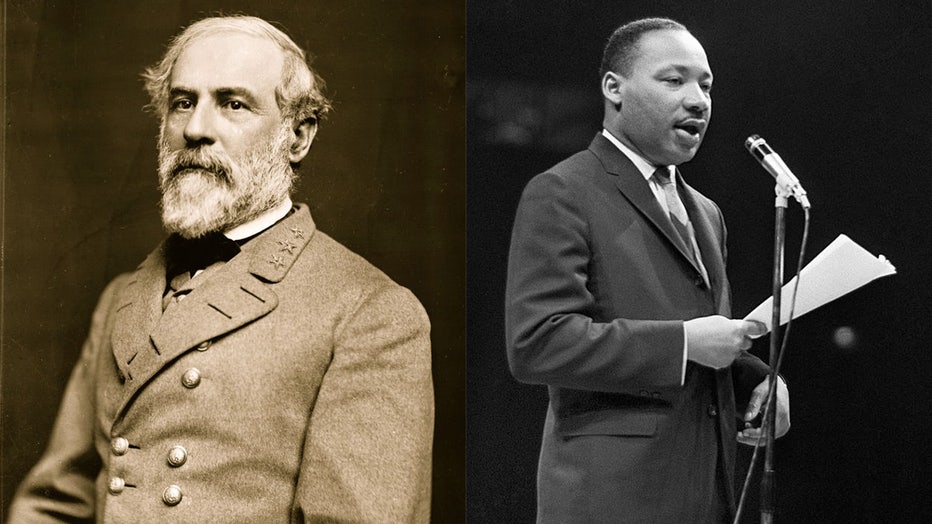 Side-by-side image showing Gen. Robert E. Lee and Rev. Martin Luther King Jr. (Getty Images)
States that celebrate King-Lee Day
The conception of Robert E. Lee Day and its evolution was not exclusive to Virginia. 
Alabama, Mississippi, Louisiana, North Carolina and Arkansas were some of the few known states that recognized Lee-Jackson Day. 
And when MLK Day was declared a federal holiday in the 80s, Alabama, Mississippi, and Louisiana would add "King," celebrating all three public figures. 
Eventually, many southern states would drop Jackson's name altogether and have two separate holidays remembering Lee and King. 
But as of 2022, only Alabama and Mississippi continue to recognize King-Lee Day together on one state holiday. 
MLK Day, however, is an official federal holiday and all 50 states recognized it as such for the first time in 2000. 
This story was reported from Los Angeles.