Where was Oakland Police Commission during latest OPD setback?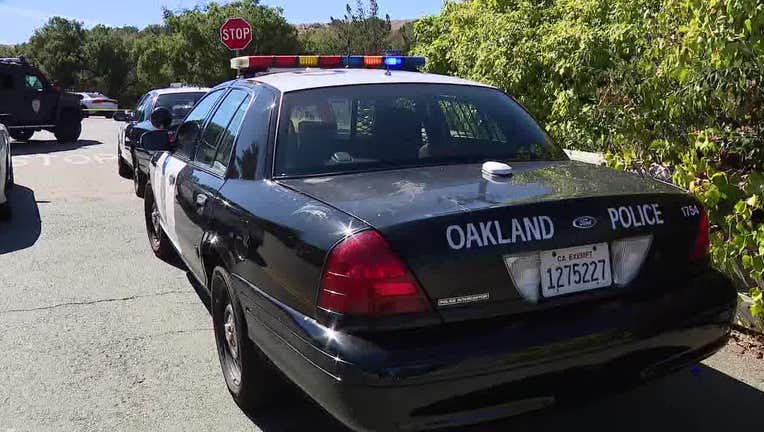 article
OAKLAND, Calif. - When the mayor put Oakland Police Chief LeRonne Armstrong on leave two weeks ago because of "systemic deficiencies" uncovered in Internal Affairs investigations, the chief and his allies came out hard against the 20-year-old federal oversight of OPD and specifically the federal monitor tasked with making sure police reforms are upheld. 
Armstrong, the NAACP and former Oakland councilmembers Loren Taylor and Lynette Gibson McElhaney are all critical of the monitor – Robert Warshaw – who they say makes unreasonable demands and is financially incentivized to keep the oversight in place. 
But when – and if – the federal oversight ends, keeping outside tabs on the Oakland Police Department will fall on the civilian-led Oakland Police Commission, created to make sure the department follows constitutional policing practices. 
But these commissioners have been hamstrung by personal infighting and lack of resources. 
And a central question arises: Are they even up to the job? 
"There is open division on the commission," La Raza Community Resource Center board member Mariano Contreras said at a Jan. 12 commission meeting. "I'm concerned with this disharmony…and lack of transparency." 
Added Ricardo Garcia Acosta, a CURYJ member: "There is outrage over the dysfunction this commission."  
Perhaps it was this dysfunction that led the police commission to be left out of the investigation into Sgt. Michael Chung.
The investigation by the San Francisco law firm, Clarence Dyer and Cohen, found that Chung ripped the bumper off a neighbor's Mercedes in San Francisco in March 2021 and then lied about it, only to receive counseling for what he did. And then a year later, the law firm said that Chung fired his service weapon in a police elevator and threw away the shell casings into the bay, before eventually coming forward in April 2022. Chung was put on leave, which he is still on today. 
The law firm investigation also found that Chung's superiors downplayed his actions, left critical facts out of Internal Affairs reports and that Chief Armstrong allowed these "systemic discrepancies" to occur and did not hold the officers properly accountable. 
Armstrong has publicly denied any wrongdoing, calling Chung's actions "minor." 
The public only knows about this latest Oakland police setback because in May 2022, Warshaw asked for the law firm to look into these allegations. Their partial findings were made public Jan. 18 in a 16-page report. 
And now, KTVU has learned that it was civil rights attorney Jim Chanin, a plaintiff's attorney in the 2000 Riders suit, who originally brought the matter to Warshaw. 
If not for Chanin's integral involvement with the federal oversight – as he represents the 119 Black men who sued police when a rogue group of officers named the Riders planted drugs and used excessive force on them – then who knows if Chung's behavior would have been independently investigated and then made public? 
And in fact, many in the community are now finger pointing at the Oakland Police Commission for seemingly being absent during this investigation. The city's contract with the law firm stipulated that the police commission should be looped in to "coordinate parallel investigations." But that didn't happen. 
It not clear whether the city, the law firm or the commission let this communication fall through the cracks. 
Coalition for Police Accountability activist Rashidah Grinage blamed the police commissioners. She said they did not follow up or bring the request for records back in subsequent meetings since October. 
"The (outside) firm was supposed to be reaching out and collaborating with (the) Community Police Review Agency," Grinage said. "Why didn't it happen? Where was the ball dropped on that? Was it that the city attorney never informed them about the requirement in their contract that they needed to collaborate with Community Police Review Agency? It's very disturbing that the commissioners don't want to engage in questioning or dialogue around this issue." 
Community member and labor organizer Millie Cleveland encouraged the commission to do more. 
"Are you going to have the courage to sue the police department, if in fact they are in contempt and do not provide you with the information you need?"  Cleveland asked at a meeting. "We're counting on you to conduct an objective investigation and receive all the proper documents you need. We need a police commission with some backbone."
Police Commission Chair Tyfahra Milele declined to answer most of KTVU's questions regarding why she didn't get the information the commission needed from the Clarence, Dyer and Cohen firm or why the commission didn't use its subpoena power to demand this information.
She said that the questions "involve litigation or positions to be taken in litigation." She would not elaborate. 
She added that she cannot "bind the commission at this time to public positions on these issues." 
The police commission's newly hired Inspector General Michelle Philips also declined comment on the issue through a spokeswoman. 
At the end of its Jan. 26 meeting, the commission voted 6-0 to approve requiring the police department to provide all records on the Chung investigations. 
In an interview, Chanin said he wants the federal oversight to end. 
The purpose of his lawsuit with civil right attorney John Burris 23 years ago was to force the Oakland Police Department to make reforms and curb their racial profiling and abuse of Black residents.
Much of that important progress has occurred, Chanin said, and the police department is a much different – and better – force than it was two decades ago. 
OPD was so close to seeing that oversight end – it was supposed to have been over this summer. But this latest saga has extended that oversight by at least six months. 
Still, Chanin is optimistic and hopeful. He believes the commission has potential to one day take the reins. 
"I don't think the court would allow permanent oversight," Chanin said. "And I don't want it. The city has to take over at some point." 
The police commission is holding a special closed meeting Thursday at 5:30 p.m. 
Lisa Fernandez is a reporter for KTVU. Email Lisa at lisa.fernandez@fox.com or call her at 510-874-0139. Or follow her on Twitter @ljfernandez