Will Ferrell plays for Giants, A's Spring Training games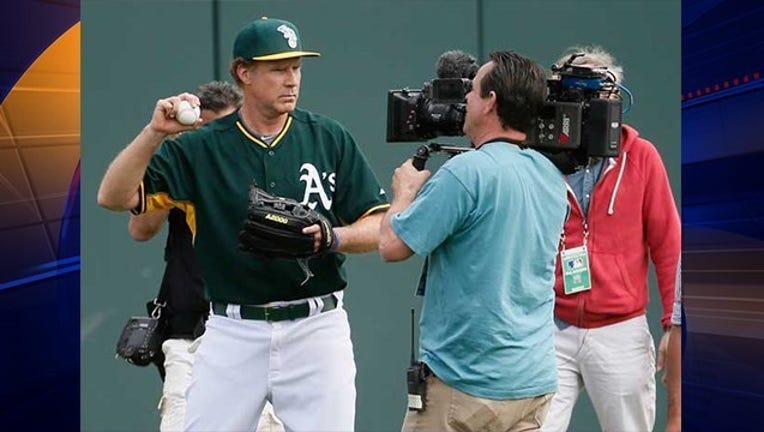 article
SCOTTSDALE, Ariz. (AP) — Will Ferrell stormed through his Arizona spring training odyssey and emerged — well — just like Will Ferrell.
"Ruth, Musial, Mantle, Will Ferrell," he said, addressing the crowd at his final stop Thursday night. "Who would have thought that one day those names would be synonymous? Show of hands — scratch that, never mind."
The star of "Anchorman: The Legend of Ron Burgundy," ''Elf" and many other movies started in an Oakland Athletics uniform at noon, then was off to four other ballparks, playing for each team, and at every position along the way.
Ten teams, five ballparks.
"When I embarked on this journey way back at breakfast," Ferrell said, "I thought to myself, 'Could I do it?' The answer is yes."
He hugged a guy in an elf suit as he left Mesa, held up a sign saying "Remember These Games Don't Count" as impromptu third base coach for the Chicago Cubs, struck out twice on three pitches each, watched two home runs sail over his head, and chased the ball around the outfield during a challenging stint in left field for the Arizona Diamondbacks.
Ferrell wore No. 19 for every team except his last one. He didn't want to wear the late Tony Gwynn's number, so donned No. 20 for the Padres.
When it was over, he took the public address microphone to the infield and recounted his day.
"There's no doubt I turned some heads today, even if it was just for a moment," Ferrell said. "I brought passion to the field, dedication, ability and a lot of ignorance. The ball moves fast out there, a lot faster than it looks on television. It's like a speeding bullet. It's horrible, terrifying."
His caravan took him from Mesa to Tempe to Scottsdale. From there, he helicoptered across north Phoenix to Glendale, making a triumphant landing in the nick of time in center field at the Camelback Ranch ballpark where the San Francisco Giants and Chicago White Sox were entering the ninth inning.
The tour was being chronicled by HBO for a special. Memorabilia from his journey is to be sold at auction on MLB.com with proceeds going to Cancer for College and Stand Up to Cancer.
In his final stop, in Peoria, he took the mound for the Los Angeles Dodgers and got San Diego's Rico Noel, the only batter he faced, to bounce out to the pitcher.
"Is there life in this 47-year-old arm?" he said.
Then he walked off the mound toward second base in dismay when manager Don Mattingly came out to replace him.
"Mattingly already cut me," Ferrell told Hall of Fame manager Tommy Lasorda outside the dugout.
Eight and one-half hours after he first took the field at shortstop for the Oakland A's, Ferrell played in right field for San Diego in the ninth inning. He had done it. As he walked off the field, Ferrell waved his cap and gave a security guard a high five.
"They say there's nothing more American than grabbing a hot dog, heading to the ballpark, and watching nine guys from the Dominican Republic," he said. "... But you know what, today I learned that was wrong. They had eight Dominicans, and one guy from Irvine, California."
Ferrell introduced the Craig Pollard, founder of Cancer for College, saying the organization had given 2,000 scholarships to children with cancer over the past 20 years.
At the end of his remarks, he dropped out of character.
"On a serious, real note, what a day," he said. "Thank you all, thanks to MLB, thanks to my family, to our production team and especially to Craig Pollard."
When he took the field as A's shortstop, the crowd cheered when he fielded a warmup grounder.
"I never would have thought Will Ferrell would play second base behind me," Seattle pitcher Jordan Pries said. "Honestly, I didn't want anything to go that way, but I was just trying to pitch. Once the ball leaves my hand, I have no control. I didn't realize what a spectacle, a circus, it was going to be. You want to get your work in but you want to have fun, too."
In a surprise pinch-hit appearance for the Cubs, he struck out on three pitches.
"He's a menacing figure at the plate," Angels pitcher Zach Stewart said, "so I knew I had to bring my best stuff."
This was the latest, perhaps most ambitious, of Ferrell's forays into sports and the injection of his character into the world at large.
In 2010, he pitched, albeit briefly, for the Triple-A Round Rock Express, wearing a fake mustache in the guise of "Rojo Johnson," a pitcher with a fiery temperament. He threw one pitch behind the Nashville batter. As he left the field, he ripped off the mustache and waved triumphantly to the crowd.
Two years later, he and fellow actor Zach Galifianakis invaded a Cubs game, throwing out the first pitch then hilariously butchering the introduction of the lineups.
The rapid baseball journey also commemorated the time, 50 years ago, that Bert Campaneris played all nine positions in a game.
"Was I the best player on the field today?" Ferrell said. "Maybe, maybe."
Then he led the crowd in a chant — "May-be, may-be, may-be."