Winter storm front brings high winds, heavy rain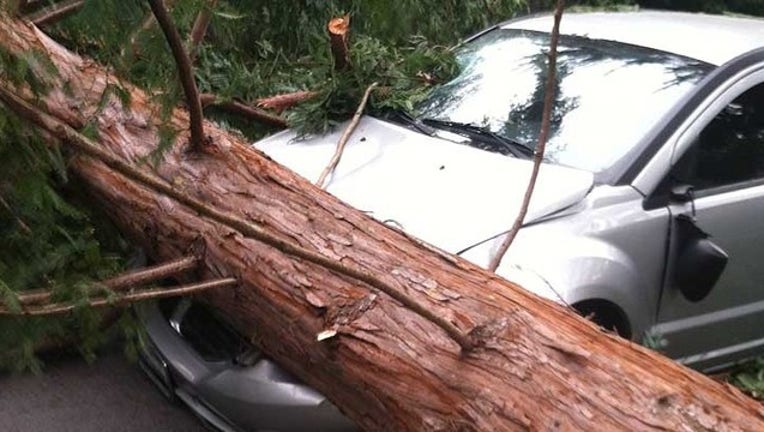 article
A 40-foot high tree has fallen on Potrero Avenue at 24th Street in San Francisco, blocking some lanes, officials with the San Francisco Fire Department said Friday evening.
The tree, which fell on Potrero Avenue near San Francisco General Hospital and Walgreens, split at the 12-foot line with two-thirds of the tree above the break, fire officials said.
The San Francisco Department of Public Works has been notified and police are on their way to the scene, according to fire department officials.
Nearly 15,000 PG&E customers in the Bay Area were without power Friday because of the high winds and rain passing through the area, PG&E officials said.
Almost 55,000 Bay Area customers have lost power during Friday's storm. As of 7 p.m., around 9,140 remained without power in the area.
PG&E has about 1,160 personnel working to respond and restore service to affected customers, company officials said.
The utility will be dispatching crews to areas most affected by the storm, which may mean the company has to delay or cancel scheduled work to respond to outages.
A wind advisory is effect for the Bay Area until 4 a.m. Saturday, said National Weather Service forecaster Diana Henderson. Weather officials are expecting winds of 30 to 40 mph through tonight.
After midnight the winds will subside to 20 to 30 mph, but winds may gust to 45 mph, Henderson said. By morning, forecasters are expecting winds of 10 to 20 mph.
A large Douglas Fir damaged a San Rafael home Friday afternoon after it came crashing down on the roof.
Sarah Wescott stood on her street in Lucas Valley looking on in amazement as large crane pulled a 100-foot-tall Douglas fir tree off her roof.
"I was home studying for a big exam, sipping on tea when I heard the strong gusts of wind and then heard a thud, thud crash," said Wescott.
The tree landed above her daughter's bedroom, but no one was injured.
Mike Queirolo of Treemasters, the company hired to remove the tree, said another one had come down just a mile away.
"Looks like we've had 50-60 mile per hour gusts and if the wind keeps up we'll get more calls," said Queirolo.
The stormy weather was causing flight cancellations at San Francisco International Airport, airport officials said.

77 departures and 78 arrivals have been canceled, said airport duty manager Joe Walsh. Walsh said delays are about 60 to 90 minutes.

The delays are occurring to both inbound and outbound flights, but Walsh said most of the delays are to arrivals. 

A delay program at the airport went into effect at 9 a.m. and will be in effect until 10 p.m., Walsh said. 

Throughout the North Bay from Guerneville to Napa, residents were putting out sandbags to protect their homes and businesses. The National Weather Service had issued a flash flood watch for the Bay Area for the stormy weekend.
Forecasters said the incoming storm would be accompanied by warm temperatures and that the snow levels were predicted to range from 8,000 feet and higher.  
The storm did bring in strong winds that snapped massive trees, closed ski resorts around Lake Tahoe and knocked out power to thousands. A 134 mph gust recorded early Friday near the Mount Rose Ski Resort southeast of Reno led the facility and two others to close.
A storm predicted to arrive on Sunday will be accompanied by colder air and snow level would drop to 6,500 feet.

Transportation officials wanted travelers to the Sierra to be prepared for chain requirements on the high passes of Highway 80 and 50.