Witnesses say arson to blame for large fire at San Leandro 7-Eleven
SAN LEANDRO, Calif. - Traffic was shut down on East 14th Street between 138th Avenue and San Leandro Boulevard due to a structure fire in the area Wednesday afternoon, according to the San Leandro Police Department. 
Plumes of black smoke could be seen pouring into the sky during the fire. At least four fire engines and more than 35 firefighters responded to the blaze just before 12:30 p.m. 
Witnesses said they saw a person setting a bush on fire next to the 7-Eleven on East 14th. However, officials said the fire is still under investigation. 
As fire crews doused the flames with at least six hoses, the front of the building became visible along with the 7-Eleven sign. The roof could be seen partially collapsing in on the structure. 
When a KTVU crew arrived, the smell of burning chemicals was thick in the air. The stench remained for hours after the fire was extinguished. 
"It's the kind of smell that there's chemicals in the air too, not just like a bushfire or something like that," said neighbor Tom Schedler. 
"I was just coming out from Popeye's, and then I saw the guy lean down, start the fire and then he walked that way," witness Doug Holland gestured. 
Holland said he started recording when the employees attempted to put out the flames. He did not capture images or video of the person who allegedly started the fire.
"[The employee] tried to put the fire out with a fire extinguisher, but he couldn't get it out," Holland said. 
Asal Alavi, another witness at the scene, said "That's when the whole 7-Eleven caught on fire."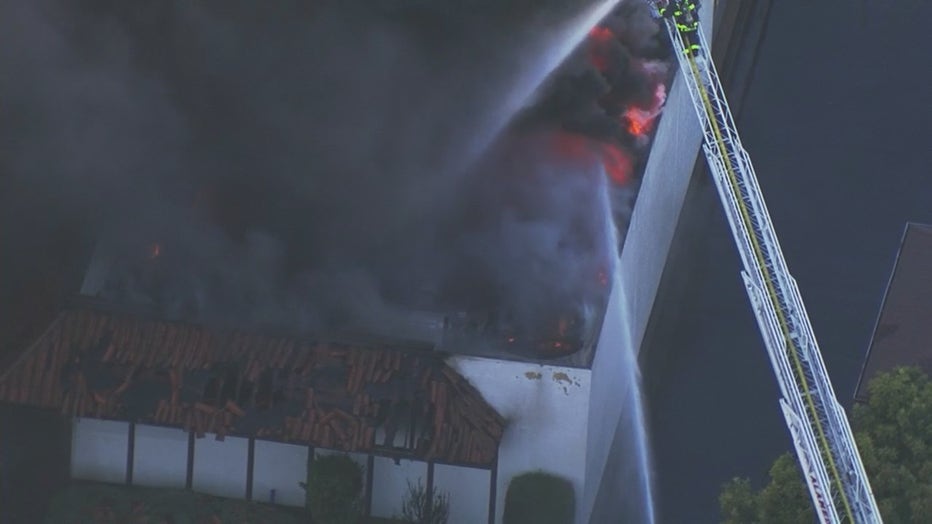 Firefighters arrived to the store and began washing the bush with hoses, and although the fire seemed to dissipate, minutes later, the building was fully engulfed in flames and smoke. 
Firefighters who were standing on the roof to put the fire out were told to get off the building due to safety concerns and instability of the roof.
"The fire spread quickly. It was a heavy smoke producer because it's a commercial structure," Alameda County Fire Department Division Chief Heather Marques said. 
Two people inside the 7-Eleven evacuated the building before fire crews arrived. Thankfully no one was injured. Everything inside the store burned. 
Nearby schools were ordered to shelter-in-place. The stubborn fire took more than five hours to be fully knocked down.
Drivers and community members were asked to avoid the area as fire crews responded. 
"We did ask for all the people in the area to stay out of the smoke's flow and not breathe any of it in," Marques said. 
Despite what witnesses saw, arson has not been officially ruled as the cause of the fire. 
The owner of the 7-Eleven declined to comment.