Woman claims she gave birth in solitary confinement at Santa Rita Jail, sues county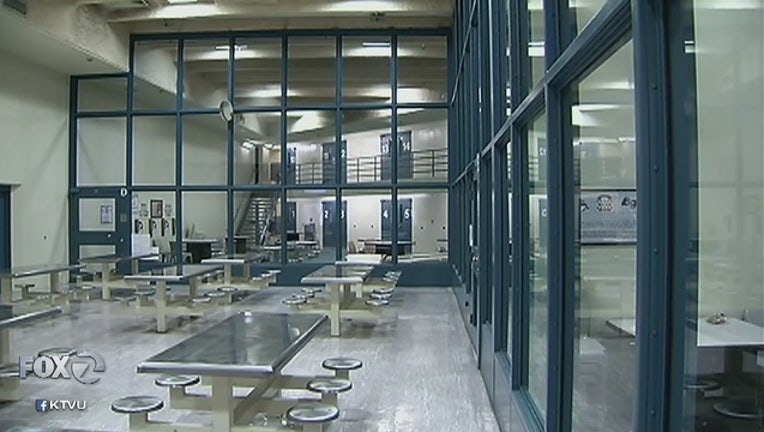 article
ALAMEDA COUNTY, Calif. (BCN) - By Bay City News Service
A woman who says she gave birth in solitary confinement in the Santa Rita Jail last year has sued Alameda County and its health care provider for inmates.
The suit, filed in U.S. District Court this morning, accuses the Alameda County Sheriff's Office of "barbaric conduct" by forcing Candace Steel to give birth alone in a dirty, concrete cell with no blankets or towels a few days after she was booked into the Dublin jail.
Alameda County is already facing a class action suit accusing the sheriff's office and its private medical provider, California Forensic Medical Group (CFMG), of providing inadequate care to women in their custody. 
When that suit was filed, Sheriff's Sgt. Ray Kelly disputed the allegations, but admitted that a "series of incidents" led to a woman giving birth while alone in a cell. 
Oakland attorney Yolanda Huang said she was unable at first to find that woman, so she was not included in January's lawsuit. Huang has since found her and filed the separate suit on her behalf today.
"This woman was complaining about pain and she had all these high-risk early delivery symptoms, and they disregarded them and they stuck her in a filthy solitary confinement cell," Huang said today.
"Nobody paid any attention to her -- they just let her scream for hours."
Kelly did not answer a request for comment today. CFMG did not respond to an email seeking comment.
Steel was arrested on misdemeanor charges and booked into the jail shortly after midnight on July 21, 2017, according to the lawsuit. Before she was booked, she was examined by doctors at ValleyCare Medical Center in Pleasanton. 
As she was eight months pregnant, she was sent to the labor and delivery department, where she admitted that she had smoked methamphetamine and tobacco and drank alcohol during her pregnancy, which would put her at greater risk of premature labor.
The suit says that she also reported that she'd had seizures during a previous pregnancy. She had received no prenatal care, so she wasn't sure when her due date was. While in the hospital she also was diagnosed with a urinary tract infection, which can lead to pre-term labor and delivery. 
This information was all noted in her intake form at the jail, which should have alerted the jail staff that she was a higher than normal pregnancy risk, according to the suit.
Two days later, Steel reported cramping and pain while in the housing unit. She could barely walk and had to crawl on her hands and knees, according to the suit, so the other inmates called for help.
A nurse with CFMG examined her and determined that she only had a stomach ache and was exaggerating her distress, according to the suit.
Deputies then put her in solitary confinement -- a cold concrete room with a solid metal door and a metal and concrete bed -- as punishment, the suit says. She was left in there, screaming in pain, for hours.
Finally, the screaming stopped. Then the other inmates heard the sound of a crying baby. 
The baby nearly died as its umbilical cord was wrapped around its neck, but Steel managed to clear the child's airways. Still, she was left with no way to clean it, and they sat there wet, cold and alone.
The suit alleges that the way CFMG's contract is structured, it has a financial incentive to prevent pregnant women from receiving proper medical care.
Under the terms of the contract, CFMG must pay for any outside hospitalization costs itself and receives no reimbursement from the county, including for labor and delivery services.
The suit alleges "if a pregnant Santa Rita Jail inmate goes to the hospital to deliver her baby, CFMG pays. An inmate forced to deliver her baby at the Jail does not cost CFMG anything additional."
The previous class action suit, which includes 24 women who are either current or former inmates of the Santa Rita Jail, is in settlement negotiations, which Huang said she could not comment on. That suit alleges that at least two inmates had miscarriages because of mistreatment in the jail.
It's not the first time Alameda County has faced allegations of mistreatment by a private healthcare provider in its jails. 
In 2015, the county and its health care provider at the time, Corizon Health Inc., agreed to a $8.3 million settlement and a series of reforms to health care in the jail in a suit brought by the family of Martin  Harrison Jr. Harrison had died in custody from alcohol withdrawal.
In 2016, Alameda County elected to switch medical providers for the jail to CFMG. But even then CFMG had already been accused in lawsuits of inadequate medical care in Santa Cruz, Mendocino and Ventura counties.