Woman says she didn't initially reject advances of colleague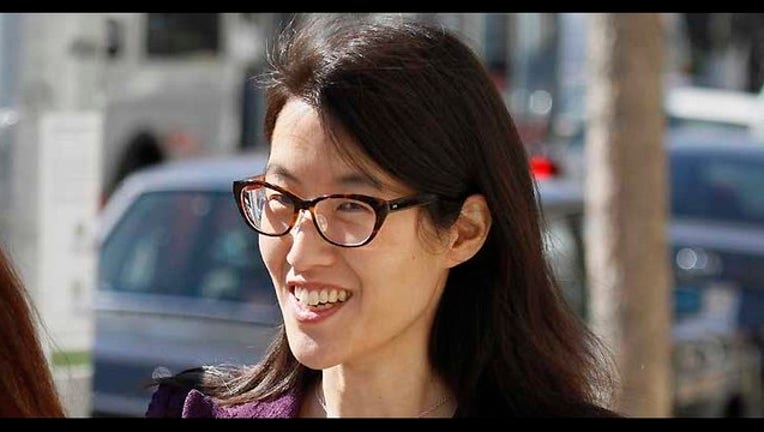 article
SAN FRANCISCO (AP) — A woman suing a prestigious Silicon Valley venture capital firm in a high-profile case alleging gender bias testified Tuesday that she did not reject the initial romantic advances of a male colleague and even discussed having children with him.
Plaintiff Ellen Pao told jurors the colleague first approached her romantically during a trip to Germany after she had been struck by a cab. She was dazed from her injuries and couldn't object to his advances, she said.
"I got hit by a cab and then he tried to hit on me," Pao said.
Under further questioning by Lynne Hermle, an attorney for defendant Kleiner Perkins Caufield & Byers, Pao said she and the co-worker eventually had an affair and she told him she loved him.
Pao claims in her lawsuit that she was denied a promotion at the firm because of gender bias and then fired after she complained.
Her lawsuit has spotlighted gender imbalance at elite Silicon Valley investment companies that are stacked with some of the nation's most accomplished graduates — multiple degree holders from schools such as Stanford and Harvard who are competing aggressively to back the next Google or Amazon.
Women, however, are grossly underrepresented in the venture capital and technology sectors.
Pao addressed that issue under questioning by her attorney, saying her lawsuit was aimed in part at creating equal opportunities for women in the venture capital sector.
"I've tried many times to bring Kleiner Perkins to the right path," she told jurors. "I think there should be equal opportunities for women and men to be venture capitalists."
Pao was questioned for the first time by Hermle. Their exchanges were often tense, with Pao staring at the lawyer and pausing before responding yes or no.
Hermle also showed emails to the jury in which Pao and the co-worker exchanged compliments and banter.
In one email from 2006, after the affair began, Pao wrote that she was always looking out for the colleague — "never stopped, never will."
In text messages that year, she said she didn't think he was a bad person and she wasn't mad at him for not being able to have a real relationship at the time.
Pao previously testified that she began the affair after the colleague said his wife had left him. She said she broke it off several months later when she learned that was a lie.
After she ended the affair, Pao testified, the colleague retaliated by shutting her out of emails and meetings.
When she raised the retaliation issue with management, a senior partner explained how he had met his wife at another company while he was married, and perhaps Pao could have the same outcome with her colleague, she testified.
The firm did nothing about the retaliation, she said.
Pao also told jurors that she had sought $10 million from the firm in exchange for voluntarily leaving, saying she believed the figure would prompt the firm to change its treatment of women.
Pao did not receive the money and continued working at the firm. Her lawsuit seeks $16 million in damages.
Pao said she made $400,000 a year, excluding bonuses, at Kleiner Perkins, and is making $170,000 a year, with a target bonus of $80,000, as interim CEO of Reddit, her current job.
Pao, 45, said Kleiner Perkins repeatedly dismissed her attempts to open a discussion about gender bias and instead hired an antagonistic investigator to look into her complaint.
Kleiner Perkins has denied wrongdoing and says Pao didn't get along with her colleagues and performed poorly as a junior partner.
Pao was composed on the stand under questioning by her lawyer, even while discussing potentially emotional topics such as her firing.
She said Steve Hirschfeld, an investigator hired by Kleiner Perkins to look into her complaint, did not appear open to what she had to say.
"It felt antagonistic," she said. "There were times I felt he was grilling me about answers I didn't have."
Hirschfeld eventually concluded that Pao had not been retaliated against and there was no gender discrimination at the firm.
Pao said she filed her lawsuit after running out of ways to try to get her concerns addressed within the company. But afterward, partners stopped coming to her office to talk, and she received a poor performance review that caused her to nearly vomit, she said.
She was told in October 2012 to pack up her belongings and leave the office, she said.