Woman sprayed with lighter fluid in bizzare crime spree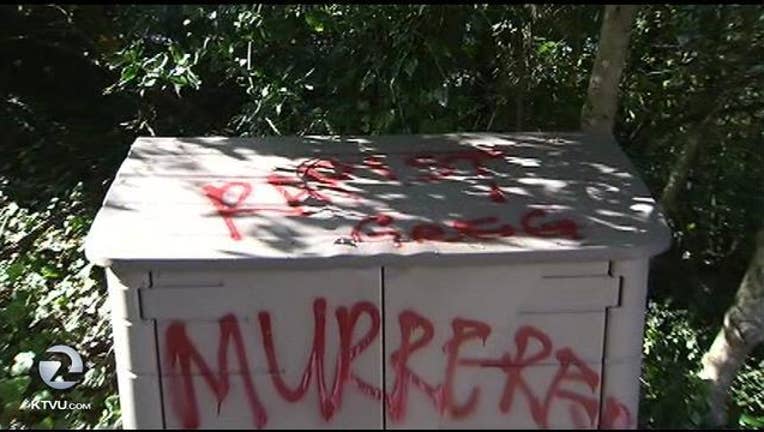 A strange story of arson and assault in normally quiet Mill Valley ended with a suspect in custody, but some bizarre graffiti and rattled nerves lingering.
"I said what are you doing, what are you doing, and she wouldn't speak," the assault victim told KTVU, describing an encounter with a woman at the foot of her driveway Sunday morning about 9 am.
"She was spray painting the words 'rapist lives here'", said the homeowner, who did not want to be identified by name.
The resident immediately realized it was the same car spotted on Panoramic Highway last week, when someone lit a small shrubbery fire in her yard. She didn't want the woman to flee without getting her license plate, so she started shouting for neighbors and trying to flag down passing cars.
"That's when she started spraying me with charcoal lighter. My face and my hair, all over me," recounted the woman. "We got in a struggle because I was trying to restrain her from spraying me."
What the victim didn't know was that her attacker, just minutes before, had set a house on fire across the highway. Drenching the electrical box with lighter fluid and torching it. The homeowner there heard popping noises, smelled smoke, and turned a garden hose on it until crews arrived.
"I didn't see any matches, but she was just spraying me all over, chasing me, spraying me," said the woman under attack, still struggling with lighter fluid in her eyes.
Finally, passing motorists intervened to help.
"One of our off-duty firefighters who was heading down the hill saw the assault," Marin County Fire Battalion Chief Bill Robertson told KTVU, "so he stopped and rendered aid and detained the assailant."
Residents were also startled to find the words "killer" and "murderer" along with "rapist" spray painted on mailboxes, garbage cans, a storage bin, guard rail, and pavement. The Sheriff's Department says the spree fits with the suspect's history.
Identified as 24 year old Nai Feuy Saelor of Richmond, she has obsessed over the torched house before, bringing boxes and trying to move in. She is also convinced that someone lives in the vicinity, who has raped her.
"I saw her face down on the driveway with one of the deputy sheriffs sitting on her," neighbor Dean Cookson told KTVU, describing the commotion and Saelor in custody.
"She was squirming a little bit, yelling get off me, but with a two hundred pound guy on her back and handcuffed, she wasn't going anywhere."
The determined homeowner who hung in there, tangling with the suspect, suffered some scratches on her neck and eye irritation, but has no regrets.
She says the woman was carrying a pile of spray paint and lighter fluid, and clearly wasn't done with her rampage.
"I just hope they can help her, so that she doesn't think there's something bad that happened here, and comes back eventually."
"I think it's just madness, it's crazy. We don't know this woman. Nobody knows this woman," said the victim's husband.
Sheriff's investigators say there is no record of Saelor making a sexual assault allegation against anyone, and when interviewed Sunday, she could not explain her actions.
She has unspecified restraining orders against her already in the East Bay.
In Marin, she was booked on suspicion of vandalism, arson, and assault with a deadly weapon.