Women's World Cup semifinal view party brings crowd to Civic Center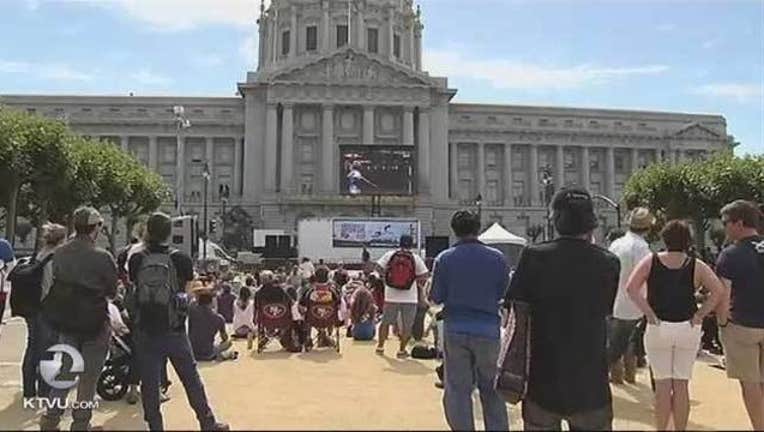 article
SAN FRANCISCO (KTVU) -- A watch party for the Women's World Cup semifinal match between the USA and Germany on Tuesday afternoon drew a crowd of soccer enthusiasts to San Francisco's Civic Center Plaza.
The city's Recreation and Park's Department hosted the viewing party and KTVU Fox 2 served as a proud sponsor. KTVU 4 p.m. anchors Mike Mibach and Keba Arnold kicked off the event, leading the crow in a chant of "USA!"
"It unites us," former Olympic swimmer Kimberly Carlisle said about watching sports together. "That's true for girls and boys, men and women. It's true at any age, and any part of the world."
The event started at 3 p.m. with food trucks, "soccer in slow motion" rings for kids to kick around a ball, and face painting. 
"This is actually the first German flag that I've seen," said a woman painting flags on cheek after cheek. "All the rest have been red, white, and blue."
Most of the crowd was there to cheer on the U.S. Women's Soccer team. The real winner might be women's sports.
"The women really should get more attention," teenager, Janet Nguyen said watching the game on the big screen. "Such an amazing team. If people want to watch good soccer, the women's national team, that's where it's at!"
The United States won 2-0, and the team is considered the favorite in the finals.