Woodland police officer given new puppy by 49ers after losing K9 partner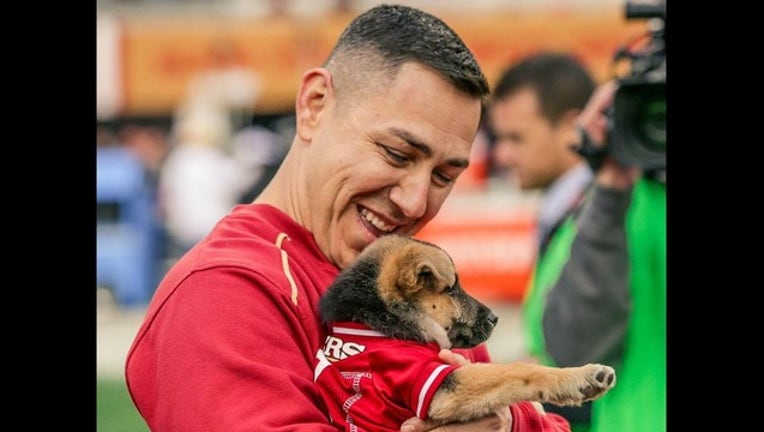 article
SANTA CLARA, Calif. (KTVU) - A Woodland police officer recently lost a friend. His retired K9 partner Peydro unexpectedly passed away in November after being critically injured last year. At Sunday's 49ers game, Officer Juan Barrera got a big surprise. 
The 49ers learned of the season ticket holder's loss and wanted to do something for him. And Faithful Appreciation Day on Sunday at Levi's Stadium against the Jaguars was the slated perfectly. 
A man standing on the 49ers logo with a microphone called out his name. Barrera marched along the 50-yard line, between a dozen cheerleaders, to play "one of the world's largest game of hot or cold." 
Fans were directed to look at the screen where a photo of Peydro was shared and background information was provided. They were told that Barrera was playing for a new family puppy. 
Barrera was blindfolded and guided by fans – "The Faithful." He made his way to one of two gift boxes, where his blindfold was taken off to the surprise of a German Shepherd puppy. 
On Christmas, the 49ers updated fans via Twitter on the name Barrera selected. He named the puppy "Montana," after Hall of Famer Joe Montana.