Born 4 months early, world's most premature twins celebrate their 1st birthday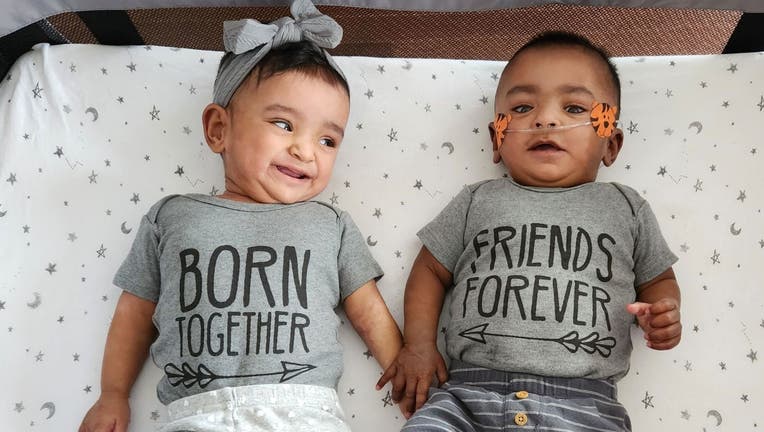 article
When Adiah Laelynn and Adrial Luka Nadarajah came into this world, they weighed a combined 1.66 pounds and were smaller than the palms of their parents' hands.
Little did their parents know, the micro preemies and "miracle" twins would end up breaking two Guinness World Records, and their incredible story would be shared around the world.
Adiah and Adrial were born in Toronto, Canada 126 days early – one day earlier than the twins who previously held the Guinness World Record. The siblings also hold the record for the lightest combined birth weights of twins.
After nearly six months in the hospital with critical complications, the world's most premature twins celebrated their first birthdays this month.
'Miracle' babies
Mom Shakina Rajendram said her pregnancy was seemingly normal and healthy for the first five months – the babies were in good health and there was no indication she was at risk for preterm birth.
"Everything was tracking very nicely," Shakina told FOX TV Stations. "It took us by surprise. It took the doctors by surprise. To this day no one knows why."
READ MORE: Pregnant Door Dasher can't make delivery after car wreck, Sterling Heights PD finish the job
After she began bleeding, Shakina went into labor at 21 weeks and 5 days gestation – more than four months before her due date. Generally, babies aren't considered viable if they're born earlier than 24 weeks.
Doctors said there was nothing they could do to save them; they'd be given comfort care before they passed away. But Mount Sinai Hospital in Toronto specializes in 22-week-old births, so Shakina was transferred there.
On her second day of labor, at 21 weeks and 6 days, doctors said if she delivered them even a few minutes before they were 22 weeks old, they would not receive life-saving care.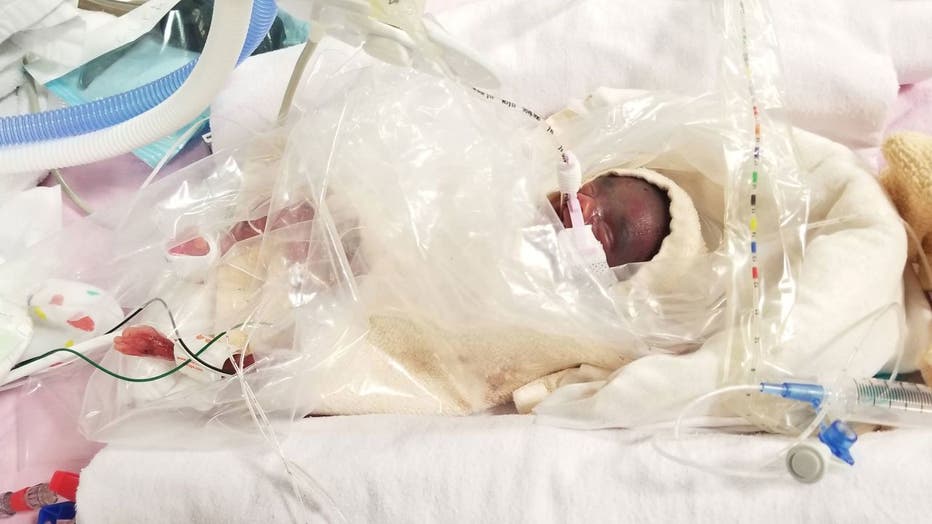 One of the twins in the NICU (credit: Shakina Rajendram and Kevin Nadarajah)
Shakina's water broke 15 minutes after midnight. Adiah and Adrial were born at 22 weeks and 0 days, weighing .73 and .93 pounds, respectively.
Doctors successfully delivered them, but the journey had just begun.
Adiah remained in the hospital for 161 days. Her brother Adrial stayed for 167 days. Although both were born at the same hospital, Adrial had to spend six weeks at a children's specialty hospital because his complications were so severe.
"For a while we had to do trips between both hospitals," Kevin said.
At one point, doctors weren't sure they could do anything more for Adrial.
READ MORE: 'It was my home': Pediatric cancer survivor returns for wedding photo shoot at hospital that cured her
"We had at least two or three conversations with different doctors where they asked us to consider at which point we would withdraw medical care for Adrial," Shakina said. "Surprisingly, every time we were asked to have that conversation something would change, he would make an unexpected improvement.
"We would never end up having to make that decision because things would miraculously turn around in his care," she continued.
As for how the first-time parents coped with such unimaginable challenges, they said they relied on faith, a strong network of family and friends, and the staff at the hospital's neonatal intensive care unit, "who became like family as well."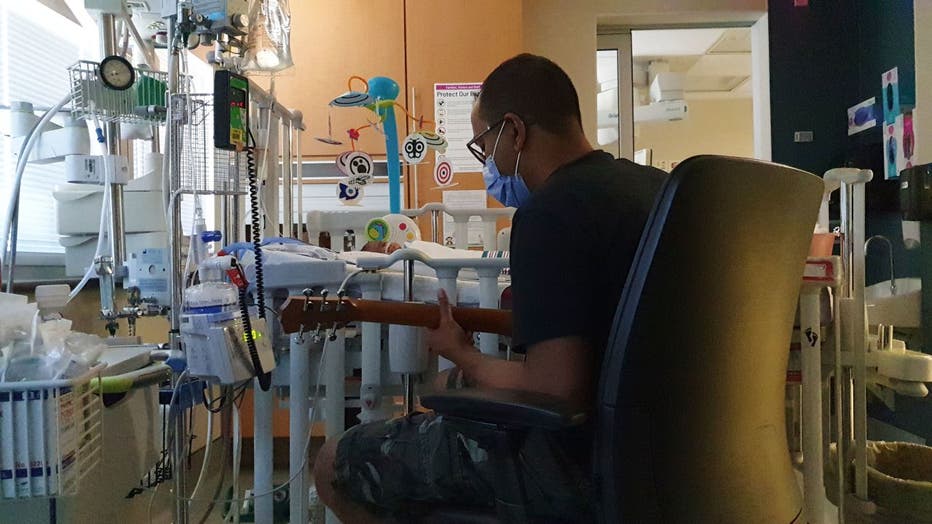 Kevin Nadarajah plays music for his micro preemies in the NICU (credit: Shakina Rajendram)
"A lot of it was kind of thrown at us. It was learning on the go, getting information, asking questions," Kevin said. "We were with the babies for 12 hours every single day observing all their micro changes, and that played a big part in the team managing their care."
In the NICU, Kevin and Shakina sang and played instruments for their babies, talked to them constantly, and "dialed in on all the signs that these babies were going to live," Kevin said.
READ MORE: 7-year-old gives gift of life to teen brother battling leukemia
"Even though they were in such a premature state, we were told they can hear our voice and feel our energy," Kevin said. "Just being positive, singing to them, talking to them, all of those things make a big difference. Parents who spend more time in the NICU have better chances with their babies."
"We wanted to focus on the resilience," Shakina recalled. "We saw them overcoming every single challenge thrown at them – we saw them growing, we saw them improving, and the babies never once gave up on themselves. As parents we were never going to give up on them either."
Adiah and Adrial turn 1
Adiah and Adrial turned 1 on March 4, with Adrial weighing 17.6 pounds and Adiah 15.4 pounds. Adrial no longer requires any outside oxygen.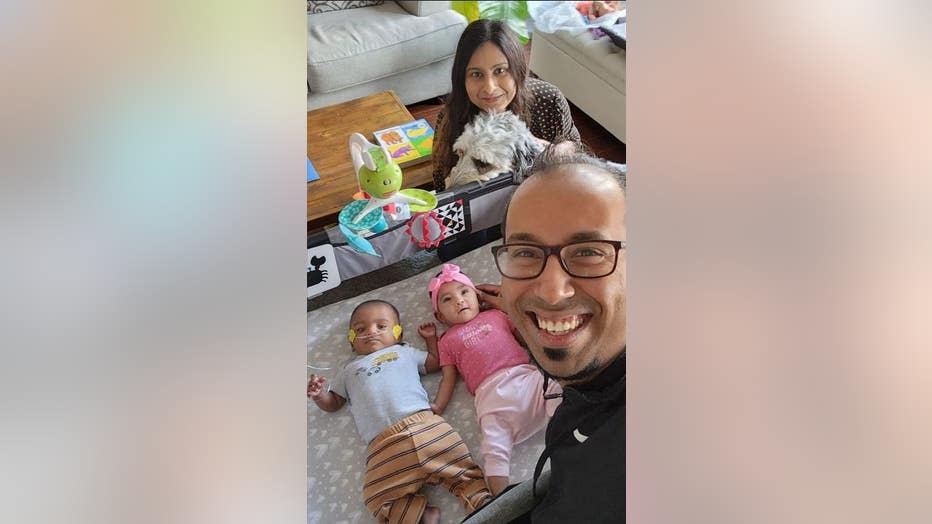 Adiah Laelynn and Adrial Luka Nadarajah, the world's most premature twins (credit: Shakina Rajendram and Kevin Nadarajah)
Even though they were apart for longer than they were together in the womb, the twins share a special bond, Shakina said.
"We often see Adriah reach out and hold Adiah's hand, and we see tender looks on Adiah's face," Shakina said. "They're babbling a lot; they both recognize certain words; they both say mama and dadda; they're imitating sounds we speak to them as well. There's lots of baby talk going on every day."
Kevin is quick to point out that the two have very different personalities: Adiah is more social, while Adrial is more introspective and really likes music.
READ MORE: 'Get certified': Stranger saves 10-day-old baby with CPR at Riverview restaurant
The couple said they've received amazing comments and heartwarming messages since their story has been shared, and they also got a lot of support from TwentyTwoMatters, an advocacy group for babies born at 22 weeks.
But there's also been some unexpected backlash from "people who think there's only one possible outcome, and that's disabilities and poor quality of life."
"The babies are actually meeting all their milestones, they're eating, rolling around, babbling, they're breathing completely on their own," Shakina said. "Every time doctors see them they're amazed by how well they're doing. They're happy and healthy babies who have overcome so much and will continue to overcome every challenge their way."