Wrong-way driver leads CHP on wild-chase before crash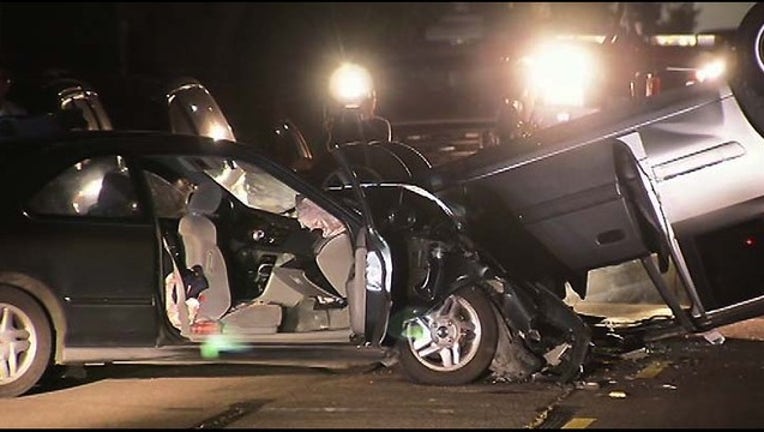 article
BERKELEY, Calif. (KTVU & Wires) -- A suspect is still at large as of Monday morning after a pursuit from Concord to Berkeley, according to the California Highway Patrol.
Officials at an allied agency told CHP officers at about 11:30 p.m. Sunday that they called off a chase involving a stolen Honda Accord. The car started going the wrong way on the highway, according to the CHP.
CHP officials said they called in a helicopter and located the Accord, which went the wrong way on state Highway 4 near Port Chicago Highway in Concord.
The Honda eventually went south on state Highway 242 in Concord, traveled briefly on city streets and then took Highway 4 west in the eastbound lanes to Interstate Highway 80 in Hercules.
The driver took I-80 west all the way to Berkeley in the highway's eastbound lanes and exited at University Avenue, according to the CHP.
CHP officials said units stayed near but did not pursue the Honda as it was driving the wrong way on Berkeley city streets.
The CHP helicopter followed the vehicle from the air until the car started traveling on the proper side of the street near Oxford Street and University Avenue, according to the CHP.
The Honda collided with a GMC Envoy near Hearst Avenue and California Street shortly afterwards, CHP officials said.
The GMC driver suffered minor injuries and went to a hospital for treatment, according to the CHP.
For nearly four hours after the crash, Berkeley police combed the area within a block radius of the crash site, knocking on doors and searching backyards with no luck.
The suspect is described as a white man with short hair, medium build between 20 and 25-years-old.