A's right-hander Mike Fiers throws no-hitter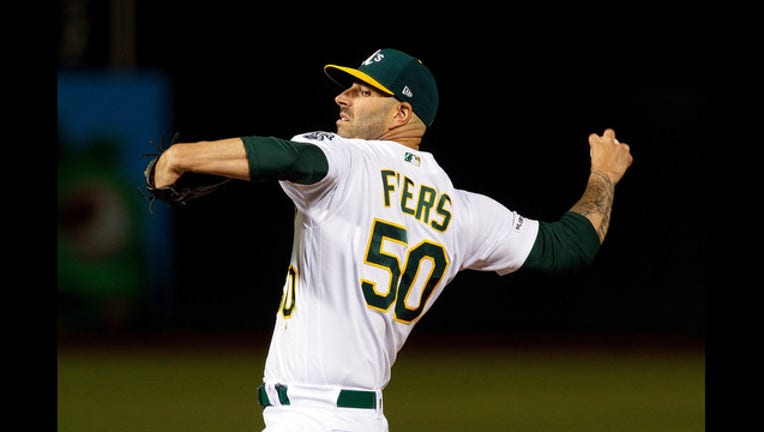 OAKLAND, Calif. (BCN) - Oakland A's right-hand pitcher Mike Fiers threw a no-hitter Tuesday in Oakland, team officials said. 
As of 11:15 p.m. Fiers had pitched his team to a 2-0 win over the Cincinnati Reds at the Oakland Coliseum. 
It's the first no-hitter this season in the major leagues, according to the A's. 
MORE FROM ASSOCIATED PRESS: 
Pitchers with two or more major league no-hitters since 1871 (x-includes postseason):
Seven
   Nolan Ryan
Four
   Sandy Koufax
Three
   Larry Corcoran, Bob Feller, Cy Young
Two
   Jake Arrieta, Al Atkinson, Homer Bailey, Ted Breitenstein, Mark Buehrle, Jim Bunning, Steve Busby, Carl Erskine, Mike Fiers, Bob Forsch, Pud Galvin, x-Roy Halladay, Ken Holtzman, Randy Johnson, Addie Joss, Dutch Leonard, Tim Lincecum, Jim Maloney, Christy Mathewson, Hideo Nomo, Allie Reynolds, Frank Smith, Max Scherzer, Warren Spahn, Bill Stoneman, Adonis Terry, Virgil Trucks, Johnny Vander Meer, Justin Verlander, Don Wilson
No-Hitters vs. Reds 
By The Associated Press
   May 7, 2019, Mike Fiers, Oakland, 2-0
   April 21, 2016, Jake Arrieta, Chicago (NL), 16-0
   Oct. 6, 2010, Roy Halladay, Philadelphia, 4-0, NLDS
   June 23, 1971, Rick Wise, Philadelphia, 4-0
   June 3, 1971, Ken Holtzman, Chicago (NL), 1-0
   May 1, 1969, Don Wilson, Houston, 4-0
   April 23, 1964, Ken Johnson, Houston, 0-1
   Aug. 30, 1941, Lon Warneke, St. Louis, 2-0
   April 30, 1940, Tex Carleton, Brooklyn, 3-0
   May 8, 1907, Frank Pfeffer, Boston (NL), 6-0