East Bay high school Dougherty Valley basketball team reaching new heights
SAN RAMON, Calif. - The high school basketball state championships are underway and the number-one ranked team in all of northern California hails from San Ramon.
But how did Dougherty Valley become a Bay Area powerhouse? 
When the final buzzer sounded Saturday in the north coast section finals, Dougherty Valley had beaten perennial power De La Salle High School to capture its first-ever section championship.
"I told every kid who ever played here, coached here, this was all for them…I ran to the stands and hugged my dad…I don't get there without the roots that he put in me about this game," said coach Mike Hansen.
Those roots run deep.  Hansen is the only men's basketball coach Dougherty Valley has ever known, hired in 2007 – when the school first opened.
"The first year we opened with only freshmen and sophomores.  The next year we had to play a varsity schedule with just juniors, it was a long year, went 2-26.  Never thought we'd get here, leaned on my dad a lot, he'd been through it," he said.
Mike has indeed followed in the footsteps of his father Tom, who in the early 70s, was the first basketball coach at Foothill High in Pleasanton. 
Led by Hansen's culture of family, many of senior leadership, and plenty of depth, the wildcats are 27-3.
It doesn't hurt to have star players either.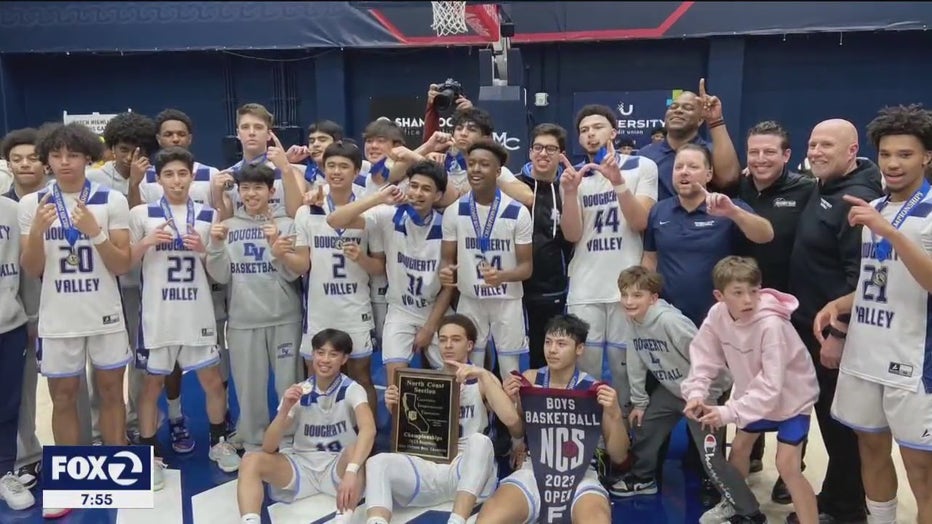 Dougherty Valley High School San Ramon basketball team.
"We're a family here, everyone gets along really well in practice, have a lot of fun even though we are working hard and going at each other and that helps us a lot on the court," said player Connor Sevilla.
League MVP Connor Sevilla and USF commit Ryan Beasley are arguably the best guard tandem in the Bay Area – but it was another standout player, Blake Hudson, who transferred to the school his senior year who teammates say may have put the wildcats over the top.
"He's been the glue to our team, I think we needed that piece last year why we didn't really get it done but this year we've been winning a lot since we got Blake here now," said Beasley.
The high-flying Hudson loves the 'never give up attitude' of this team, best illustrated by its remarkable comeback last month against San Ramon Valley in the playoffs.
"In that game against SRV, down 27 points at the half, we just fought our way back…the way we just stayed together as a team, our resilience is really important to us," said Hansen. "What makes them special? Just their selflessness…a lot of great teams talk about it…these guys embody just fighting for each other, being about each other, revel in each other's success."
So when did coach Hansen first realize he might have a championship-caliber team?
"Probably happened down in San Diego in the Torrey Pines tournament in the national division…real eye-opening competition…and then we won two more games against national ranked teams that's when I knew this group was special," said Hansen.