Cal's Cuonzo Martin resigns for job at Missouri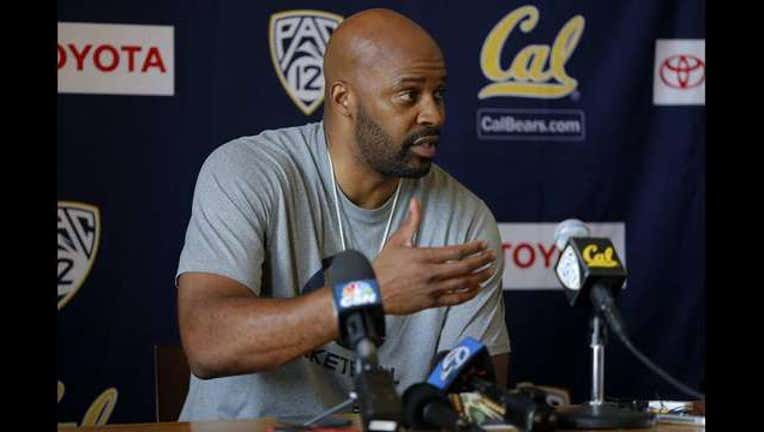 article
BERKELEY, Calif. (AP) -- Missouri announced that Cuonzo Martin was the school's new men's basketball coach just hours after reports surfaced that he was resigning his post at Cal.
Cal announced Martin's resignation Wednesday, a day after the short-handed Golden Bears' season ended in the first round of the NIT with a loss to Cal State Bakersfield. Martin completed his third year as head coach in Berkeley.
"Cuonzo Martin informed me this morning that he is resigning to accept a position at another school. We put forth our best effort to retain him, but he told me it wasn't about Cal, rather a strong desire to move closer to home," Williams said. "We appreciate all that Cuonzo has done with our men's basketball program over the past three seasons, creating excitement inside Haas Pavilion, guiding our team to a pair of postseason appearances and improving the academic performance of our student-athletes."
Cal went 21-13 this season and tied for fifth place in the Pac-12. Martin was 62-39 overall, 29-25 in conference.
Missouri coach Kim Anderson was fired earlier this month. A school spokesman declined immediate comment when asked about Martin.
A year ago, Martin dealt with the dismissal of assistant Yann Hufnagel just before the fourth-seeded Bears -- the program's highest seed in school history -- opened the NCAA Tournament against Hawaii, which pulled off a 77-66 first-round upset.
Two days before the game, the university announced it was reviewing whether Martin properly handled sexual harassment allegations made by a female reporter against Hufnagel. He was fired March 15 after nearly two seasons as a Cal assistant.
An administrative review showed that all department employees, including Martin, responded properly. Martin received a contract extension last October taking him through the 2020-21 season.
Martin previously spent three seasons at Tennessee, going 63-41 and guiding the Volunteers to the NCAA Tournament's regional semifinals in 2013.
He took over a Tennessee program under NCAA investigation in 2011 and went on to average 21 wins per season. But, at times, he struggled to escape the shadow of former coach Bruce Pearl, who led the Vols to NCAA Tournament appearances in each of his six years on the job. 
Martin, a native of East St. Louis, Illinois, has been no stranger to the Midwest, having played for Gene Keady at Purdue before eight years as an assistant there. His first college head coaching job came at Missouri State, where he went 61-41 from 2008 through 2011. He led the Bears to the Missouri Valley Conference title his last season.
As for Missouri, the once-proud program went 27-68 in three seasons under Anderson, including 8-24 this year in which the Tigers lost seven of their final eight games with a young team and shallow bench. Missouri's 2-14 record in SEC play this season tied a school and conference record for losses.
Anderson, who was fired with two years left on his contract, took over in 2014 when Frank Haith abruptly left for Tulsa, the program already having fallen off from the heights it achieved under Mike Anderson.
Last August, the NCAA accepted the school's self-imposed sanctions over infractions involving its men's basketball program, but tacked on an additional year of probation through this August. Missouri admitted NCAA violations dating to 2011 and the NCAA infractions committee said it found roughly $11,400 in improper inducements and benefits given to players and a recruit by two boosters.
Hoping to blunt NCAA punishment, the school announced in January 2016 that it was vacating its 23 wins from 2013-14, banning itself from the 2016 postseason and stripping itself of one scholarship last season and a second scholarship no later than 2017-18.
Other troubles could be looming at Missouri.
In November, a former tutor resigned and publicly said she can document at least a dozen instances of serious academic fraud involving men's and women's athletes during a 16-month period.
Yolanda Kumar said she felt pressured to keep athletes academically eligible -- particularly football and men's basketball players -- and at least two academic coordinators for athletes in revenue-generating sports encouraged, promoted and supported her activities.
The school has said it is investigating the allegations.