Davis beats out infield single in 10th as A's top Blue Jays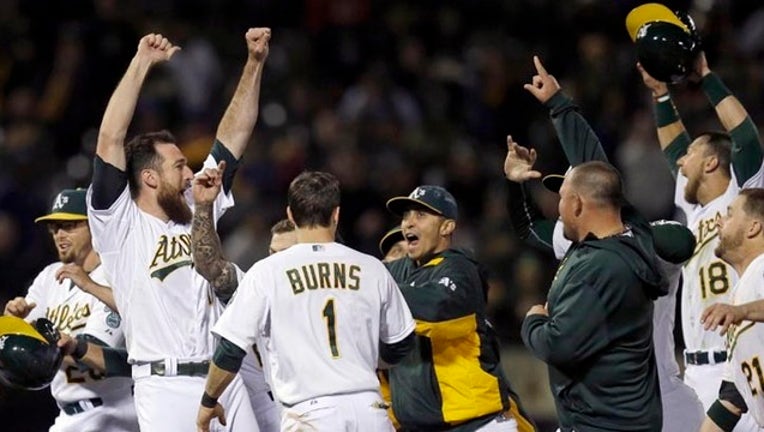 OAKLAND, Calif. (AP) -- The Oakland Athletics had to stop mid-celebration and wait to find out from replay review whether they had in fact won the game on a walkoff.
 
   It was confirmed that pinch-hitter Ike Davis beat out an infield single with two outs in the 10th inning, lifting the A's past the Toronto Blue Jays 4-3 on Wednesday night.
 
   The play went to review with Oakland's players jumping up and down near the mound. Blue Jays manager John Gibbons immediately emerged from the dugout to challenge, and A's players stood together waiting out the review that took 2 minutes, 45 seconds before they celebrated again.
 
   "It's awkward. That's a tough position to be in. The whole time we were thinking, `If they turn this over we're going to look like a bunch of idiots out here,"' said Josh Reddick, who scored the winning run from third base. "Once they ruled him safe, we had planned we were going to sprint off with no high-fives. That was a tough situation to be in, just waiting and waiting. It felt like the longest replay we've had all year."
 
   Davis barely beat the throw by shortstop Jose Reyes, for his fifth career walkoff hit and first since July 1, 2014. That ended the 3-hour, 49-minute game.
 
   "That's part of the process now, but it's over," Gibbons said.
 
   Reddick hit a one-out double against Roberto Osuna (1-4) to start things off in the bottom of the 10th.
 
   A's manager Bob Melvin watched all the drama from inside after being ejected in the fifth.
 
   "You look at it real time and it's close," Melvin said. "They stayed with what we're told they're supposed to do, is if there's no definitive overturn, you stay with it. That was a little nerve-racking sitting there waiting on the verdict."
 
   Fernando Rodriguez (1-1) pitched the top half of the 10th for the win.
 
   A's closer Tyler Clippard blew a second straight save opportunity in the ninth to waste a strong start by All-Star Sonny Gray. Clippard loaded the bases with no outs then struck out former A's star Josh Donaldson on a 3-2 pitch for the first out. He then walked Jose Bautista to force home the tying run.
 
   Gray gave up nine hits and two runs, struck out three and walked two in seven innings. Edward Mujica worked the eighth then gave way to Clippard, who blew a save Saturday against the Twins.
 
   Clippard walked leadoff batter Danny Valencia before Devon Travis doubled.
 
   Josh Phegley and Stephen Vogt each hit RBI singles for Oakland and Jake Smolinski drove in a run for the fourth straight game with a sacrifice fly.
 
   Toronto's Danny Valencia homered in the seventh, but Gray did enough to help put Oakland in position for a third straight series win heading into Thursday's rubber game.
 
   "When you're playing it happens so fast that you don't have a good idea. But when you come back and look at it on replay, everybody in this clubhouse feels like he was out," Valencia said. "Unfortunately we couldn't get it overturned."
 
   Smolinski has seven RBIs in his past four games and has played in six games for Oakland since being claimed from division rival Texas.
 
   Felix Doubront made his fifth career start against the A's and has gone five innings in only one of those outings.