Former Vanderbilt player sentenced to 15 years for rape of unconscious woman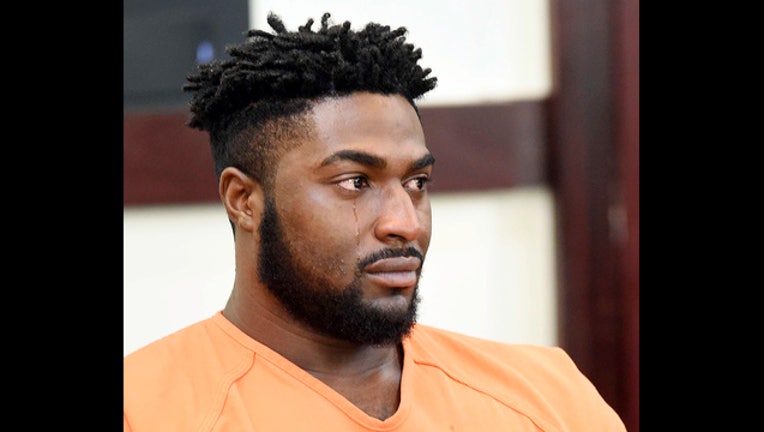 article
NASHVILLE, Tenn. (AP) — A former Vanderbilt football player was sentenced Friday to 15 years in prison after he was convicted of taking part in the gang rape of an unconscious female student.
Davidson County Criminal Court Judge Monte Watkins handed down the sentence for Cory Batey after the victim in the case said her life has been shattered as a result of the rape.
The woman was a neuroscience and economics major when she was assaulted in a dorm on the Nashville campus in June of 2013. In all, four former football players were charged. The Associated Press does not generally identify victims of sexual assault.
The players used their cellphones to take pictures of the rape. One also videoed it and sent the footage to friends as it was happening.
The victim said she learned of what happened to her when detectives showed her the graphic images retrieved from the phones.
During her victim impact statement, she described the horror she felt seeing the images of herself.
"I've seen with my own eyes what I was when Mr. Batey was done with me: a piece of trash, face down in a hallway, covered in his urine and palm prints, a photograph he took himself," the woman said. "There are no words to describe the horror of the images from that night and how it feels to watch yourself be dehumanized."
She wept throughout much of her statement as she described how her life and her belief in the fundamental goodness of people were both upended with the discovery of what happened to her.
The victim has had to testify at multiple trials, and Batey's high-profile status and the international attention the case received left her in constant fear of being known as the victim. As a result, she said she feels the attack on her continues throughout every new court proceeding.
"Everything the defendant has done in this case and the media circus surrounding it have been a continuous disruption, repeatedly dragging me back every single step I try to take forward," she said. "I can only feel that the defendant has intentionally wanted this to be as tortuous for me as possible."
The sentencing comes amid widespread furor over a Stanford University swimmer who was sentenced to six months in jail for a similar crime: sexually assaulting an unconscious woman on a college campus.
In Tennessee, the judge did not have the discretion to give Batey a lighter sentence. Batey was convicted in April of aggravated rape, which carries a sentence of 15 to 25 years.
Prosecutors asked for the maximum, saying the crime was particularly egregious and that the punishment would send a message about campus rapes.
Prosecutors have said Batey urinated on the woman and made a racial statement at the end of the attack. Batey is African-American and the woman is white. One of the four former players is also white. They did not say what the statement was.
The victims said Batey violated her sexually in multiple ways, but it didn't end there.
"Mr. Batey continued to abuse and degrade me, urinating on my face while uttering horrific racial hate speech that suggested I deserved what he was doing to me because of the color of my skin."
Batey, a 22-year-old who grew up in Nashville, apologized to the victim and to his family and mother. He also apologized to Vanderbilt University. He testified at one of his trials that he was drunk and blacked out at the time of the rape.
"My mother and family did not raise me in any way to mistreat anyone, let alone a woman, as I have been raised predominantly by women," Batey told the court. "I hope that if not today, maybe one day, you will find it in your heart to forgive me for any damages that I may have caused."
Batey and Brandon Vandenburg were convicted last year, but the verdicts were tossed because a juror did not reveal he was a victim of statutory rape. They have both been convicted a second time. Two other players are awaiting trial.
In handing down his sentence, Judge Watkins said the case stood out among the thousands he has seen in 32 years of practicing law.
"I've seen so many cases, and this is one of the saddest," Watkins said.