Giants beat Angels 5-0 behind Tim Lincecum for sweep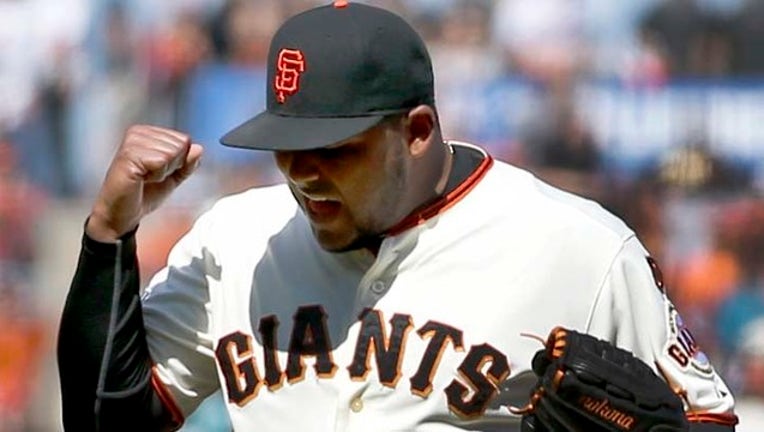 article
SAN FRANCISCO (AP) — Tim Lincecum's fastball averages about 89 mph this season, down from 93-95 mph when he won consecutive NL Cy Young Awards in 2008 and '09.
Even without that velocity, Lincecum has rediscovered winning form.
Lincecum pitched three-hit ball over eight innings, and the San Francisco Giants beat the Los Angeles Angels 5-0 Sunday for a three-game sweep.
"He really had a good rhythm, good pace today and set the tone," San Francisco manager Bruce Bochy said. "Just a terrific job. His fastball command really can determine how his game goes."
Lincecum (2-2) walked one and struck out four, lowering his ERA to 2.40.
"I just tried to execute with the pitches from my gameplan," Lincecum said. "I knew they know I throw a lot of offspeed, so I tried to pick my spots to throw the fastball."
Lincecum allowed only three runners in the first five innings then pitched out of two-on, no-outs jam in the sixth.
Jean Machi struck out Mike Trout and Albert Pujols in a hitless ninth.
Nori Aoki and Joe Panik hit consecutive first-inning home runs off Jered Weaver (0-4), the first time the Giants opened a game with consecutive home runs since Chuck Hiller and Duke Snider against St. Louis off Bob Gibson on May 27, 1964, according to STATS.
Lincecum helped the offense with a pair of singles off Weaver. He also drew a walk off Cesar Ramos in the sixth.
"I don't know if it's more confidence than luck," Lincecum said. "I don't expect to get hits so when I do, I think that's why I'm more happy than the next guy."
San Francisco has won eight of 11 following a 4-10 start.
Weaver (0-4) gave up five runs and 10 hits in five innings. The three-time All-Star is 0-5 with a 6.25 ERA since beating Texas on Sept. 20.
"His margin of error is not usually what it is because of where his stuff is right now," Los Angeles manager Mike Scioscia said. "There's no magic pixie dust you can sprinkle on him and get him going right now."
Aoki hit his first home run of the season on Weaver's first pitch of the afternoon. Three pitches later, Panik homered on a hanging curve.
Angel Pagan came within 15 feet of making it three straight when he tripled off the brick wall in right-center, not far from where Panik's home run landed.
San Francisco made it 3-0 in the third when Panik singled and scored as Brandon Belt hit into a forceout.
Brandon Crawford hit a two-run, two-out double in the fifth.
Posey and Lincecum might be the two most recognizable players on the Giants roster but they hadn't worked together in a game since April 26, 2014. Lincecum said that the long layoff didn't seem to bother either player.
"I think he's caught my stuff enough to know what I've got," Lincecum said. "I told him we'd just kind of read it throughout the day and see what kind of swings they were taking. Luckily enough it was enough to get through the eighth."