Golden State Warriors fall to the Sacramento Kings in Game 2 of the NBA Playoffs
The Golden State Warriors fell again to the Sacramento Kings on Monday night losing game two of the NBA Playoffs 106-114.
Warriors point guard Stephen Curry posted 30 points, with forward Andrew Wiggins securing 22 points for the Dubs, but it wasn't enough to secure the win.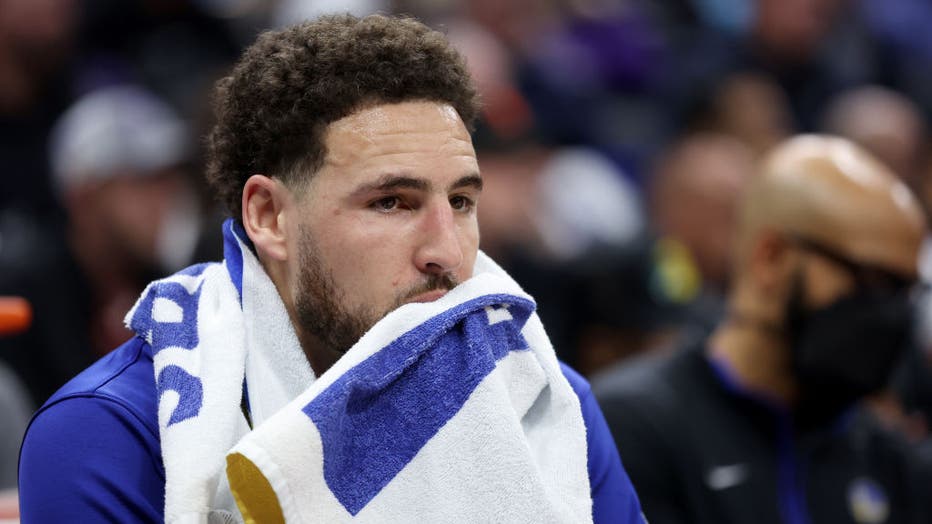 SACRAMENTO, CALIFORNIA - APRIL 17: Klay Thompson #11 of the Golden State Warriors sits on the bench during Game Two of the Western Conference First Round Playoffs against the Sacramento Kings at Golden 1 Center on April 17, 2023 in Sacramento, Califo
In a moment of controversy, forward Draymond Green was ejected midway through the fourth quarter. Kings forward Domantas Sabonis collided with Klay Thompson, fell to the floor and then grabbed Green's leg. Green in turn stomped on the chest of Sabonis, which was deemed a flagrant-2 foul after an officials' review. Sabonis was handed a technical foul for his role in the matter.
"We lost two games, but I'm not worried about it," Matthew Protacio, a Warriors fan who attended a viewing party at Thrive City, told KTVU. "I'm not worried about it at all. We got four rings for a reason, we've been through this."
Thrive City is the away game home for many Warriors fans who come to watch their team on the road. Although, tonight's loss may sting for many, fans are saying they are "gold-blooded" until the end.
The Warriors trail the Kings 0-2 in the heated series and head back to the Bay for a game Thursday night at the Chase Center.