Kevin Durant's mom blasts critics with impassioned message about her son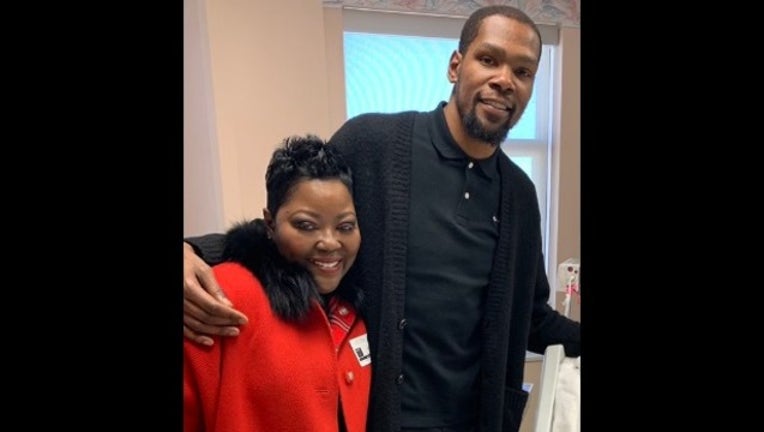 TORONTO (KTVU) - Kevin Durant's number one fan called out his critics on Tuesday and defended the two-time NBA Finals MVP saying, "He has a heart of a true Warrior!"
The message came from Durant's mother Wanda, who posted an impassioned message aimed at those questioning her son's commitment to the game and to his teammates, following his heartbreaking leg injury on Monday night. 
In a tweet, Wanda Durant, also affectionately known as "Mama Durant," said, "For ALL of you who question my son as a Man, question his Heart, question his Integrity and question his LOVE for the game of basketball, you DON'T know him." 
The message came after Durant returned to the court for Game 5 in Toronto, to join his teammates for the first time in a month after being sidelined with a calf injury. He roared back with an incredible 11 points in 12 minutes before the superstar suffered what turned out to be an injury to his right Achilles.
It came as a massive blow for the perennial All-Star who may be three weeks away from free agency and could also be facing a long rehabilitation process.
There was much hanging on his return for the do or die elimination game, which the Warriors ended up winning 106-105, in a nail-biting battle that cut Toronto's lead in the Finals to 3-2. 
Following the game, an emotional Warriors General Manager Bob Myers gave the announcement about KD's injury and said an MRI will be performed Tuesday to determine how severe it is.
What is apparent is that Durant's season is over and his recovery will likely take several months if the Achilles is indeed torn.
As Myers held back tears, he said, "He's one of the most misunderstood people. He's a good teammate, he's a good person, it's not fair. I'm lucky to know him."  
Myers also said that while he didn't believe anybody is to blame, he's willing to accept the responsibility and said, "... if you have to, you can blame me. I run our basketball operations department." 
He also expressed the same message that came from KD's mom. "And to tell you something about Kevin Durant," the general manager said, "Kevin Durant loves to play basketball, and the people that questioned whether he wanted to get back to this team were wrong."
In her post, Wanda Durant included a touching photo of a smiling and very proud mother next to her towering son, as well as words of encouragement to him and those who support him. "This too shall pass," she said, "God Bless you ALL."
The Associated Press contributed to this story, which was reported from Oakland, Calif.