Lease: Raiders wouldn't pay rent at tax-funded Vegas stadium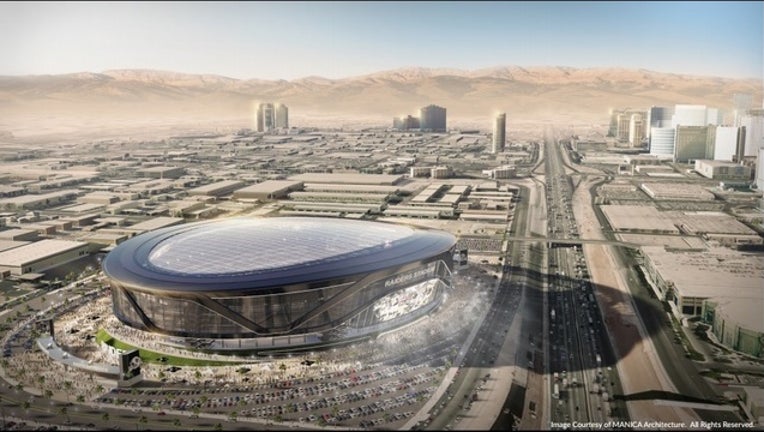 article
LAS VEGAS (AP) -- The Oakland Raiders wouldn't pay rent at a proposed tax-funded stadium they want to call home in Las Vegas under the most recent version of a lease agreement unveiled Thursday during a meeting of the public entity overseeing plans for the $1.9 billion project.
The stadium authority board justified the lack of rent for the Raiders with the investment that the team is making on the 65,000-seat domed stadium to which guests of hotels and other lodging facilities in the Las Vegas area are contributing $750 million through a room tax increase. 
"It's based on the fact that the Raiders are going to be investing up to $1.15 billion and certainly taking the risk for any overruns," board chairman Steve Hill said after the meeting. "So, in order to make that agreement make financial sense, the revenue from the stadium needed to flow to those investors."
The previous draft of the agreement that was made public called for a $1 annual rent. The Raiders paid $3.5 million to play at Oakland-Alameda County Coliseum in 2016, up from $925,000 for the 2015 season. 
Several details of the draft agreement, including the stadium's insurance, naming rights and length of the lease, were addressed by board members.
They expressed satisfaction over the progress made on the document, but also raised questions over the timeline officials and the team face in order to meet the goal of seeing fans at the stadium during the 2020 season.
The lease agreement and other crucial documents must be finalized before construction can begin. Among the pending documents is the agreement that would allow the University of Nevada, Las Vegas football team to use the stadium.
"We still have five to 10 issues to work out, but I think it's in pretty good shape," Hill said, adding that he anticipates the agreements will be done by the end of the summer or into the fall. "If we get past October that's probably problematic because they are going to have to break ground; they're going to have to get moving."
Land for the stadium has not been purchased, but an area of more than 60 acres near the Las Vegas Strip has surfaced as the preferred site. A clause in the lease agreement gives the team the stadium's naming rights, which cannot promote or be related to firearms.
NFL owners approved the Raiders' relocation last month. President Marc Badain said the Raiders have received 43,000 refundable $100 deposits for personal seat licenses. The team plans to announce its third-day NFL draft picks from the iconic "Welcome to Fabulous Las Vegas Nevada" sign next week.
   ------
   Follow Regina Garcia Cano on Twitter at https://twitter.com/reginagarciakNO / More of her work can be found at https://www.apnews.com/search/ReginaGarciaCano
   ------
   For more NFL coverage: http://www.pro32.ap.org and http://www.twitter.com/AP--NFL 
   AP-WF-04-21-17 0100GMT