Lucky NASCAR FOX Bet Super 6 winner scores Clint's cash on Kansas Speedway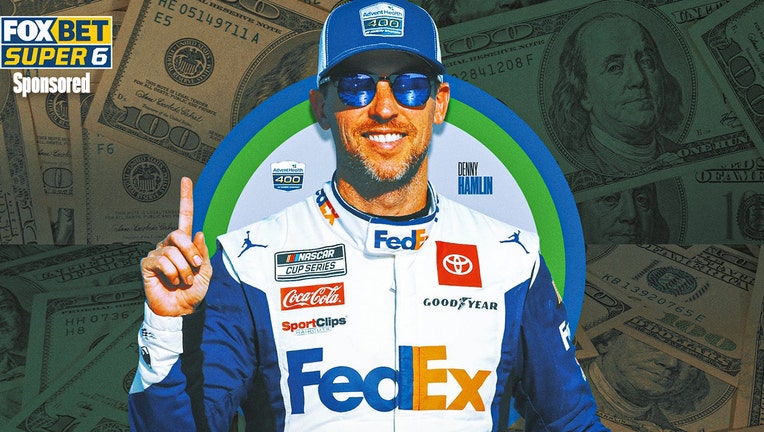 article
One lucky winner drove to Victory Lane after scoring Clint Bowyer's $5K in the FOX Bet Super 6 NASCAR Stage 2 Contest.
And it wasn't just any lucky winner. It was Tim from Florida — a lifelong NASCAR fan who's also competed on a track or two in his day.
"I used to race go karts myself, and I came in second in points three times," the 63-year-old retiree revealed with a laugh.
And laugh, he did, all the way to the bank to cash out on his grand prize. 
From choosing Joe Gibbs Racing to finish better than Hendrick Motorsports at the end of Stage 2 to predicting that Ross Chastain would outlast Martin Truex Jr. by 3 positions, the New Jersey native was the sole FOX Bet Super 6 winner featuring the race at Kansas Speedway.
"I've been playing [FOX Bet Super 6] since the app launched, and I play every game you guys put up there. Football, basketball, NASCAR, of course. I play them all."
FOX Bet Super 6 is a free-to-play app where you pick six different outcomes in various contests featuring NASCAR races, MLB, NBA, NFL, college football and more. All you have to do is download the FOX Bet Super 6 app on your phone or mobile device, make your picks and submit your selections before each contest closes. It really is that easy.
Tim's devotion as a FOX Bet Super 6 player and as a NASCAR fan likely helped set the stage for him to finally win big. 
"I knew that the Toyotas do well at Kansas, and they also normally do well at Darlington. I'm pretty savvy when it comes to racing. So I've been watching. And I've been playing!"
When it comes to how he will spend the five grand, the coast is calling his name.
"All of our bills are paid, so my wife and I are going to go up and spend a few days in St. Augustine," Tim explained. "Probably will spend some on lottery tickets and hopefully win something even bigger."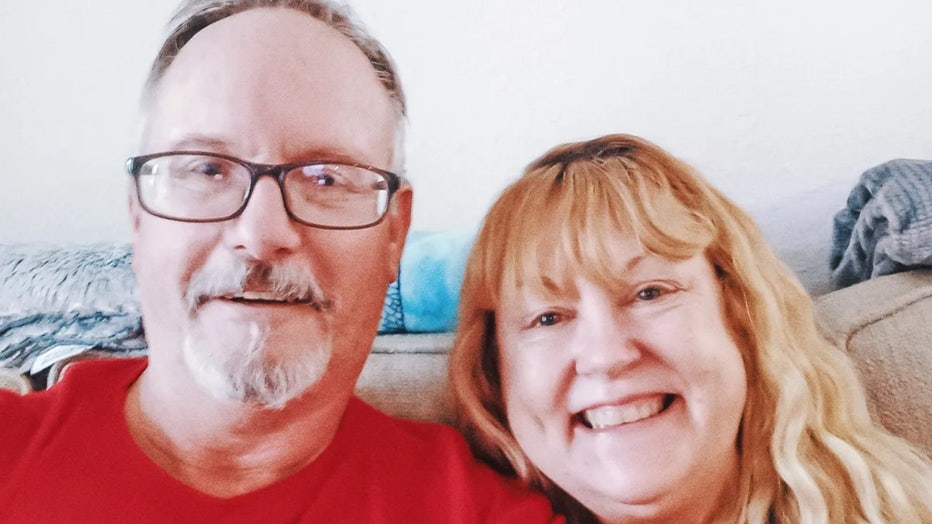 Tim from Florida, pictured with wife Pam, won the FOX Bet Super 6 NASCAR Stage 2 Contest featuring the Adventhealth 400 at Kansas Speedway.
Tim admitted that he was "freaking out" when he realized he won Clint's money and that family members and friends are "ecstatic" that he gets to claim the cash. Winning the jackpot was especially exciting because NASCAR is a huge part of Tim's life — in the app and real life.
"We used to live across the street from the [Daytona] track. I've been to Darlington, to Loudon, Dover and Pocono," he recalled. "And my dad started taking me to Indianapolis when I was a toddler. I used to get out to the tracks a lot."
Riding with Denny Hamlin paid off for Tim when he made his FOX Bet Super 6 picks for Kansas, so he decided to go with him to win the Goodyear 400 at Darlington, too. But he's going with a rookie in the All-Star race at North Wilkesboro on May 21.
"I'd like to see Noah Gragson get in and win."
Might another payday be in Tim's future? 
"I'm going to keep playing and keep pushing it on my brother and friends. It's so simple. It's, like, why not!"
You could be the next FOX Bet Super 6 player to drive away with some big bucks. But you have to play to win, so head over to the app right now and get in on the action!
Download the FOX Bet Super 6 app for your chance to win thousands of dollars on the biggest sporting events each and every week! Just make your picks and you could win the grand prize. Download and play today!
No purchase necessary. Open to legal residents of the US, excluding WA. 18 and older. See terms and conditions at foxsuper6.com. Sponsored by TSG Interactive US Services Limited.