Raiders fire coach Jack Del Rio after 6-10 season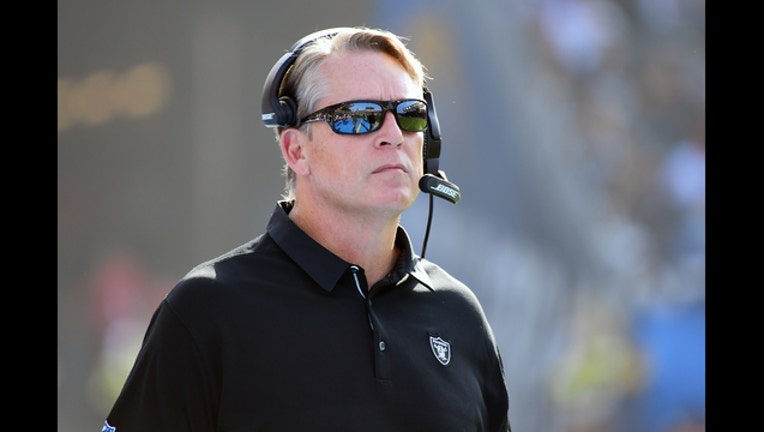 article
OAKLAND, Calif. - Oakland Raiders coach Jack Del Rio was fired Sunday after his third year when the impressive turnaround job he engineered for his hometown team collapsed with a disappointing six-win season.
Del Rio said owner Mark Davis told him after the team's season-ending 30-10 loss to the Los Angeles Chargers on Sunday that he would not be retained as coach in Oakland.
Del Rio had signed a four-year contract extension last February after Oakland ended a 13-year playoff drought with a 12-win season.
"He told me he loved me and appreciated all that I did, but felt like we weren't going in the right direction," Del Rio said.
"He felt he needed a change, and I told him how much I appreciated the opportunity he gave me. I mean that. Very grateful. My childhood team, but it's a results business. I understand that.
"I appreciate the players and coaches and all the hard work, all the effort and energy. I do believe we have established a solid nucleus. Whoever comes in here has a chance to take that nucleus and go to special places, and I'll be pulling for them."
The Raiders followed the successful 2016 up by becoming one of the league's disappointing teams. Oakland went 6-10 for the second biggest one-season drop in wins in franchise history, leading to Del Rio's firing.
Davis said in a statement that he appreciated Del Rio's effort in building the foundation for the future and thanked his family for contributing to the community.
Davis said he will not have any other statement until after a new coach has hired but speculation is already rampant that Jon Gruden will be back for a second stint.
Gruden was traded by the Raiders to Tampa Bay following the 2001 season and beat Oakland for the Super Bowl title the following season. He was fired by the Buccaneers following the 2008 season and has been in the broadcast booth since then. ESPN reported Saturday that the Raiders were interested in bringing Gruden back.
Davis has always been intrigued about a second stint with Gruden but it seemed unlikely the franchise would be in for another change heading into this season. Del Rio had been the ninth coach in Oakland since Gruden left but the only one to get the team to the playoffs.
That wasn't enough to save his job.
"I honor the owner's decision," Del Rio said. "It was a great honor for me to lead this organization and get this opportunity, and I understand it's a results business. We had a great first two years and this year was a big disappointment. Can't disagree with that."
Del Rio, who grew up in the East Bay city of Hayward cheering for the Raiders, took over a three-win team in 2015 and immediately changed the culture and helped Oakland win seven games that season.
The Raiders had a breakthrough season in 2016 with 12 wins, but it ended in disappointment when a broken leg for quarterback Derek Carr in Week 16 cost the Raiders a chance at a division title and led to a first-round playoff loss.
Expectations were high coming into this season with Carr and most of the key offensive pieces back, along with the addition of running back Marshawn Lynch and tight end Jared Cook.
But Del Rio's decision to fire coordinator Bill Musgrave after last season despite a dynamic offense and replace him with quarterbacks coach Todd Downing backfired.
The offense regressed significantly this season as Carr struggled under Downing's tutelage and the defense showed no signs of improvement before firing coordinator Ken Norton Jr. after 10 games.
The Raiders had major drops in scoring (26 to 18.8), yards per game (373.3 to 324.1) and committed twice as many turnovers (14 to 28) this season as Carr took a major step back in his development after signing a $125 million, five-year extension in the offseason.
"We have to take our ownership as players," Carr said. "That's where we're at right now. We're kind of angry we let it get to that. We're upset at ourselves. We understand the business part of it. As players our job is to come back better and hungry."
The defense became the first in NFL history to fail to record on interception in the first 10 games of the season and generated only 14 takeaways all season compared to 30 in 2016.
That all led to the decision to fire Del Rio, whose 187 games as a head coach are the most for anyone without a division title in his career.
Del Rio finished his stint in Oakland with 25-23 regular-season record. The Raiders won just 13 games in the three seasons before he arrived.
"It's tough," cornerback Sean Smith said. "He was a coach that played the game and he was a player's coach, you know what I mean, so you always like those kind of coaches because they relate to you easily.
"Came to work with a smile every day, and definitely enjoyed playing for him, but it just sucks because he's the coach. As a player, we didn't play up to our expectations, and he had to pay the price."
___
AP freelance Dan Greenspan in Carson, California, contributed to this report.
___
For more NFL coverage: http://www.pro32.ap.org and http://www.twitter.com/AP_NFL .