Richmond native drafted byFalcons, carries photo of grandma to stage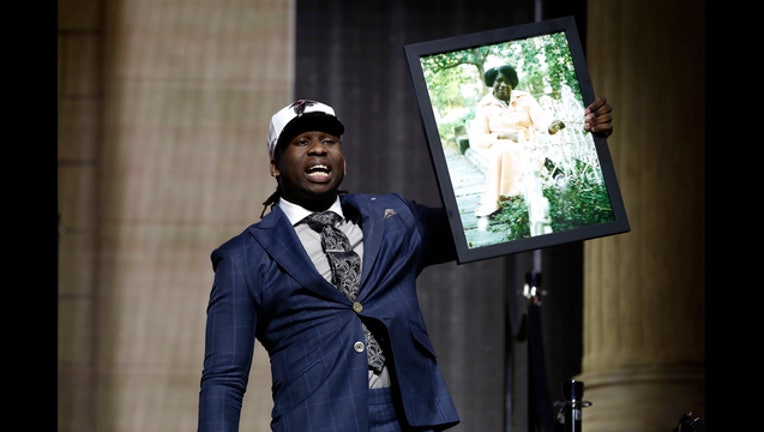 article
FLOWERY BRANCH, Ga. (AP) - The Atlanta Falcons continued their relentless effort to overhaul their defense by moving up in the first round of the NFL draft on Thursday night to select defensive end Takkarist McKinley of UCLA.
The Falcons traded the No. 31 overall pick and this year's third- and seventh-round picks to Seattle on Thursday night to take McKinley with the 26th pick.
General manager Thomas Dimitroff said he and coach Dan Quinn did not hesitate to trade away picks later in the draft to land the pass rusher they wanted.
"We weren't concerned," Dimitroff said. "Our feeling was we were going to go after who we wanted with that first pick."
Dimitroff said "we feel very comfortable" the team can address its needs with its remaining picks.
McKinley had 10 sacks and 18 tackles for loss in 2016.
McKinley (6-2, 250) will be paired with 2016 sacks leader Vic Beasley, the team's first-round pick in 2015, to lead the Atlanta pass rush. Beasley led the NFL with 15 ½ sacks in 2016. Beasley's breakout season addressed a long-running weakness on the defense, but Quinn wanted to add more pass-rush help.
Cameras in the Falcons' draft room showed Quinn pumping his fist with excitement when the selection became official.
"We are thrilled to add a player of his caliber to our defensive front," Quinn said.
The Falcons, who started four rookies on defense in 2016, have made defense their draft emphasis with Quinn. Atlanta used its first- and second-round picks on defensive in each of the first two drafts with Quinn the last two years.
Following the pick, an emotional McKinley held a large photo of his late grandmother during his TV interview.
McKinley was born in Oakland and raised by his grandmother in Richmond. He went to Kennedy High School and Contra Costa College.
He used expletives in the live interview on the NFL Network.
McKinley still had the photo in a video interview with Falcons reporters.
"It means everything," McKinley said, adding he "made a promise to her before she passed away to ... go Division I and go to NFL. About 30 seconds later she closed her eyes and passed away."
Deion Sanders, who was conducting the interview, seemed taken back by McKinley's outburst.
McKinley showed some remorse in his interview with Falcons media. He said Sanders told him "it's good for me to have that emotion, that fire, but I have to find a way to manage it."
Added McKinley: "I've probably got fined already."
Quinn said he appreciated the enthusiasm of the young defensive end.
"You definitely felt the passion for who he is as a guy and a ballplayer," Quinn said. "We'll appreciate that kind of enthusiasm."
Quinn said UCLA coach Jim Mora, the former Falcons coach, said McKinley is "your kind of guy."
The Falcons selected safety Keanu Neal and linebacker Deion Jones with their first two picks last year and leaned heavily on rookies in their starting defense as they advanced to the Super Bowl.
Following the trade, the Falcons are left with only a second-round pick on Friday and only fourth- and fifth-round picks on Saturday. They traded their sixth-round pick last year when acquiring left guard Andy Levitre.
The addition of McKinley leaves right guard as a top need to be addressed. Starter Chris Chester has retired.
___
For more NFL coverage: http://www.pro32.ap.org and http://www.twitter.com/AP_NFL