Tanaka, Gardner, Figueroa lead Yankees over Athletics 6-2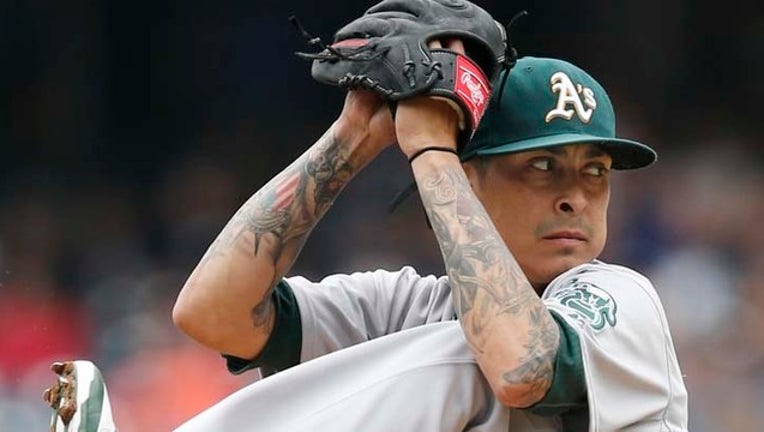 article
NEW YORK (AP) -- Masahiro Tanaka allowed two hits over 7 2-3 innings, Brett Gardner hit a first-inning home run and learned midgame he had been picked for his first All-Star team, and the New York Yankees rallied past the Oakland Athletics 6-2 Thursday.
 
   Cole Figueroa doubled twice in his Yankees debut, grounding his first over first base in the fourth inning and down the right-field line. Jacoby Ellsbury followed with a tiebreaking, two-run single over the very same inside corner of the bag. 
 
   Tanaka (5-3) ended a four-start winless streak, the longest drought of his 1 1/2-year major league career. He set season highs for innings and pitches (114), striking out six and walking one. One of the runs off him was unearned.
 
   Gardner had his seventh three-hit game this season. He was making warmup tosses before the fifth inning when public-address announcer Paul Olden announced Gardner had been selected as a replacement for injured Kansas City star Alex Gordon. Gardner did not react, then was congratulated by teammates when he returned to New York's dugout at mid-inning.
 
   Oakland got all its runs in the second, when Josh Reddick reached on catcher's interference by Brian McCann, and Billy Butler and Mark Canha hit RBI doubles as Tanaka left balls over the plate while pitching from the stretch.
 
   Tanaka retired his final 13 batters and 18 of his last 19, allowing Butler to reach on a wild pitch striking out in the fourth.
 
   With Andrew Miller and Dellin Betances unavailable, Chasen Shreve and Adam Warren completed the three-hitter.
 
   Playing because Chase Headley has a sore right calf, Figueroa was brought up from Triple-A before the game. Figueroa made his big league debut with Tampa Bay last year. His father, Bien, was an infielder who played 12 games for St. Louis in 1992.
 
   Jesse Chavez (4-9) lost for the first time in six appearances against the Yankees, giving up four runs and seven hits in five innings. He is winless in his past three starts.
 
   Mark Teixeira hit a run-scoring single in the third inning, and with 62 RBIs matched his total last season.
 
   Oakland shortstop Marcus Semien made a high throw on Ellsbury's two-out grounder in the eighth, allowing two runs to score. Semien has 28 errors -- eight more than any other major leaguer this season.
 
   On the fourth anniversary of Derek Jeter's 3,000th hit, the weekday afternoon game drew camp groups with kids in bright blue, orange and lime shirts.
 
   With the score 2-2 in the fourth, Stephen Drew walked with one out and Figueroa hit a smash just over the corner of first base and off a knee of umpire John Tumpane and into the outfield for a double that advanced Drew to third. 
 
   First baseman Ike Davis held out his arms, maintaining the ball was foul, and manager Bob Melvin came out to discuss the call with umpires. Because the ball landed in front of the umpire, the play was not subject to video review. When umpires discussed the play, they upheld the original call.
 
   Two pitches later, Ellsbury's single down the line put the Yankees ahead.