That Kid's Got Game: Trick-shot specialist from New Jersey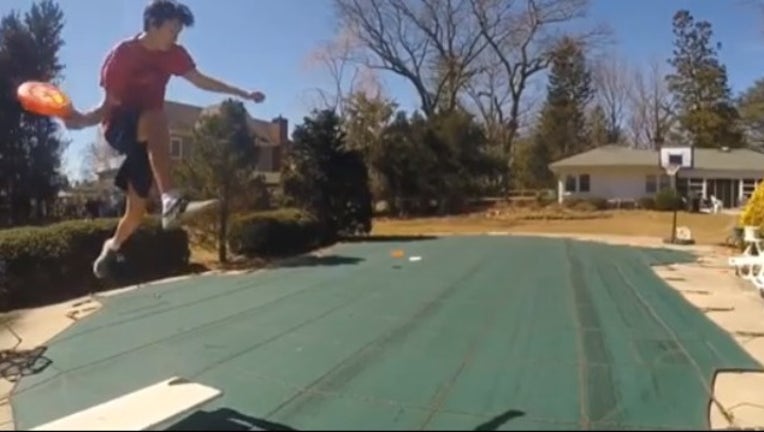 article
OAKLAND, Calif. (KTVU) - A New Jersey teen likes to spend time creating videos for others to enjoy and for a few years now he's been steadily progressing with his trick-shot skills, expanding his repertoire to a level that's landed him on That Kid's Got Game.   
Cree Ossner, 15, of Middletown, has an appreciation for the time and effort required to produce quality trick-shots. He's learned that there's no substitute for hard work, even if it makes a project take longer.
"Sometimes it is difficult to be patient with this state of mind, but it is always worth it to see how my friends and family react to a video I know I worked hard on," Cree said. 
The 15-year-old started posting a variety of videos on his YouTube channel under the name Creezy before discovering his niche (trick-shots) about five years ago and he's been making engaging videos for about five years now. He's able to keep his Instagram feed fresh by incorporating creative clips that break up his patented frisbee shots, like flipping a pencil and perfectly landing the lead tip in the ball's inflating valve.
"I always try to challenge myself to create trick-shots nobody else would even think of, and I love to use my creativity as much as possible in my videos," Cree said. "This is why my trick-shots vary in all sorts of sports and themes."
Mobile users watch Cree's debut on That Kid's Got Game here
The head-scratching content Cree produces creates naysayers. But instead of ignoring the skeptics who comment on his posts, Cree asks what makes them think it's fake. Regardless of their reasoning, he usually gets a kick out of the responses. 
Each shot comes with its own difficulty and the levels vary depending on what he's attempting. But Cree said it's making sure he actually records the shot effectively that causes him the most trouble. Positioning, lighting and weather all play a role in determining the quality of his content. Because beyond putting together a cool trick-shot, Cree wants his videos to be easy for his viewers to watch. 
*****
That Kid's Got Game was created as a fun way to display kids with standout sports skills. If you have game, or you want know someone with game, we want to see it. Visit here for information on how to submit.