Tuesday ruled out for Mavericks big-wave challenge, organizers continue to monitor swell forecasts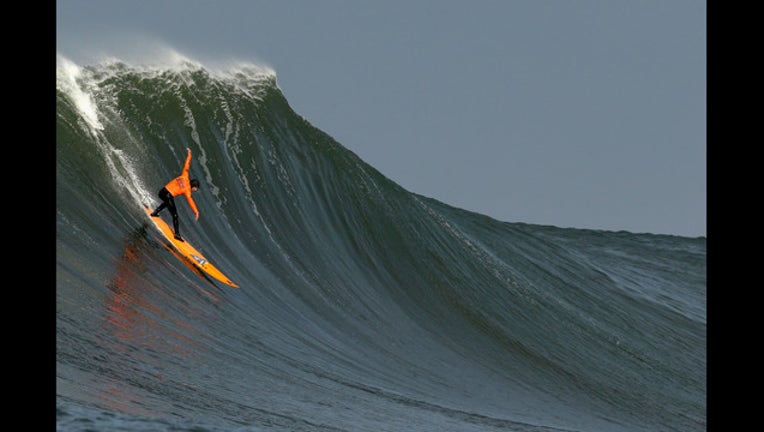 HALF MOON BAY, Calif. (KTVU) - The World Surf League announced this year's Mavericks Challenge will not take place Tuesday. Organizers of the highly anticipated event will hold out for better conditions. 
Last week officials said Monday or Tuesday were possible dates for the contest to kick off.
Thursday they were on yellow alert and monitoring a large swell before a weather shift alerted disadvantageous conditions. With participants and organizers prepared to mobilize on 72 hours' notice, they want to make sure the big-wave event which takes place near Half Moon Bay is ran under the best circumstances. 
"After much research and analysis into the forecasts, we are calling the WSL Big Wave Tour Mavericks Challenge OFF for Tuesday, January 16," said Mike Parsons, WSL Big Wave Tour Commissioner. "We are specifically concerned about the S, SSW winds that are projected to come in on Tuesday morning. There is also potential for NW winds to come in. The models are showing a slight decrease in the swell size, as well. 
Crews will continue to monitor the swell system and weather patterns to find the most favorable conditions to fuel the event which sees surf that reaches the 30-foot-plus mark. 
"We still have the rest of January and all of February to get a better opportunity to run the Mavericks Challenge and will continue to closely track the conditions to hopefully run this season," said Parsons. 
The window to run the challenge that features 30 of the world's best big wave surfers opened up on Jan. 3 and extends to Feb. 28. Twenty-four men, and for the first time six women, will take on the iconic big-wave venue for their piece of a $130,000 purse. 
Formerly known as Titans of Mavericks, the rebranded surf contest was taken over by the WSL after Cartel Management and the Titans of Mavericks both filed for bankruptcy in federal court a year ago.  
In addition to the top 10 finishers from the 2016/2017 Big Wave Tour, the 24-man field includes local wildcards. Bay area surfers include Travis Payne, Tyler Fox, Anthony Tashnick, Ben Andrews, Jason Stark and Pat Shaughnessy. 
And local alternates include Ben Wilkinson, Nathan Fletcher, Ryan Seelbach, Matt Becker, Colin Dwyer and Luca Padua.