Warriors' Kerr returns to practice for 1st time in 3 weeks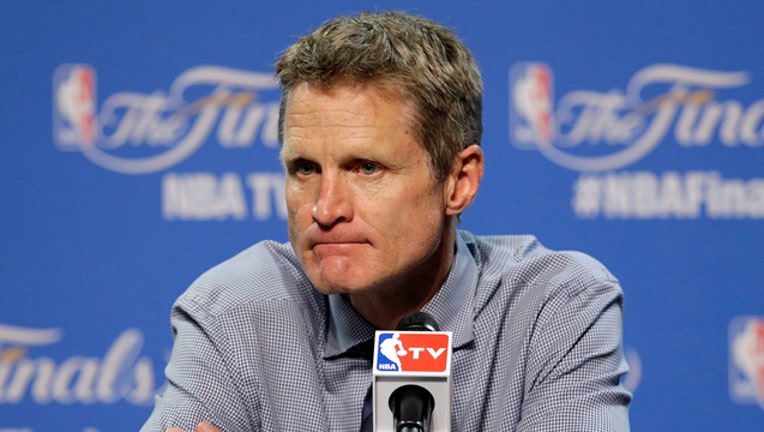 article
OAKLAND, Calif. (AP) - Hearing Steve Kerr's voice again in a team meeting, talking strategy and a game plan for the Spurs, made Stephen Curry's Saturday.
Seeing the reigning NBA coach of the year on the practice floor for the first time in more than three weeks had acting Golden State coach Mike Brown in great spirits.
"It was just nice to hear his voice really," Curry said. "That's what you were used to and when you don't have it for a while, you kind of miss it."
The ailing Warriors coach attended practice Saturday morning, returning to the floor for the first time since guiding the team on April 21 ahead of a flight to Portland for Game 3 of the first round. He missed the shootaround the following morning and that night's game, then also Game 4 and the entire Utah series - and Kerr didn't travel to Salt Lake City while seeking answers on his health.
Now, he is recovering from his latest procedure to alleviate debilitating symptoms stemming from complications from two back surgeries in 2015 following the Warriors' first championship in 40 years.
Not looking completely comfortable yet, Kerr sat down and chatted with Brown for a long stint before disappearing into the weight room.
"It's obviously great, any time you can hear his voice, see his face," Curry said. "He's obviously been doing his homework in between, his downtime to help us get prepared for the series. You know he misses being around the day-to-day routine and the atmosphere of practice and locker rooms and games and all that. So for him to even just have the energy and ability to be here means a lot. Hopefully he's feeling better."
It was unclear whether the 51-year-old Kerr would watch the Warriors, 8-0 in the playoffs with sweeps of the Trail Blazers and Jazz, from the arena for Sunday's Game 1 of the Western Conference Finals against San Antonio or stay home.
He attended a meeting at team headquarters Friday, one week after his latest procedure at Duke University to repair leaking spinal fluid. He was back Saturday for another game-planning session before practice.
"For me it's a little different because I hear his voice a couple times a day," Brown said. "So that's good. So for me more than anything else, it was great to see him out here especially during practice walking around, talking to guys. You really enjoy that, because he's our leader. He's the guy that laid the foundation and got everybody headed in the right direction. So the more he can be around, it's a better feel that all of us have, not just the players but us as a staff."
___
More AP NBA: https://apnews.com/tag/NBAbasketball