1 woman killed, another injured by driver in San Francisco
SAN FRANCISCO - A driver struck and killed one woman and sent another pedestrian to the hospital with life-threatening injuries on Monday morning, San Francisco police said. 
Police said they are looking into the possibility that the driver blew through a Sunset District stop sign and hit two women in the crosswalk. 
Several cars were also hit by the driver around 10:52 a.m. SkyFOX flew over the intersection of 24th Avenue and Santiago Street and saw several cars that appeared damaged.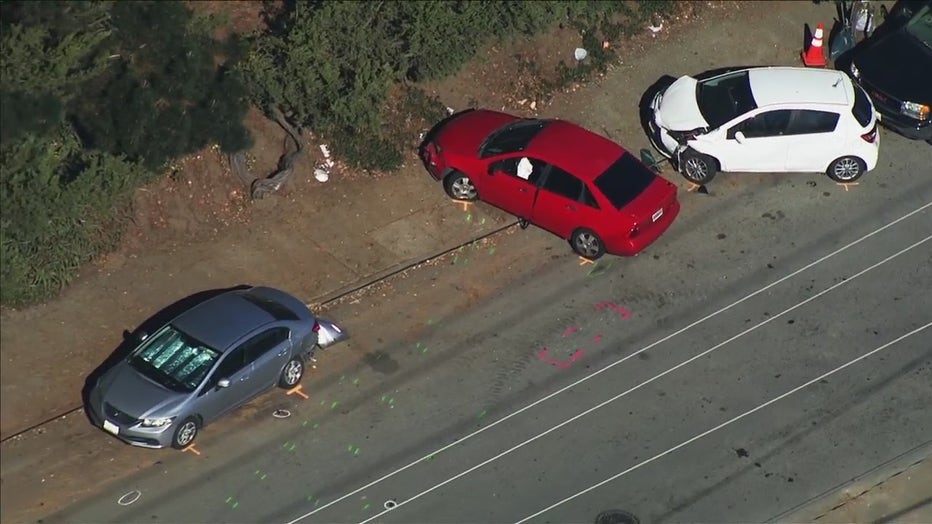 A driver struck and killed one woman and seriously injured another in San Francisco's Sunset neighborhood on Oct. 24, 2022.  (KTVU FOX 2)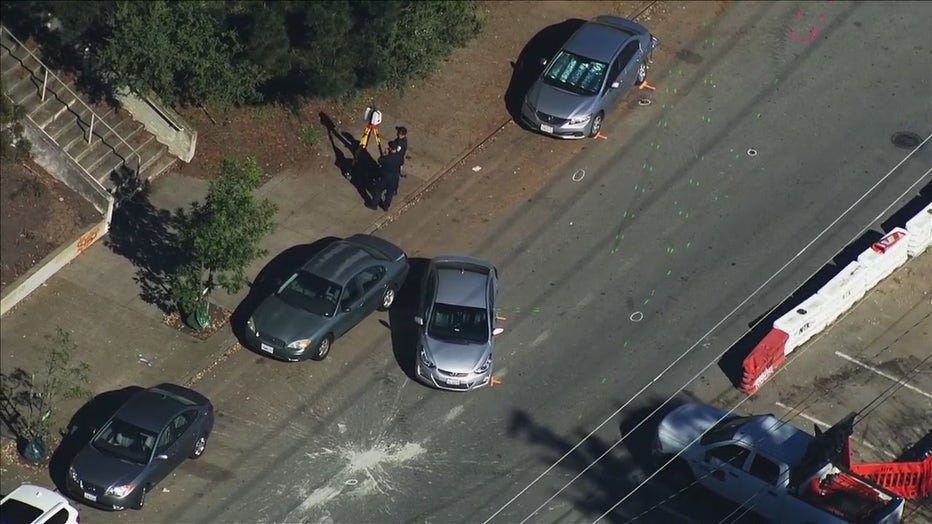 A driver was allegedly "racing" when he collided with two women crossing the street in San Francisco's Sunset neighborhood, Supervisor Gordan Mar said on Oct. 24, 2022. (KTVU FOX 2)
The victims were described as seniors by Supervisor Gordon Mar.
The driver was allegedly "racing" up Santiago Avenue and "didn't stop as they crossed the street," Mar tweeted. 
Police said the intersection is a four-way stop. "Speed was certainly a factor in this collision, said Capt. Robert Yick with SFPD. There are reports the driver may have been driving as fast as 60 miles an hour in a 25-mile-an hour zone. 
Officers were at the scene within moments, the Taraval Police Station is only a half-block away. Police said the victim who was killed was pronounced dead at the scene. 
The man driving the car remained at the site of the collision and was also hospitalized. His injuries were described as "non-life-threatening." There is no word yet on if he will be arrested. 
Mar said this is a chilling reminder that the city is still not even close to meeting its Vision Zero goals for no pedestrian deaths. He said he's planning on following up to see what can be done to prevent similar crashes in the future. 
"I'm going to be convening a neighborhood meeting with SFPD and SFMTA so the community can really get answers about what happened here, an update on the investigation," said Supervisor Mar. "But, more importunely about what efforts we can take to make this intersection and all of our streets and the city safer for pedestrians."