13 killed after bus crash near Garner State Park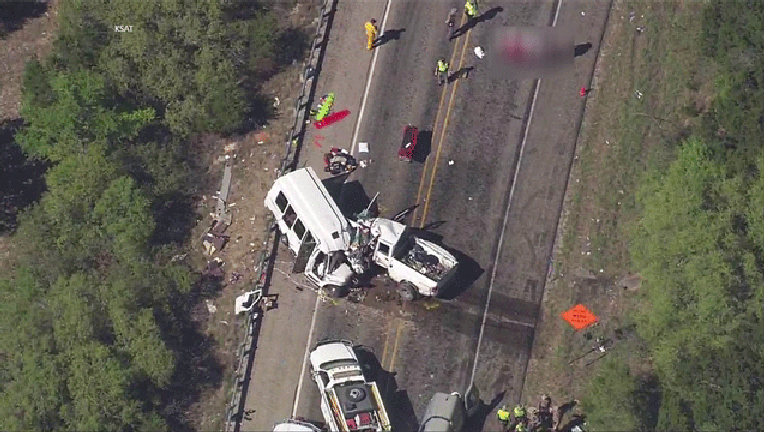 article
UPDATE: One of those injured in church bus crash has died, death toll rises to 13.
---
Multiple people were killed Wednesday afternoon in a head-on crash between a church bus and a pickup truck on U.S. 83 near Garner State Park. The crash happened around 12:30 p.m. about 75 miles west of San Antonio.
According to the AP, authorities say 13 people were killed in the crash. 12 people died on scene and another later died at a hospital. All 13 were senior adults returning from a church retreat. 
A total of 14 people were on the bus, they were members of the First Baptist Church in New Braunfels, Texas. One person from the bus remains in critical condition. The truck driver is in stable condition.
A statement posted on the church website said the members were returning home from a three-day retreat at the Alto Frio Baptist Encampment.
The statement said they were "ministering to family members to help them deal with this tragedy."
Texas Gov. Greg Abbott and his wife, Cecilia, offered condolences after the crash.
"We are saddened by the loss of life and our hearts go out to all those affected. We thank the first responders working on the scene in the wake of this unimaginable tragedy, and ask that all Texans join us in offering their thoughts and prayers."
This a developing story and will be updated with more information as it becomes available. 
The Associate Press contributed to this story