19 dogs killed after fire breaks out at Orange County breeder's home
ORANGE COUNTY, Fla. - Nearly two dozen dogs were killed early Thursday after a fire broke out at a breeder's home in Orange County. 
Fire officials tell FOX 35 News that they responded around 5:15 a.m. to a home located on Bay Lake Road near John Young Parkway in Orlando. The homeowner said she woke up to the smell of smoke. She called 911 and tried to get as many dogs out of the house as possible.
"I went oh my god," said the Owner of Bay Lake Doodles Marcia Mobley. "The fire was engulfed in the whole hallway. And, I said 'my babies, my babies aren't going to make it.'"
Officials say 19 dogs were killed after the fire broke out. Six dogs were revived. Fire crews say nine puppies were also rescued. Several dogs were seen being given oxygen. Many of them, including a litter of puppies, were transported for treatment.
"We pulled out approximately 25 to 30 dogs," fire crews told FOX 35 News. "Unfortunately, 19 of them did perish in the fire."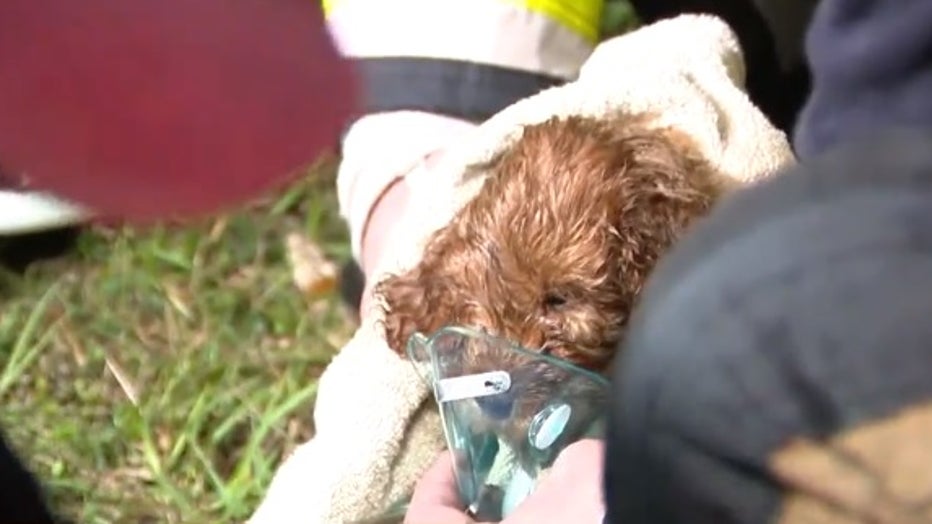 Orange County Fire Rescue says that the fire was contained to one room and was likely caused by an HVAC unit. The State Fire Marshal's Office is investigating and at this point, they say the fire does not look suspicious. 
Friends and community members came to the home Thursday to support the breeder during this difficult time. People brought water, food and a generator. A dog grooming service also donated their time to clean the dogs that survived.
"Everyone is pulling together as a community to help Marcia during this difficult time," said Tara Olmstead, who adopted her dog four years ago.
The owners tell FOX 35 Orlando that several puppies who died were going to be picked up by their new families this week.
"God is going to help me get through this," Mobley said. "I'm heartbroken and I lost a couple of puppies that were ready to go home.