2 children rescued from crash on I-80 near El Sobrante
EL SOBRANTE, Calif. - Firefighters and California Highway Patrol officers on Tuesday morning rescued two children from a crash on Interstate Highway 80 near El Sobrante.
Video at the scene shows emergency crews carrying the children away from their car wreck near El Portal Avenue about 7a.m.
The green Camry that the children were in somehow collided with an orange crane truck, video at the scene shows.
A woman inside the car was taken to the hospital. A boy and girl were taken out of the backseat and released to their grandfather.
Fire Engineer Adam Buschini helped rescue the kids. He was seen carrying a toddler in a car seat to another family member's vehicle. The children's grandfather showed up to the scene.
"It was a traumatic event for them, being kids in an accident in the rain on the freeway," he said. "We were trying to keep them calm."
Buschini said the mother was alert and taken to the hospital for evaluation.
"I just tried to tell them that everything was going to be alright and that we were going to get [them] to grandpa," he added.
It's unclear how old the children are, but Buschini said they were properly buckled, which played a part in them not being hurt. He said the CHP helped the grandfather with a car seat installation, so the family could get home safely.
Truck driver Tony Martinez witnessed the aftermath of the accident.
He was driving behind the crane in a white semi-truck and braked to avoid hitting any other cars.
While doing so, though, he hit the barrier and ripped the bumper off his own truck, something that he shrugged off. 
The CHP did not immediately release any official details.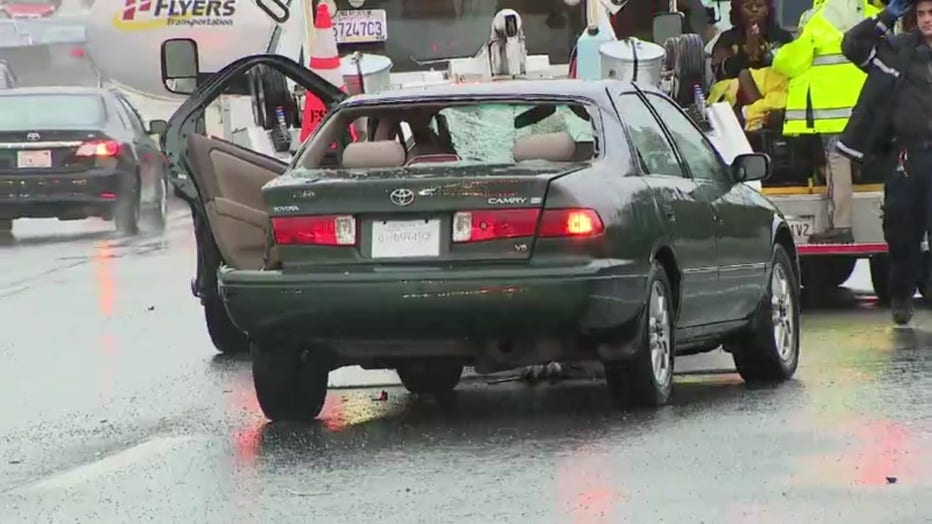 Two children were rescued from this car on I-80 in El Sobrante. Feb. 28, 2023