2 Investigates: Jail medical company Corizon loses Alameda Co. contract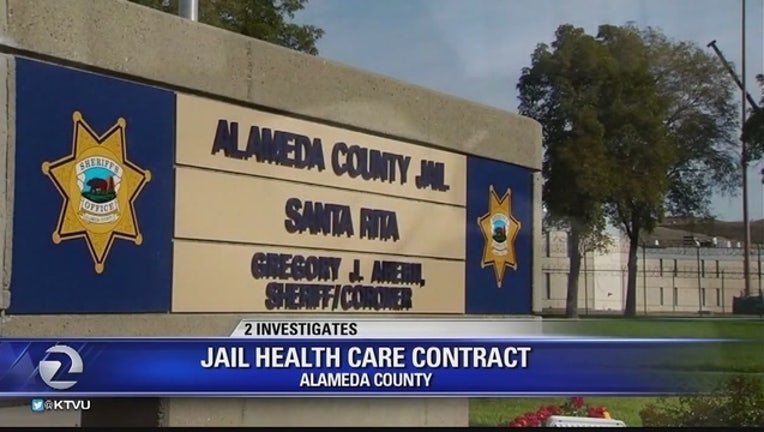 article
Alameda County ousted its embattled jail medical provider and awarded the $135 million contract to a competitor, after a year-long 2 Investigation uncovered questionable medical decisions, gaps in oversight, and allegations of staffing and supply shortages. But 2 Investigates has also learned that the new contractor also has a history of lawsuits for allegedly poor inmate medical care.
With four yes votes, the Board of Supervisors on Friday approved awarding the three-year contract to California Forensic Medical Group (CFMG) based in Monterey.  Supervisor Keith Carson from District 5 abstained from voting.
The company is poised to take over operations at Santa Rita Jail and Glenn Dyer Detention facility on October 1, after the agreement with long-time contractor Corizon Correctional Health expires.
"We're going to have a full team of nurses, we're going to have a very large transition team to make sure that on day one we can deliver the care that we're supposed to deliver," said CFMG CEO Kip Hallman.
CFMG is the biggest jail inmate medical provider in the state, with contracts in 27 counties, including Solano, Sonoma, Santa Cruz, and Napa. Its largest service area has historically been Ventura County, where it serves about 1,700 inmates, according to Hallman. Alameda County will now take the top spot, dwarfing all other counties, with population numbers at its two jails ranging between 2,400 to 4,500 inmates, depending on the season.
For nearly 30 years, Corizon held Alameda County's largest public contract. Its current contract began in 2008, and since then has been extended without a public bid three times on the recommendation of Sheriff Greg Ahern and with the unanimous approval of the Board of Supervisors. The total value of the contract grew to more than $264 million since 2008.
The company has also been the subject of a 2 Investigation, hundreds of lawsuits, and state probes all across the country. 2 Investigates first uncovered a series of questionable medical decisions surrounding the death of inmate Mario Martinez, 29, in Santa Rita Jail last summer. Public records and whistleblower complaints lead KTVU to uncover a lack of oversight in the contracting process, more than $125,000 in campaign donations flowing from Corizon to public officials, and numerous safety complaints from nurses who described conditions at the county's jails are "third world."
Last month, Corizon filed a protest with the county, claiming the bidding process was "unfair," after a county panel officially recommended CFMG.
Auditor-Controller Steve Manning recommended that county reject all proposals and start the bidding process from scratch. In a letter, he stated that his office "found that ambiguities in the RFP process and deviations from standard County practices raise concerns about the results of the RFP process."
But the Board of Supervisors rejected the Auditor's recommendation, instead awarding the contract to CFMG. 

In a statement, Corizon's Chief Clinical Officer Dr. Harold Orr said the company will "have to look at our legal options going forward so that we might be able to continue this partnership that we so value."
It started with a phone call
The investigation into Corizon began with a single phone call to 2 Investigates from grieving mother Tanti Martinez. Just days after her son Mario suffered an asthma attack in his cell, collapsed, and died in a common area, she said she still wasn't getting answers from the Sheriff's Department. 
WATCH THE FULL INVESTIGATION: Bad Medicine Behind Bars (30 minute Special Report)
Medical records show that, for several months, Martinez had been complaining of nasal polyps that were making it difficult to breathe. Despite multiple court orders requiring Corizon to treat the problem, Martinez suffered an asthma attack and died before the issue was ever fixed.
INTERACTIVE TIMELINE: See the events and documents from 2 Investigates' probe into Corizon 
But Orr defended the medical decisions, saying an Ear Nose and Throat specialist at Highland Hospital had determined that Martinez's condition did not require emergency surgery.
"Had it been emergency surgery he would have had it that day. It would have automatically been approved, but that wasn't the case," said Orr. "If you've got polyps in your nose, all you've gotta do is open your mouth and breath. There's nothing wrong with him breathing by his mouth."
The new contract with CFMG explicitly calls for the company to respond to court orders within 24 hours; language that was not included in Corizon's 2008 contract. CFMG's contract imposes growing fines if the company fails to abide by a court order, starting with $1,000 for the first occurrence, and ballooning to $10,000 for the third. The County can also terminate the contract for failing to follow a court order.
In Martinez's case, 2 Investigates also obtained an investigative report from the Sheriff's Department that showed a malfunctioning oxygen tank in the jail's medical facility was involved in the treatment just before his death.
The report states that after Martinez collapsed to his hands and knees during the asthma attack, a nurse "went to grab the oxygen tank from the sick call room but noticed the crank to turn it on was missing." That nurse immediately ran to another housing unit in the jail to retrieve a different oxygen tank, according to the witness narrative.
READ: FULL SHERIFF'S DEPT. INVESTIGATIVE REPORT ON MARIO MARTINEZ'S DEATH
"About two to three minutes later, [the nurse] returned with an oxygen tank and applied an oxygen mask on Martinez," the report goes on, stating that one minute later, Martinez was not breathing.
Corizon admits there was a problem with the crank or key on the first oxygen tank that caused a "very slight delay," but says a second tank was quickly available.
"When they rushed to take the tank to where he was the key dropped off. Later when the incident was over they went back, they found the key on the ground," said Orr. "But they called a nurse from another house and she brought over another tank immediately, and they gave him oxygen."
But Martinez's mother, Tanti, said she wasn't satisfied with Corizon's answers and filed a federal lawsuit against the private company, Alameda County, and Ahern earlier this year. She said it may be the only way she will get the justice she seeks.
"I did feel like we got the runaround. And that's why I said, you know what, no more disrespect. Time to put that to an end, and move on to the next phase," said Tanti Martinez.
Martinez's attorney John Burris said that Corizon, the Sheriff's Department, and the County had all been aware of questions surrounding the company's performance in Alameda County and nationwide.
"We are not going to let another provider be in place that is going to totally ignore a human being," said Martinez. "I want you to know that we are not going away. As we walk out, guaranteed, we will be back. We are not going away. Trust that."
New company, new questions
Despite the switch in contractors, Tanti Martinez says she's still not satisfied with a private company running healthcare at the county jails. She's also not impressed with CFMG's own track record, which includes at least 81 federal lawsuits filed in California for civil rights, prison conditions, and personal injury claims, according to court records.
Hallman defended the company's track record after the Board of Supervisors meeting in downtown Oakland.
"We take care of a very fragile population and it's a very litigious environment," he said. "Anybody who does what we do faces lawsuits. Not just companies like ours, but counties that provide their own care. It is the truth in pretty much every place you look."
In Santa Cruz County, six inmates died in custody since CFMG took over inmate healthcare in 2012. A Civil Grand Jury found "twice the number of deaths" than was expected occurred in Santa Cruz County, compared to estimates calculated from U.S. Bureau of Justice Statistics. The Grand Jury report, released in June, slammed Santa Cruz County's Sheriff's office for having "no independent county oversight, by a qualified medical professional" of CFMG and its contract.
It specifically references the most recent death at Santa Cruz County's Main Jail: the death of a 23-year-old mother last September. Four days after being taken into custody, Krista DeLuca died from pneumonia and dehydration from vomiting, due to severe opiate with drawl, according to the report.
"What the Grand Jury found to be so disturbing in Ms. DeLuca's case was that she was under medical care during the four ­day period in which she slowly died," the Grand Jury wrote. "Ms. DeLuca did not die from a drug overdose;  this 23-­year-­old woman died from complications from an ostensibly medically supervised drug withdrawal."
The Grand Jury asked "why did CFMG medical staff not transfer Krista DeLuca to a hospital?" It also called for the Board of Supervisors and the Sheriff's office to "thoroughly review and revise" its contract and "critically evaluate the performance" of CFMG.
Repeatedly, the Grand Jury points out that it "does not have the authority to investigate the California Forensic Medical Group, Inc., a for-profit company," so its power to look into the company's operations is limited. According to the Grand Jury, the Sheriff's Office also did not issue any public report on DeLuca's death, and "the actions or inactions of CFMG."
The Santa Cruz County Board of Supervisors has until September 6 to respond to the Grand Jury's findings. The Sheriff's Office's deadline is Monday.
In June, attorney's representing DeLuca's child filed a federal lawsuit against CFMG, the County of Santa Cruz, and the Sheriff, alleging negligence and wrongful death.
Hallman addressed the criticism of CFMG's performance, saying "In any healthcare environment there are bad outcomes. It is the case. We work very hard to make sure we do everything we can to avoid mistakes and we work very hard to make sure we lead from those mistakes."
 "Too little, too late"
Nurses who work at Alameda County's jails tell 2 Investigates that they're hopeful about the switch to CFMG. The National Union of Healthcare Workers (NUHW) issues a statement saying the company "has forged a productive relationship with its caregivers" and promised to "make other changes that will improve the quality of care inmates receive." 
In contrast, union reps said Corizon showed a history of "incompetence and recklessness."
After Martinez's death, nurses who work in the county jails came forward to tell 2 Investigates that jails are plagued by supply shortages, broken equipment, and a staffing crisis.
One Corizon nurse was too afraid to show her face out of fear of retribution. She said there are times that the nurses on staff are struggling to do their jobs because of malfunctioning equipment, and because basic supplies like gauze, rubber gloves, and other medical necessities have run out.
"Sometimes your computers don't work, she said. "Sometimes we don't have some of the simplest supplies."
Blaire Behrens, a former nurse at Glenn Dyer, told 2 Investigates about an instance when an oxygen tank was empty when a nurse went to use it, but she says since then procedures have changed so that staff is checking them regularly. But she says other supply and equipment problems are common.
"Let's say you need an ACE bandage, it's not there. Or you need an ice pack, a heat pack or something of that nature, or some Steri-Strips. Those types of things are not stocked in there," said Behrens. "You're trying to take care of these inmates; you need to have the supplies to do it."
Behrens says when she and her fellow nurses learned about Martinez's death, they were "shocked and saddened."
"Something went very wrong in his line of care and at the end of the day the buck stops with Corizon," Behrens said. "We are trying to hold everything together, but they [Corizon] are making it harder and harder for us to do that."
When asked about the allegations of broken equipment and inadequate supplies, Corizon denied there was any truth to the claims.
"Absolutely categorically untrue," said Orr. "I wouldn't allow my nurses to go out and handle bodily fluids and not have gloves to protect themselves. I wouldn't allow that to happen, so I know that's not true."
A Corizon public relations spokesperson said equipment is checked daily and the company expects medical workers to report any problems to administrators. They also said that the company has a toll-free phone number where employees may anonymously report "any aspect of our operations, including equipment repair and availability." But in the last two years the hotline has received no phone calls regarding equipment issues, according to the company PR rep.
READ: STATEMENT FROM CORIZON REGARDING EQUIPMENT FAILURE ALLEGATIONS

At the beginning of the year Corizon laid off 49 Licensed Vocational Nurses (LVNs) as part of a staff restructuring effort required by a $8.3 million legal settlement in the wake of the death of inmate Martin Harrison in 2010.
One nurse described the ensuing staffing crunch as "pandemonium."
"If you're doing the same amount of work with half the staff," the nurse said, "they're not getting the same amount of care."
The nurse said days after the layoffs took effect, the remaining RNs and LVNs were required to work mandatory overtime, 16-hour double shifts, and to take on double or triple workloads to fill the gap.
Under CFMG's new contract, the county can impose steep fines for understaffing two shifts in any 24 hour period.
Corizon has since hired more nurses to replace the lost staff, but for some union members change cannot come soon enough.
"I think there's a sense of too little too late," NUHW rep Dennis Dugan said of Corizon's contract not being renewed. "This has been a long time coming and it's now happening."
RESPONSE FROM CORIZON HEALTH:
"We're certainly disappointed. And because the Board of Supervisors ignored the recommendation of the County's own auditor-controller to reject this flawed bidding process, we'll have to look at our legal options going forward so that we might be able to continue this partnership that we so value.
Ultimately, all we want is to preserve the continuity of care on which our patients depend.
We care deeply about this community, and we believe we're best suited to continue this hard work — but if there's a change, we'll absolutely ensure a smooth transition to protect patient care.
Thank you to all of our staff — and partners — who have provided high quality medical care in Alameda County for 28 years." -Corizon Health California Clinical Director Dr. Harold Orr
RESPONSE FROM NATIONAL UNION OF HEALTHCARE WORKERS (NUHW):
"NUHW-represented caregivers at Alameda County's jails applaud the Board of Supervisors decision to approve the contract with California Forensics Medical Group (CFMG) and immediately move forward with improving the jails' healthcare system. 
Given Corizon's record of inmate deaths, expensive lawsuits, and reckless mass layoffs of nursing staff, it would have been irresponsible to have extended the company's contract. 
CFMG, by contrast, has forged a productive relationship with its caregivers and has promised to increase nursing staff levels and make other changes that will improve the quality of care. It will be up to the caregivers, the supervisors, the sheriff's office, and the community to hold CFMG to its promise to deliver high quality care to Alameda County's inmate population." -NUHW President Sal Rosselli