3 men plead not guilty in attack on Lyft driver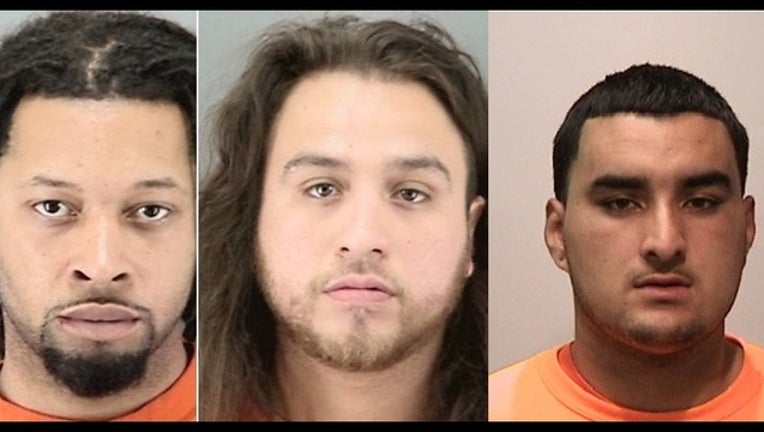 article
SAN FRANCISCO (BCN) -- Three men arrested in the beating of a Lyft driver on U.S. Highway 101 in San Francisco in March have pleaded not guilty to felony charges and have a preliminary hearing scheduled for later this month.
Derwayne Johnson, 33, one of three people arrested Wednesday by the California Highway Patrol, entered a not guilty plea today to all charges. He remains in custody with bail set at $1 million.
Two other suspects, Gabriel Rodriguez, 25, and Jarrell Williams Jr., 19, also entered not guilty pleas last week and remain in custody.
The three were arrested on suspicion of assault with a deadly weapon, conspiracy to commit a crime, assault, battery and vandalism in connection with the March 9 attack, which was captured by a witness on cellphone video and widely circulated on social media.
They were tracked down with help from the public and from San Francisco police officers, who had previously encountered them allegedly riding motorcycles wildly on highways and city streets, according to CHP spokesman Officer Vu Williams.
The March 9 attack occurred when a group of up to 15 dirt bikers were involved in a "sideshow" on southbound Highway 101 near the Cesar Chavez Street exit.
When the Lyft driver tried to pass the riders, they allegedly boxed him in and began vandalizing his car, according to the CHP.
When he got out of his car, the suspects allegedly beat him and then one of them ran over his leg with a dirt bike. The leg was badly broken, requiring at least one surgery to repair, Williams said.
During the arrests, officers also found several firearms, a stolen dirt bike, money and a small amount of drugs, according to the CHP.
The CHP is still searching for a fourth suspect, identified as San Francisco resident Quintrell Anderson, and has a warrant out for his arrest, Williams said today.
All three defendants are scheduled to return to court Tuesday for a pre-hearing conference and on June 28 for a preliminary hearing.