4 Arrested, 19 cited after more protests over new Oakland protest policy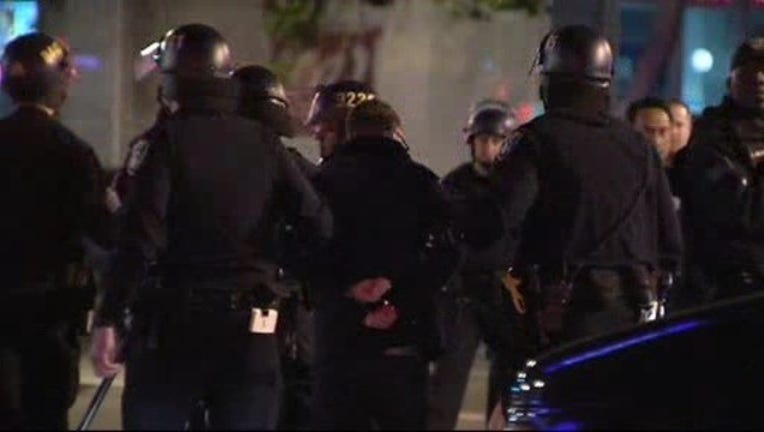 article
OAKLAND (KTVU) –Police officers arrested four people and cited 19 others after a second night of protests over new a police policy to crackdown on illegal night-time demonstrations in Oakland.
About 100 protesters marched along Broadway Sunday night from Frank Ogawa Plaza to OPD headquarters to protest Mayor Libby Schaaf's new policy.
Schaaf says she is using existing laws to prevent illegal night-time protests that in the past have turned violent and destructive.
The Mayor and Police department have been facing pressure from business owners and residents to take action after several May Day protests resulted in vandalism along the Broadway Auto Row.
As a result, the Mayor and Oakland Police Chief Sean Whent decided to use more aggressive tactics to manage protests, including citing demonstrations that do not have a proper permit and that obstruct traffic.
Demonstrators call the new policy a "curfew" and claim that it's unconstitutional.
Many of the demonstrators on Sunday night also participated in a protest Saturday night, where police arrested five people and cited 47 others.
.
Police said no was injured in Saturday's protest and no property was damaged.
Sunday night's protest was also mostly peaceful and there were no reports of any damage.