49ers faithful hit the road to root on the red and gold
PHILADELPHIA - In just a matter of hours, the San Francisco 49ers will be taking on the Philadelphia Eagles to see who will be heading to the Super Bowl. 
The 49er Noise drum ensemble doesn't do anything quietly, and took their show to San Francisco International Airport, holding a rally, rooting on the red and gold. 
"And our main purpose of it is just to support the faithful, we're thankful to be a part of what the team does and be a part of the 49ers game day experience," said Mike Repucci from the 49er Noise.
The Noise knows Philly's going to be tough. 
"Philly's going to be tough," said Repucci. "But we're really excited. Brock's playing great, the team's playing great; the defense is awesome. Hopefully, we'll come out with a win and be on to the Superbowl."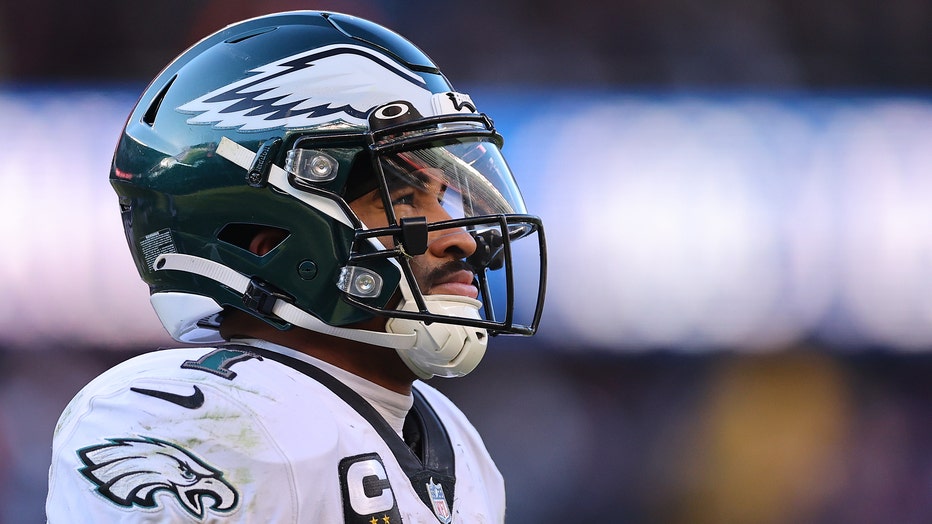 CHICAGO, ILLINOIS - DECEMBER 18: Jalen Hurts #1 of the Philadelphia Eagles looks on during the fourth quarter in the game against the Chicago Bears at Soldier Field on December 18, 2022 in Chicago, Illinois. (Photo by Michael Reaves/Getty Images)
SEE ALSO: Big sendoff for 49ers as team heads to Philadelphia for NFC championship game
The drum line drew fans from around the airport. Tony Chavez, says he's on his way to Las Vegas, ready for his game-day ritual to ensure a 49er win. 
"I'm meeting my son out there; we're going to watch the game together," said Chavez. We have tickets all year for the Niners season tickets. So, we're going to be out there watching the game. We have to be together so they win!"
RELATED COVERAGE: It's a Philly thing: Police will grease poles ahead of Eagles-49ers NFC Championship game
Not taking part in the festivities, Eagles fan Eddie Ortiz. 
"I'm flying to Philly," said Ortiz. "Flying to Philadelphia, watching the game tomorrow."
He says things lined up just right for him to get a last-minute ticket to the game, and a flight to Philadelphia. 
"Honestly? I think it's going to split it by a field goal," said Ortiz. "It's going to be a field goal margin, or it's going to end in a Turnover or a Pick 6 or something. Something really slim."
The 49er faithful says they hope they're right back at San Francisco International Airport in two weeks, sending the team off to Arizona.