5 things to know from NBA Finals practices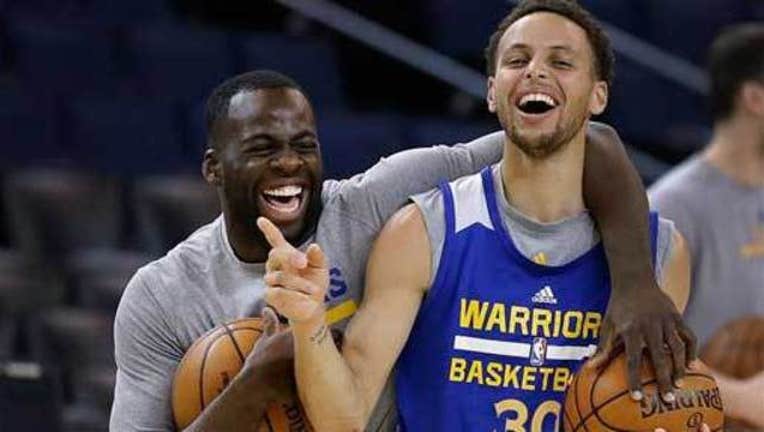 article
OAKLAND, Calif. (AP) — They talked about ending championship droughts, starting new traditions and building legacies.
The Cleveland Cavaliers and Golden State Warriors met with the media Wednesday in their final practices before Game 1 of the NBA Finals on Thursday night.
Here are five things that came up along the way:
___
STARVING FOR TITLES: There are even more discussed droughts in rain-deprived Northern California this week.
Cleveland hasn't won a sports championship in 51 years, the longest of any city with at least three major professional teams. The Warriors are in the finals for the first time since winning the title in 1975, and the city of Oakland hasn't had a title-winning team since the Athletics won the World Series in 1989.
LeBron James, who captured two titles with the Miami Heat, came back to northeast Ohio to bring a championship home. He's four wins away from doing just that.
"It's part of my motivation. I understand the drought our city has been in as far as a major championship, so it's a huge motivation inside of me," he said.
The Warriors can relate.
After decades of bad drafts, terrible trades and lots of losses, they're back on basketball's biggest stage. At this point, there's no settling for second in Oakland, especially after watching the San Francisco Giants celebrate three World Series champions in the past five years.
"We set a goal at the beginning of the season to win a world championship, and we're in a position to possibly do that, and that's our focus," Warriors forward Draymond Green said. "If we lose, nobody cares that you were ever here. Special enough isn't just getting here. So we've got to finish the deal."
___
IRVING UPDATES: Cavaliers point guard Kyrie Irving knows everyone is curious about the tendinitis in his troublesome left knee. He's still figuring out exactly how to handle the constant questions.
No matter where he goes this week, there's no dodging them.
"I'm just asked all the time, whether it'd be the regular person walking around in Cleveland or someone here in San Francisco, I'm walking down the street and they ask me how my knee's doing," Irving said. "I'm like, 'I'm fine. Thank you. My knee is OK.' It's like, 'Are you playing? Are you playing Game 1?' I'm like, 'Yeah, I'll be playing.' It's an adjustment, but it is what it is at this point."
___
THE REAL STAR: As if James and Stephen Curry don't provide enough intrigue for the NBA Finals, there's another shining star soaking up the spotlight.
Curry's 2-year-old daughter, Riley, has become a daily topic.
Riley, who playfully accompanied Curry to two recent postgame news conferences, didn't join the Warriors point guard and NBA MVP at the final practice. But Curry joked she is a critical part of his preparation.
"She's breaking down film with me. She's my biggest critic at home," Curry quipped.
On a more serious level, Curry said his daughter has added to the playoff experience for him. He said Riley is a daily reminder what he's really playing for — his family.
"I think off the court it just grounds you every day," Curry said. "Because no matter if I have a good game, bad game, score 40, score 10, I think my daughter's going to be happy to see me when I get home, and that kind of makes everything all right."
Curry and his wife, Ayesha, are expecting a second child this summer.
___
G'DAY MATE: Warriors center Andrew Bogut and Cavaliers guard Matthew Dellavedova didn't get a chance to talk to each other before Game 1, and the Australians had no plans to chat anytime soon — not with an NBA title at stake.
"I'll probably just say g'day and catch up with him after the series," Dellavedova said.
The two are actually good friends Down Under. They're both from the state of Victoria and came up separately through the Australian Institute of Sport training program.
Bogut said he even tried to lobby Warriors general manager Bob Myers to sign Dellavedova as an undrafted free agent in 2013 out of Saint Mary's, a small college in San Francisco's East Bay that has been a pipeline for Australia basketball players, including San Antonio Spurs guard Patty Mills.
"All the Australian guys have a connection," Bogut said. "There's not many of us in the league, so we all know each other."
It's been a big year for Australians in the NBA. Mills and Aron Baynes helped the Spurs win the title last June, and Dante Exum was drafted fifth overall by the Utah Jazz.
Bogut said they're all planning to play on the Australian national team in Olympic qualifying this summer.
"The game in Australia has never been stronger," Bogut said. "Hopefully we can build on that back home."
___
WHITE GUY WEDNESDAY: Despite hundreds of reporters surrounding the court at Oracle Arena, the Warriors stuck to their usual routine at practice with "White Guy Wednesday," when they play rock music instead of the usual hip-hop.
Some artists on the playlist included Lenny Kravitz, Earth Wind & Fire and U2. Players danced around and laughed as they took shots at the end of practice.
"No reason to change now," Warriors forward Andre Iguodala said.
Warriors coach Steve Kerr started the tradition of playing music at the start and end of practices this season. It's something he took from Seattle Seahawks coach Pete Carroll last summer after noticing players looking more energized and enthusiastic.
"As a team, our philosophy is to enjoy every day, and it's been a lot of fun this year," Kerr said. "Hopefully we'll have some more fun the next couple of weeks."