81-year-old retires from donating blood after saving lives of 2.4 million babies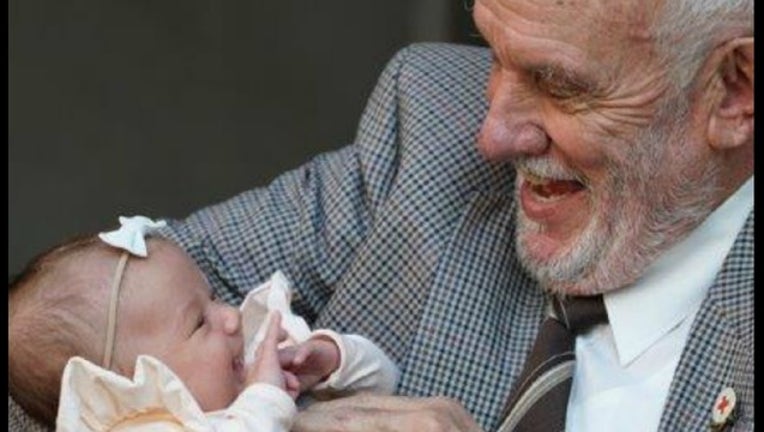 article
SYDNEY (KTVU) - Over a period of six decades he helped save the lives of more than 2 million babies.
On Friday, 81-year-old James Harrison of Australia was celebrated and thanked for his dedication, as he gave his last blood donation.
Harrison was just 14 years old when he underwent chest surgery and became a recipient of a life saving blood donation himself.
It was then that he pledged that he would pay it forward by becoming a blood donor when he turned 18, the minimum age set in Australia to be eligible to be a donor.
Harrison kept to that promise and in the end he donated blood more than 1,100 times, despite his aversion to needles, according to the Australian Red Cross Blood Service.
Harrison's donations became even more valuable when about 10 years into his donor life experts discovered that his blood contained a critical antibody and necessary component used in the medication called anti-D.
The lifesaving treatment is created from donated blood plasma and is given as injections to mothers whose blood is at risk of attacking their unborn babies. 
An estimated 17 percent of pregnant women in Australia require anti-D injections. 
The blood service said Harrison became a pioneer of its anti-D program with his donations contributing to the creation of more than 3 million doses of anti-D for Australian mothers with a negative blood type.
At age 81, Harrison has surpassed Australia's standard age limit for blood donors which is set at 70, and the blood service reportedly decided Harrison should stop donating to protect his own health.
The Australian Red Cross Blood Service described Harrison as one of its most impressive and valued donors, saying he's given more blood than anyone else on earth and giving him the nickname, "The man with the golden arm."
The serial donor challenged others to surpass his impressive track record. 
"I hope it's a record that somebody breaks, because it will mean they are dedicated to the cause," Harrison told Red Cross officials.