Alameda County district attorney recall effort officially gets underway
OAKLAND, Calif. - Not even a full year into her term, Alameda County District Attorney Pamela Price is under heavy scrutiny. 
In East Oakland, 'Save Alameda for Everyone' or 'SAFE' representatives announced they're starting to collect signatures for an official recall campaign to unseat DA Price. 
Brenda Grisham is a mother of son who died by gun violence. 
She is also an officer of the group organizing the recall campaign and says, the reason for the recall is, "We want everyone to be safe! The current administration is not doing that. That is not their priority."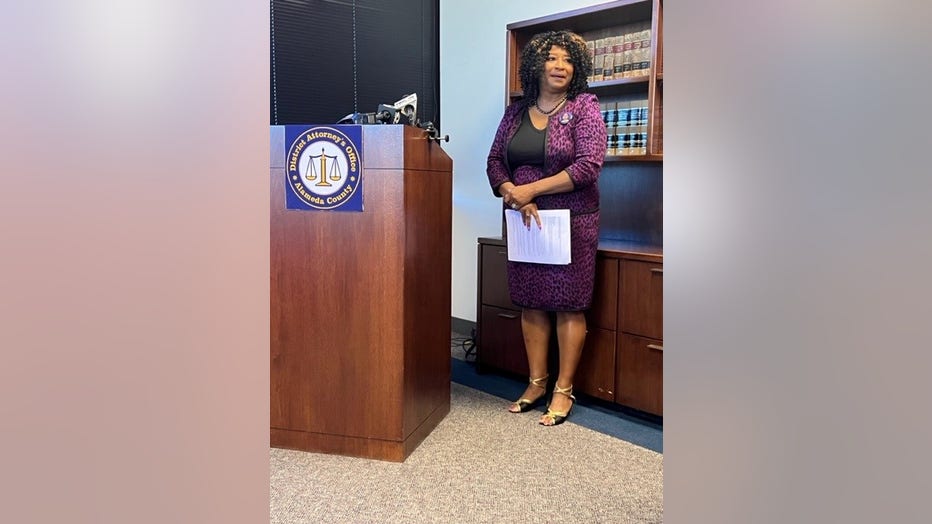 Alameda County District Attorney Pamela Price (Alice Wertz)
Grisham went on to share people who are victims, or family members of slain victims, have contacted her for what she says is about not getting justice, "They're not getting attention, and we cannot have that!  Nine months is long enough!"
At about the same time SAFE was holding their press conference, across town, District Attorney Price introduced the 'Organized Retail Theft Vertical Prosecution Team' which includes inspectors, program specialists and deputy DA's. 
Alameda County was awarded a grant of $2 million, which will fund the effort. 
The grant will be matched by the District Attorney's office with another $2 million. 
The three-year grant will seek to address organized retail theft within the 841-mile county through collaboration and cooperation with other agencies such as the California Highway Patrol and police departments throughout the county. 
31 police departments also received grants that will allow each to work in collaboration within their own, and with outside agencies to investigate and prosecute organized retail theft. 
Ms. Price stated in a formal press conference, "We are having the opportunity to interrupt thefts at the lower level, while at the same time focusing our efforts on how do we stop it through organized retail, and how to essentially choke off the demand that is driving a lot of what we see happening in our communities."
Despite the announcement of a new team focused on organized retail theft, the campaign to recall Price is getting a lot of attention, for a lot of reasons. 
Many beyond just smash and grab crimes.  
SAFE Officer Grisham said, "Letting criminals out on the street is a harm to everybody!"
SEE ALSO: Victims' families rally against Alameda County DA Pamela Price at Fremont town hall
Carl Chan, also serving as an officer of the organization SAFE said, they are amassing a lot of support and already have seen 1900 volunteers sign up to help with the recall effort. 
The county requires 73,000 signatures by March 5, 2024 for the recall effort to make it to the November 2024 ballot. 
Grisham shared, "We're expecting to get about 90,000 signatures."
Longtime Oakland community advocate Carl Chan, who also serves as an officer of SAFE, likened the crime levels in Alameda County to a wildfire, that people want to put out. 
He said, "It's just a matter of time, it's going to burn everything!" 
He continued, "So we must put a stop now in order to make changes and I think that's why people are signing on."
"SAFE" has information on its website about its efforts to hire signature gatherers, who are already turning up in front of grocery stores and in business districts throughout the county. 
Chan also mentioned the organization will be collecting signatures at 17th and International Boulevard this Sunday after 10 a.m. People can register to vote at that event as well as sign the petition to recall the district attorney. 
Alice Wertz is a freelance reporter for KTVU Fox 2 NEWS. She can be reached at Alice.Wertz@Fox.com X/Twitter: AlicesTake In