Alameda County offered Black family $700K before jury awarded them $8.25M
CASTRO VALLEY, Calif. - Alameda County offered a Black family who was handcuffed in the back of a sheriff's patrol car for more than an hour at a Castro Valley Starbucks $700,000 to settle a suit alleging that their constitutional rights had been violated. 
But Craig Peters, an attorney for the Loggervales, turned down that amount and took it to trial instead.
"That amount wouldn't have even covered attorneys fees," Peters said, adding that the case has been litigated for about four years and the lawyers' bill was nearly $1.5 million at that point. "And more importantly, we wanted change. They didn't offer to change their policies. They didn't offer to do more trainings. There wasn't any 'and.'" 
Turns out, the Loggervales made the right choice. 
On March 1, his clients, mother Aasylei Loggervale and daughters Hardge-Loggervale, then 19, and Aaottae Loggervale, then 17, were compensated with $8.25 million by a federal jury following a two-day trial in U.S. District Court in San Francisco.
The women were not physically harmed during the encounter on Sept. 20, 2019, other than some swelling to their wrists. But the dollar amount signals that the jurors felt the family's constitutional rights had been ignored because of the color of their skin.
The jury found that the Loggervales were falsely imprisoned and their privacy had been violated. They also felt that the Loggervales' 1st, 4th and 14th Amendments were stripped from them when sheriff's deputies detained them without articulating what crime they thought they had committed. 
In fact, the Loggervales had committed no crime. 
WATCH: Deputies detain Black mother, daughters at Castro Valley Starbucks
Mother and daughters were waiting in the Starbucks parking lot before taking the eldest daughter to a statistics test in Berkeley so that she could transfer from community college to UCLA, where she is now a senior. 
The deputies approached the women to investigate a string of car burglaries, which they thought were being committed by Black men. 
Still, deputies Steven Holland and Monica Pope thought the women seemed suspicious and demanded the elder Loggervale give them some ID, which she declined.
Under the 4th Amendment, citizens have the right to be free from unreasonable searches, which includes being asked for ID if an officer can't articulate that a person has committed a crime. 
The deputies never told the Loggervales what crime they had allegedly committed. 
But they placed them in handcuffs for about 70 minutes for refusing to hand over identification before eventually letting them go. As the women were being held, deputies searched the trunk of their car.
In the end, the Loggervales were never charged with any crime. 
The Loggervales, who are private people, have declined interview requests. County counsel Kevin Gilbert and the sheriff's office also has declined requests for comment. 
During the trial, the Loggervales' legal team called Sgt. Jimmy Martinez, who teaches racial profiling for Alameda County, to the stand. 
Martinez testified that he trained deputies that it's unlawful to detain people simply for being the same ethnicity or age as a possible suspect. 
When Peters asked him during the trial if it would be permitted under state law to detain any of the Loggervales based on the suspect information the deputies had at the time, Martinez answered: "Just with this small information, I don't believe so." 
An Internal Affairs investigation found that none of the deputies did anything wrong, either. Both Holland and Pope have since been promoted to sergeants. 
Capt. Daniel Brodie, who investigated the Loggervale case for the IA department at the time, testified that he made his decision based on reading the deputies' incident reports and reviewing the body camera. 
"I had all the facts that I needed recorded on video," Brodie testified, according to a transcript. 
Brodie acknowledged that he didn't pull any independent crime reports to determine if the suspect descriptions of those who had been breaking into cars in that parking lot because he assumed the truth of what the deputies wrote in their reports.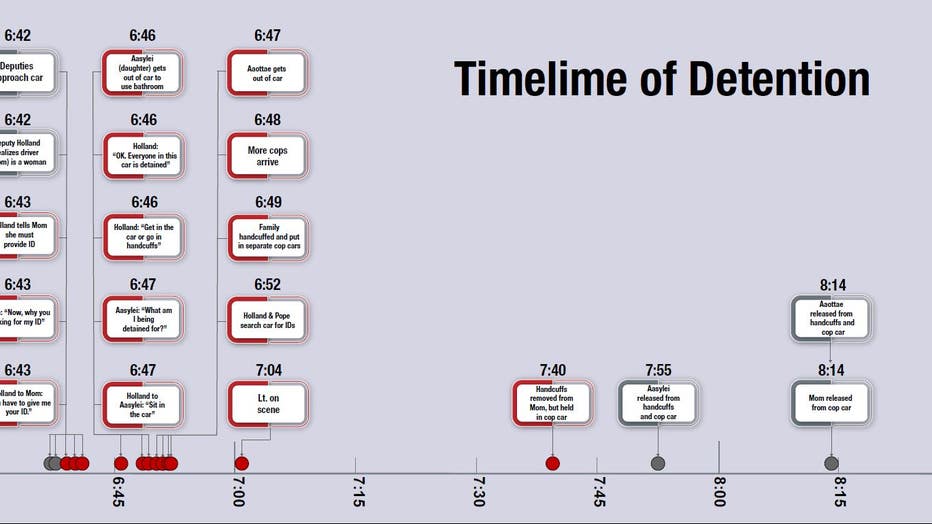 KTVU reviewed Holland's report. 
Holland wrote that he was very worried about the string of car break-ins in that parking lot over the last six months.
He pulled some data from past crimes, indicating that in the past, witnesses had described the suspects as: Four to five Black male juveniles, two Black male juveniles, a Black male adult, a male with no other description, and  two cases with no suspect description. In three of the cases, the suspects were in a gray or silver sedan. 
Holland wrote in his report that he was suspicious when he saw the Loggervale's rented silver Cadillac with Nevada license plates parked in the disabled spot outside. He wrote that it was too dark to see that there was a valid placard in the front window.  
Holland also wrote that when the elder Loggervale wouldn't identify herself "because she had done nothing wrong. This heightened my suspicion that criminal activity had been taking place." 
Brodie testified that he didn't interview any of the Loggervales to hear what they had to say. 
Brodie said his mission was to determine if the deputies had followed policy and had proven they had reasonable suspicion when they detained the women. 
He said he found the Loggervale's detention was lawful because he felt that when the deputies asked the mother for her ID, there was reasonable suspicion to detain her for the car burglaries. 
Still, Peters challenged that assertion in court.
"And so even though the only suspects were described as African-American men, you believe there was still sufficient reasonable suspicion to detain mother?" Peters said. 
Brodie answered: "Yes." 
Lisa Fernandez is a reporter for KTVU. Email Lisa at lisa.fernandez@foxtv.com or call her at 510-874-0139. Or follow her on Twitter @ljfernandez.