Jury awards $8.25M to Black mother, daughters handcuffed outside Castro Valley Starbucks
CASTRO VALLEY, Calif. - A federal jury awarded a mother and her two daughters $8.25 million after they were unlawfully searched and handcuffed by Alameda County sheriff's deputies outside a Castro Valley Starbucks on their way to taking one of the young women to a college math test in Berkeley. 
The women were not physically harmed by law enforcement, but the dollar amount of the award signals that the jurors felt the family's constitutional rights had been stripped from them because of the color of their skin. 
"I think that everybody recognizes we all have implicit bias," their attorney, Craig Peters of San Francisco, said in an interview on Monday. "I have it. You have it. We've all got it. These officers are no different. And so, subconsciously, there was something going on that made them unreasonably suspicious of this family. I think that if this same scenario happened and these were white women, it would have played out very differently." 
The verdict was reached March 1 following a two-day civil trial before U.S. District Court Judge William Alsup in San Francisco. A jury deliberated for 16 hours before awarding the mother and daughters this unprecedented amount from the Alameda County Sheriff's Office. 
Specifically, the jury found Deputy Steven Holland liable for $2.7 million to mother Aasylei Loggervale and $2 million apiece to her daughters, Aaottae Loggervale, then 17, and Aasyeli Hardege-Loggervale, then 19.
The jury also found then-Deputy Monica Pope liable for $750,000 to both daughters, and that Alameda County is liable for the actions of its deputies.
It's possible the judge could lower the award if the county convinces him to do so. But nothing has been filed in court to indicate that so far. 
Neither the Alameda County Sheriff's Office nor Kevin Gilbert, the attorney representing the county, responded for comment on Monday. 
Both Holland and Pope have since been promoted.
The civil trial, also litigated by attorneys Joseph May and Brian Gearinger, alleged false arrest, invasion of privacy, negligence and violations of the 1st, 4th and 14th Amendments. 
The Loggervales declined to be interviewed. 
Their story has never been publicly told before and some of their relatives don't even know what happened to them, or that they won a massive jury amount.
But they testified during the trial and jurors found sided with their account, stemming from an encounter on Sept. 20, 2019. 
WATCH: Deputies detain Black mother, daughters at Castro Valley Starbucks
That's when mother Aasylei Loggervale, who is a tax preparer, and her two daughters were sitting in their rented Cadillac outside of Starbucks in Castro Valley. 
The trio, all of whom are Black, were at the end of their drive from Nevada. 
They were parked in a disabled spot, and were at the coffee shop early to take Aasylei Hardge-Loggervale to a statistics test in Berkeley on time. She was attending community college and was planning on transferring her credits to UCLA. 
Two deputies, Holland and Pope, were on patrol at the time and approached the rented Cadillac.
They told the Loggervale family that they were investigating car burglaries committed by unidentified Black men. But in fact, one police report shows that the suspects were identified as one Black man and one Latino man, Peters said. At first, the Loggervales thought they were being warned about the break-ins and they were grateful. 
But that feeling quickly soured when the deputies began questioning the mother about whether she was legally able to park in a disabled spot, despite her having a visible placard in her car window. 
The deputies also demanded to see the elder Loggervale's identification, which she declined to provide. 
Under the 4th Amendment, citizens have the right to be free from unreasonable searches, which includes being asked for ID if an officer can't articulate that a person has committed a crime. 
"Ms. Loggervale did not want to engage further with defendants because as a Black person, she feared the encounter could result in serious physical harm or death to her and/or her daughters," the original civil suit stated.
Still, the deputies arrested the women, put them in the back of their patrol car and searched their trunk.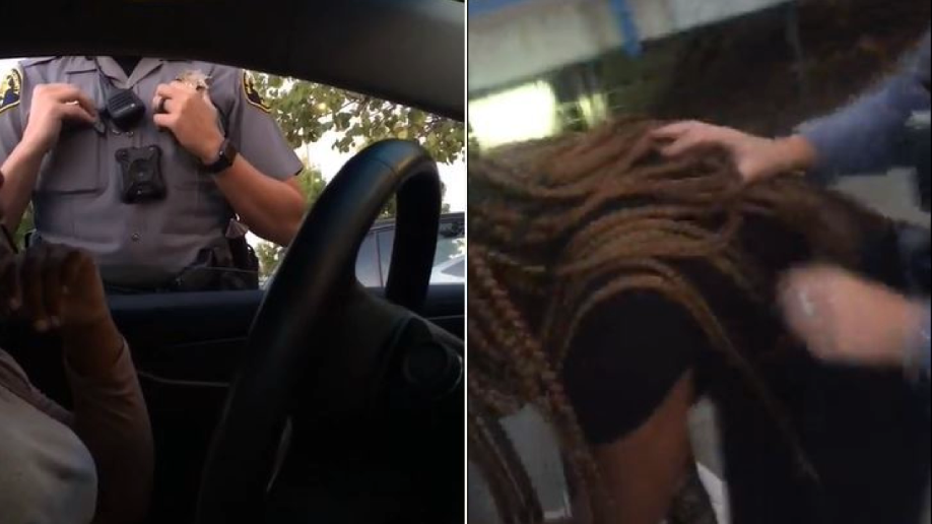 Deputy Steven Holland arrests a woman waiting for a Castro Valley Starbucks to open. Sept. 19, 2019
The deputies then claimed that one of the daughters committed "battery" when she opened the car door and struck Holland. But the video presented in court showed that when she tried to open the car door to exit, the deputy pushed it closed on her.
Video taken by the daughters, as well as body camera video from the sheriff's office, showed how the stop escalated into tension and tears.
"What am I being detained for?" the elder Loggervale asked. "I'm informed I can't go to the restroom."
Holland responded: "Sit in the car, or you're going in handcuffs."
Mother and daughters repeatedly asked what they were being detained for. They never received an answer. 
"You have to tell me what you're detaining me for," the elder Loggervale is heard saying. 
"I do not," said Deputy Keith Leeper, who had also showed up at the scene. 
The deputies placed the family in the back of the patrol car, where they were held for about 70 minutes. They're heard crying. Loggervale kept asking to use the restroom. 
Eventually, the family was let go. None was charged with any crime.
During the trial, the deputies testified about their version of events, and how they were out investigating car burglaries. They insisted that they were in the right. 
"The officers would have been well-served to sort of take a good hard look at what had happened and just acknowledge some of it," Peters said. "But instead, they kind of doubled down on trying to shade facts to try and make this situation seem not as bad as it was, try to raise some doubt, you know, attacking the women." 
An Internal Affairs investigation found that the deputies did nothing wrong, according to Peters. 
Both Holland and Pope are now sergeants. 
"I think what makes me upset is that the Alameda County Sheriff's Office didn't take the initiative to correct what to me seems like such an easy thing to have corrected early on," Peters said. "And instead, they wanted to sweep it under the rug."
Peters said no one in the sheriff's office seemed to say, "we need to fix this, let's talk to this family, apologize, say, 'Hey, we were wrong, we're working on this,' do some retraining. That would have been the responsible thing to do." 
An analysis of excessive force and wrongful death police payouts from 2015 to 2020 by KTVU revealed that Alamada County has paid out the most of any law enforcement agency in the Bay Area during that time period. 
The top two awards, before the Loggervale's, were for $5.5 million and $5 million, respectively, stemming from injuries and the death of a 20-year-old Fremont man. 
As for Aasylei Hardge-Loggervale, she made it to her math test that day, 40 minutes late.
She is about to graduate UCLA this year. 
But her life, and her sister's and mother's lives, will never be the same. 
"They worked hard," Peters said. "And then this happens and it just shakes your foundation about the place you live in. I hope that they can recover that at some point, but I suspect they won't. I suspect that to some extent for the rest of their life, every time they see police officers, every time they're in a Starbucks parking lot, they're going to remember this."
KTVU's Brooks Jarosz contributed to this report. 
Lisa Fernandez is a reporter for KTVU. Email Lisa at lisa.fernandez@foxtv.com or call her at 510-874-0139. Or follow her on Twitter @ljfernandez.